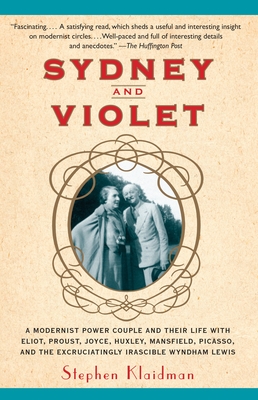 Sydney and Violet (Paperback)
A Modernist Power Couple and Their Life with Eliot, Proust, Joyce, Huxley, Mansfield, Picasso and the Excruciatingly Irascible Wyndham Lewis
Anchor, 9780307742117, 288pp.
Publication Date: June 9, 2015
Other Editions of This Title:
Hardcover (9/3/2013)
* Individual store prices may vary.
Description
This long overdue biography of the power couple who nurtured and influenced the literary world of early twentieth-century England offers an intimate look at their dazzling circle.

Sydney and Violet Schiff were ubiquitous, Zelig-like figures in the most important literary movement of the twentieth century. Sydney was an admired writer and Violet was a talented musician who was among the first in England to recognize Proust's genius; their friendships among the elite of the Modernist writers were remarkable and extensive. Stephen Klaidman tells the story of how the Schiffs, despite their commercial and Jewish origins, won a central place in the snobbish, anti-Semitic, literary world of the time. A colorful, highly personal account of the Modernist movement, Sydney and Violet brings to life a panoply of extravagant personalities: Proust, Joyce, Picasso, Mansfield, Wyndham Lewis, T. S. Eliot, Aldous Huxley, and more.
About the Author
STEPHEN KLAIDMAN was an editor and reporter for twenty-three years at The New York Times, The Washington Post, and the International Herald Tribune. He has taught at Georgetown University's Law Center and its School of Foreign Service, at Johns Hopkins University's School of Public Health, and at Pennsylvania State University. For ten years he also worked at Georgetown University's Kennedy Institute of Ethics and its Institute for Health Policy Analysis.
Praise For Sydney and Violet: A Modernist Power Couple and Their Life with Eliot, Proust, Joyce, Huxley, Mansfield, Picasso and the Excruciatingly Irascible Wyndham Lewis…
"Fascinating. . . . A satisfying read, which sheds a useful and interesting insight on modernist circles. . . . Well-paced and full of interesting details and anecdotes." —The Huffington Post

"A fast-moving, anecdote-rich book. . . . If you enjoyed Edmund de Waal's The Hare with Amber Eyes or Ben Downing's Queen Bee of Tuscany and are wondering what to read next, you might try Sydney and Violet. . . . Informative and entertaining."  —The Washington Post
 
"[Klaidman] has done us a service by rescuing Sydney and Violet Schiff from the obscurity to which the passage of the years has consigned them. . . . Anyone interested in the London literary world of the first half of the 20th century will find much to enjoy." —The Wall Street Journal

"To read about their adventures is to be transported back to the magical and mythical early years of Modernism and to appreciate the role this incredible pair played in bringing it about. . . . Klaidman has finally given the Schiffs their just due."  —Deirdre Bair, National Book Award-winning author of Samuel Beckett
 
"[Readers can] rejoice in meeting two fascinating people who lived at the center of the major cultural movements of the early twentieth century." —Mary Gordon, author of Final Payments

"A delightful way of discovering the rivalries and excesses, the nastiness and the brilliance of the early-twentieth-century English literary world. . . . Very entertaining." —Anka Muhlstein, author of Monsieur Proust's Library

"Klaidman makes clear the importance of this engaging couple." —The Buffalo News
or
Not Currently Available for Direct Purchase