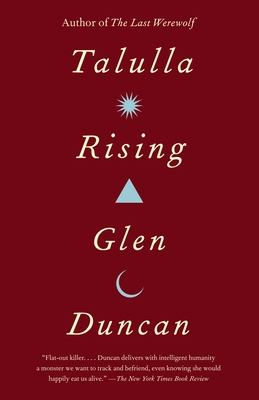 Talulla Rising (Last Werewolf Trilogy #2)
Paperback

* Individual store prices may vary.
Other Editions of This Title:
Digital Audiobook (6/25/2012)
Description
With the same vicious imagination, blood-dark humor, and ferocious narrative energy of his bestselling novel The Last Werewolf, Glen Duncan now delivers a heroine like no other.
 
Grieving for her werewolf lover, Jake, whose violent death has left her alone with her own sublime monstrousness, Talulla Demetriou is pregnant and on the run, fleeing to a remote Alaskan lodge to have her child in secret. There, with her infant son in her arms, it looks as if the worst is over. Until the door bursts open and she discovers that the nightmare is only just beginning. Tormented by guilt and fuelled by rage, Talulla is suddenly plunged into a race against time to save her son.  Pursued by deadly forces, including (rumor has it) the oldest living vampire on earth, the odds seem hopeless. Unless, of course, a mother's love for her child turns out to be the deadliest force of all. . .
Praise For Talulla Rising (Last Werewolf Trilogy #2)…
"Gorgeous. . . . Irresistible. . . . As with The Last Werewolf, Duncan writes with caustic edge and pop-culturally relevant humor. " —Dallas Morning News

"A lusty, visceral, bloody tale. . . . This is enjoyable stuff. . . . Talulla has the wit and pluck to entertain us."—Cleveland Plain Dealer

"Horror fiction at its best."—The Oregonian
 
"Duncan's antihero is an apex female predator, the antithesis of Stephenie Meyer's gothy milksop. She's smart, confident, and a caring mother. She's also a ferocious man-eater . . . The spectacle alone is worth the price of admission."—NPR
 
"The horror genre at its best—wildly imaginative, written with wit and intelligence, wickedly entertaining."  —The Times (UK)
 
"Flat-out killer. . . . This harmonic hybrid delivers sweet (plot), salty (character), sour (emotional pathos), bitter (psychological probity), and umami (stylistic and linguistic panache). . . . Best described as a gleeful three-way between Raymond Chandler's entire oeuvre, Anne Rice's vampire novels and Umberto Eco's Foucault's Pendulum. . . . A high-calorie blast. . . . Duncan delivers with intelligent humanity a monster we want to track and befriend, even knowing she would happily eat us alive." —New York Times Book Review
 
"A howling good read. . . . Horrifying and humorous, imaginative and energetic."—CNN
 
"Duncan is an immensely talented literary novelist, and with Talulla Rising, he has again proved you don't have to be driving with a learner's permit to enjoy a good vampire-versus-werewolf book. . . . Its descriptions of sex and violence—by turns hallucinatory and anatomically precise—might render Twilight fans blind and mute. Everyone else should have a blast, though." —Richmond Times-Dispatch
 
"In Talulla Rising, Duncan again creates an oddly engaging world defined almost exclusively by the abnormal . . . The story moves from Alaska to London to Italy to Crete, makes good use of the monsters' special powers, offers cliff-hanging moments. . . . Duncan can be awfully entertaining." —Bloomberg News
 
"A lusty, visceral, bloody tale [told in] capable, muscular prose . . . This is enjoyable stuff . . . Duncan's werewolves are never cartoons . . . Talulla has the wit and pluck to entertain us."—Cleveland Plain Dealer
 
"As well as being thought-provoking, it's all great fun . . . Duncan's writing does more than transcend genre fiction: it creeps up on it in the dead of night, rips out its heart, then eats it."—The Guardian
 
"I like now and then to be reminded that I am a companion of the Wild Beast, and Glen Duncan ensures that I never forget it. He writes brilliantly of the presence of evil in its most contemporary disguise, with its heady temptations of heedless abundance, hunger, and satiety. Never again will it be possible to think of werewolves as mere metaphor. This fierce, witty, and erotic novel is full of surprises, both provocative and illuminating." —Susanna Moore
Vintage, 9780307742186, 368pp.
Publication Date: March 12, 2013
About the Author
Glen Duncan is the author of eight previous novels. He lives in London.