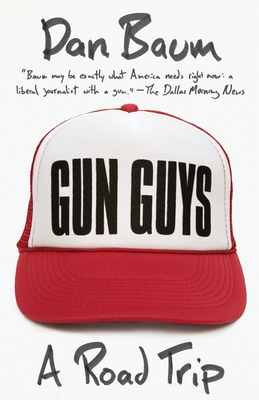 Gun Guys (Paperback)
A Road Trip (Vintage Departures)
Vintage, 9780307742506, 352pp.
Publication Date: December 3, 2013
* Individual store prices may vary.
Description
Dan Baum is a gun fanatic. He is also Jewish Democrat who grew up in suburban New Jersey. In Gun Guys, he takes us on a guided tour of gun stores and gun shows, shooting ranges and festivals, contests and auctions, trying to figure out what draws so many of us to guns in the first place. Is it just part of being American?  Introducing a wide cast of characters, Baum shows both sides of the gun culture in America, bringing an entire world vividly to life, and in doing so helping to find a middle ground in the gun debate, where actual conversation can take place.
About the Author
Dan Baum is the author of Nine Lives, Smoke and Mirrors, and Citizen Coors. He was a staff writer for The New Yorker and has written for Rolling Stone, Harper's Magazine, The New York Times Magazine, and many other publications.
Praise For Gun Guys: A Road Trip (Vintage Departures)…
 
"Dan Baum may be exactly what America needs right now: a liberal journalist with a gun."—The Dallas News

"Vivid. . . . Schlepping among the gun lovers with this guy is unfailingly diverting as well as illuminating."—Newsday

"[A] wonderfully guileless and open-minded guide to American gun culture. . . . [Baum] has done a public service."—The Christian Science Monitor

 "Baum sets out to understand what motivates so many Americans to be "gun guys"... [and] depicts these people and their different motives with genuine empathy."—New York Review of Books
 
"A thoughtful, well-reasoned antidote to the polarized hysteria that currently passes for a national gun debate. By the end of the book, Baum arrives at something that feels truly fresh: a middle ground on guns."—San Francisco Chronicle

"As a writer, Baum doesn't have it in him to lay down a dull sentence. (Gun Guys) is wise, considered, delectably written, fun to read and wholly lacking in tendentiousness."—Bloomberg.com
 
"An accomplished nonfiction storyteller ... Baum's also more much articulate than the average gun-lover—or hater."—Tampa Bay Times
 
  "It is interesting and funny. But most of all it is enlightening."--Beaufort Observer (North Carolina)
 
 "His descriptions of the frequently awkward encounters are pitch-perfect."—Richmond Times-Dispatch
   
"For every yahoo in the gun culture prattling on about world government there are nine guys (and girls) who simply like to shoot."— The Wall Street Journal
 
"The strength of Baum's book is that he doesn't drink from the tap of conventional wisdom."— The Gambit (New Orleans)

 "A provocative, probing and frequently funny journey deep into the mentality of the approximately 40 percent of Americans who own guns." —San Diego Union-Tribune

 "Thoroughly entertaining and provocative."— Cleveland Plain Dealer
 
"Fascinating, intelligent... Gun Guys is a necessary, insightful"—Minneapolis Star Tribune
 
"Thank goodness we have Dan Baum to guide us through this morass."— Chicago Reader

"Baum stretches across the divide like few others."—Maclean's
 
"A fascinating look at a part of our culture often vilified without recourse." —Florida Times-Union:
or
Not Currently Available for Direct Purchase