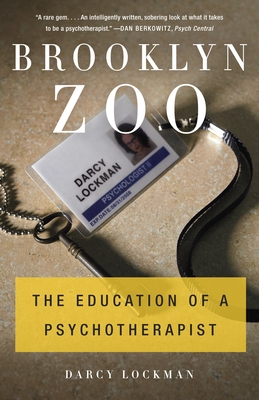 Brooklyn Zoo: The Education of a Psychotherapist (Paperback)
The Education of a Psychotherapist
Vintage Books, 9780307742520, 306pp.
Publication Date: April 9, 2013
* Individual store prices may vary.
or
Not Currently Available for Direct Purchase
Description
In her eye-opening, ruthlessly honest account, Darcy Lockman shares the stress, frustratation, and exhilaration of her clinical training as a psychologist in the midst of institutional dysfunction at Brooklyn's Kings County Hospital.
 
After leaving her career in magazine journalism to become a psychotherapist, Darcy Lockman confronted a slew of challenges including numerous troubling cases, struggles to provide the poor and chronically ill with adequate care, and the general and sometimes humorous indignities of being a trainee in any field. This compelling memoir will by turns deeply move, shock, and enrage you. Hope is not lost though, and Brooklyn Zoo introduces us to the many smart people currently trying to fix the mental health-care system, enhancing our understanding of what psychologists can make possible through their work.
About the Author
Darcy Lockman, Ph.D., is a clinical psychologist in private practice in New York City. Her writing has appeared in "The New York Times," "Psychology Today," and "Rolling Stone," among others. She lives with her husband and baby daughter in Queens.
Praise For Brooklyn Zoo: The Education of a Psychotherapist…
Praise for Darcy Lockman's Brooklyn Zoo:

"A rare gem. . . . An intelligently written, sobering look at what it takes to be a psychotherapist. . . . The prose flows, the pacing is even, and the structure is well crafted. As well, the content—the story—is utterly fascinating. . . . It's the kind of book you don't want to rush through; you want to dwell on each chapter, and meditate on Lockman's experiences to get a fuller sense of what she saw. . . . [Lockman has] a unique voice and a knack for painting verbal portraits."
—Dan Berkowitz, Psych Central
 
"Lockman is no Nurse Ratched; she describes the cast of damaged characters who rotate through the building with the sympathetic touch of a born caregiver, rather than as a voyeur, and the reader is brought to share her frustration with a system that, unfortunately, cannot always afford to be more human."
—The Daily Beast
 
"A sorrowful and fascinating portrait of the institutional underworld where criminality and mental illness co-exist. . . . 'Abandon Hope, All Ye Who Enter Here' might well be the words above the door of Kings County Hospital's notorious G Building. Serial killer Son of Sam and rap legend Ol' Dirty Bastard punched their tickets at this under-funded, over-crowded mental hospital; so does Darcy Lockman, a wet-behind-the-ears psych intern fresh out of graduate school. She can empathize with the human flotsam washed up on the outer edge of outer Brooklyn—the white folks get sent to Bellevue, in Manhattan—but more to the point, she can write"
—Alex Beam, author of Gracefully Insane: Life and Death Inside America's Premier Mental Hospital

"Provocative material. . . . A former journalist, Lockman delivers fascinating revelations about the ways diagnoses are made in Brooklyn Zoo."
—Entertainment Weekly

"Reading Brooklyn Zoo is like getting a nightly e-mail from your best friend as she explores the far side of the moon. I gasped at what she saw and alternately winced and cheered at her responses. A smart, delightful surprise of a book."
—Susan Baur, author of The Dinosaur Man: Tales of Madness and Enchantment from the Back Ward

"Brooklyn Zoo takes us to places where very, very few of us would ever go—or want to go. This interesting memoir deals with situations which might be considered hopeless with great compassion and clarity. For so many of these people, mental illness is the least of their worries but the most of their handicaps. An insight therapist is at a huge disadvantage, and Lockman feels it deeply. She cares about people in a way that few of us dare."
—Joanne Greenberg, author of I Never Promised You a Rose Garden

"Crisply written. . . . This is a useful . . . look at the vagaries of a psychologist's training and role in an overwhelming institutional setting."
—Publishers Weekly

"Before returning to graduate school Lockman worked as a magazine journalist, a skill she puts to good use in this insider's look at the practice of psychiatry in a poorly funded, understaffed public institution."
—Kirkus Reviews
Advertisement