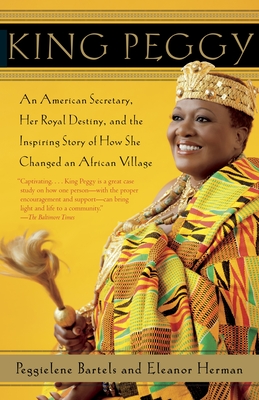 King Peggy
An American Secretary, Her Royal Destiny, and the Inspiring Story of How She Changed an African Village
Paperback

* Individual store prices may vary.
Other Editions of This Title:
Digital Audiobook (2/20/2012)
Prebound (2/12/2013)
Compact Disc (2/21/2012)
Hardcover (2/21/2012)
Compact Disc (2/21/2012)
Description
The charming real-life fairy tale of an American secretary who discovers she has been chosen king of an impoverished fishing village on the west coast of Africa.
 
King Peggy chronicles the astonishing journey of American secretary, Peggielene Bartels, who suddenly finds herself king to a town of 7,000 people on Ghana's central coast, half a world away. Upon arriving for her crowning ceremony in beautiful Otuam, she discovers the dire reality: there's no running water, no doctor, no high school, and many of the village elders are stealing the town's funds. To make matters worse, her uncle (the late king) sits in a morgue awaiting a proper funeral in the royal palace, which is in ruins. Peggy's first two years as king of Otuam unfold in a way that is stranger than fiction. In the end, a deeply traditional African town is uplifted by the ambitions of its decidedly modern female king, and Peggy is herself transformed, from an ordinary secretary to the heart and hope of her community.
Praise For King Peggy: An American Secretary, Her Royal Destiny, and the Inspiring Story of How She Changed an African Village…
Praise for Peggielene Bartels and Eleanor Herman's King Peggy

2012 Finalist for the Books for a Better Life Award
A 2013 Amelia Bloomer List Selection

"Captivating. . . . King Peggy is a great case study on how one person—with the proper encouragement and support—can bring light and life to a community. . . . Extremely well-written and amusing. . . . Candid and humble. . . . A captivating glimpse into the mental and spiritual transformation of a middle-aged African American woman as she steps into her royal destiny as an African king."
—The Baltimore Times
 
"An astonishing and wonderful book about a real-life Mma Ramotswe. An utter joy."
—Alexander McCall Smith, author of the No. 1 Ladies Detective Agency series

"A wondrous tale of how a woman rose to great heights in circumstances one would never dream of, in a place which most of us cannot imagine living. Compelling and heartwarming, [King Peggy] is a most enjoyable and absorbing read."
—Deborah Rodriguez, author of Kabul Beauty School
 
"This irresistible real-life Cinderella story is entertaining, inspiring, and informative."
—Tucson Citizen
 
"There's an unlikely new leader in West Africa. . . . Bartels had to quickly and forcefully let tribal elders know that despite being far away and female, she had every intention of taking her position seriously—and being taken seriously in turn."
—NPR
 
"King Peggy is wildly entertaining and thoroughly engaging, and Peggy is a true modern hero as she battles her council of elders who try to maintain their old lifestyles of privilege and greed. King Peggy reminds readers that the truth is often stranger than fiction; King Peggy herself does not disappoint, neither as a ruler nor a storyteller."
—Shelf Awareness
 
"In the moving story of Peggielene Bartels, all of us can feel a connection to our ancestors, and a reminder of the good that can come from courageously embracing unexpected responsibilities."
—Jeffrey Zaslow, author of The Girls from Ames and coauthor of The Last Lecture 
 
"Though it sounds the stuff of fairytale and legend, King Peggy is the fascinating true story of her courageous acceptance of this difficult role and her unyielding resolve to help the people of Otuam. . . . Full of pathos, humor and insight into a world where poverty mingles with hope and happiness, King Peggy is an inspiration and proof positive that when it comes to challenging roles for women, 'We Can Do It!'"
—BookPage
 
"[A] winning tale of epic proportions, full of intrigue, royal court plotting, cases of mistaken identity and whispered words from beyond the grave. Upon arrival, King Peggy—who left Ghana three decades earlier and has since become an American citizen—found an uphill battle and vowed to tackle the issues plaguing her community: domestic violence, poverty and lack of access to clean water, health care and education. . . . Florid description of the landscape, culture and characters work together to fully evoke the rhythms of African life. Ultimately, readers come away with not only a sense of how King Peggy was able to transform Otuam, but also an understanding of how the town and its inhabitants transformed her."
—Kirkus Reviews
 
"King Peggy is the funny, wide-eyed account of [Peggielene Bartel's] struggle to overcome sexism, systemic corruption and poverty without losing her will to lead or the love of her 7,000 subjects. . . . Co-author Herman says her interest in Africa came from the fiction of Alexander McCall Smith; she thinks she has met in Peggy a real-life Mma Ramotswe, and readers will quickly agree."
—Maclean's (Toronto)
Anchor, 9780307742810, 368pp.
Publication Date: February 12, 2013
About the Author
Peggielene Bartels was born in Ghana in 1953 and moved to Washington, DC, in her early twenties to work at Ghana's embassy. She became an American in 1997. In 2008, she was chosen to be king of Otuam, a Ghanaian village of 7,000 people.

Eleanor Herman is the author of three books of women's history, including The New York Times bestseller Sex with Kings. Her profile of Peggy was a cover story for The Washington Post Magazine.
or
Not Currently Available for Direct Purchase