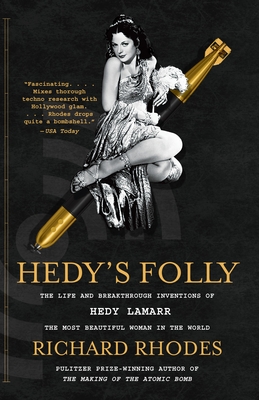 Hedy's Folly (Paperback)
The Life and Breakthrough Inventions of Hedy Lamarr, the Most Beautiful Woman in the World
Vintage, 9780307742957, 288pp.
Publication Date: August 7, 2012
Other Editions of This Title:
Digital Audiobook (11/28/2011)
Hardcover (11/29/2011)
Hardcover, Large Print, Large Print (5/1/2012)
* Individual store prices may vary.
Description
Pulitzer Prize-winning author Richard Rhodes delivers a remarkable story of science history: how a ravishing film star and an avant-garde composer invented spread-spectrum radio, the technology that made wireless phones, GPS systems, and many other devices possible.
 
Beginning at a Hollywood dinner table, Hedy's Folly tells a wild story of innovation that culminates in U.S. patent number 2,292,387 for a "secret communication system." Along the way Rhodes weaves together Hollywood's golden era, the history of Vienna, 1920s Paris, weapons design, music, a tutorial on patent law and a brief treatise on transmission technology. Narrated with the rigor and charisma we've come to expect of Rhodes, it is a remarkable narrative adventure about spread-spectrum radio's genesis and unlikely amateur inventors collaborating to change the world.
About the Author
RICHARD RHODES is most recently the author of The Twilight of the Bombs, the last volume in a quartet about nuclear history. The first, The Making of the Atomic Bomb, won the Pulitzer Prize, a National Book Award, and a National Book Critics Circle Award.
Praise For Hedy's Folly: The Life and Breakthrough Inventions of Hedy Lamarr, the Most Beautiful Woman in the World…
Praise for Richard Rhodes's Hedy's Folly:

"Fascinating. . . . mixes thorough techno research with Hollywood glam. . . . Rhodes drops quite a bombshell."--USA Today
 
"A smart, strange and fascinating book."--Washington Post
 
"It's to Mr. Rhodes's credit that he gently makes this implausible story plausible."--New York Times
 
"Unveils the inquisitive brain behind the beauty.... [It] reads at turns like a romance novel, patent law primer, noir narrative and exercise in forensic psychology." —Los Angeles Times
 
"Rhodes's talent is making the scientifically complex accessible to the proverbial lay reader with clarity and without dumbing down the essentials of his topics."--The New York Times Book Review
 
"[A] charming and remarkably seamless book."—Salon
 
"Fascinating . . . shows Hedy Lamarr to have been a secret weapon in more ways than one."—Newsweek
 
"Richard Rhodes is the perfect historian to describe the abilities of Hedy Lamarr and George Antheil as scientists and inventors."--Larry McMurtry, Harper's Magazine
 
"Richard Rhodes's book should be celebrated: he shows that even in the "information" age, there is a way to write about an American movie star that gives readers something new."--The New Republic
 
"Hedy Lamarr, glamorous Hollywood star. Hedy Lamarr, glamorous genius inventor.
That's the gist of Richard Rhodes' Hedy's Folly . . .  although, of course, it's far more complicated than that. And far more fascinating."—Philadelphia Inquirer
 
"Hedy's Folly is a reminder that neither time nor gravity can diminish the allure of a beautiful mind."--Bloomberg Business Week
 
"Rhodes, who has written about everything from atomic power to sex to John James Audubon, is apparently incapable of writing a bad book and most of what he does is absolutely superior."--The Daily Beast
 
"A riveting narrative, propelled by the ambition and idiosyncrasies of the inventors at its core."--Science News
 
"[A]n unusual and worthwhile read."—Washington Times
 
"[C]aptivating."—Boston Globe
 
"A focused glimpse into one actress' remarkable life, and the rare mix of war, patriotism and intellect that fomented her unlikely invention."—Dallas Morning News
 
"Rhodes...manages to capture the sheer improbability of these unlikely Edisons."—Entertainment Weekly
 
"Rhodes puts Lamarr's inventive spirit into coherent context.... [His] book gives us the whole Hedy — a closet geek in peacock feathers — and makes that mix believable."— Nature
 
"Riveting. . . . There's enough technical and military history here to keep Rhodes's hard-core fan base satisfied. But the cultural history is just as interesting, and Rhodes tells both stories with a sure and supple hand."—The New York Observer