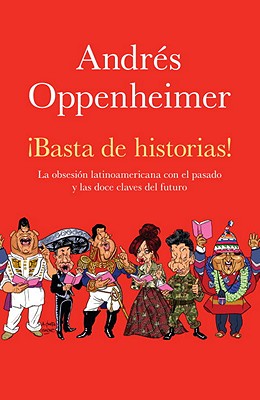 Basta de Historias!: La Obsesion Latinoamericana Con El Pasado y Las 12 Claves del Futuro (Paperback)
La Obsesion Latinoamericana Con El Pasado y Las 12 Claves del Futuro
Vintage Espanol, 9780307743510, 432pp.
Publication Date: November 2, 2010
* Individual store prices may vary.
or
Not Currently Available for Direct Purchase
Description
Periodista cardinal y siempre dispuesto a desafiar las modas politicas del momento con inteligencia y humor, Andres Oppenheimer demuestra en este libro que mejorar sustancialmente la educacion, la ciencia, la tecnologia y la innovacion no es tarea imposible. Pero si tremendamente necesaria. La razon es simple: elXXI sera el siglo de la economia del conocimiento. Contrariamente a lo que pregonan presidentes y lideres populistas latinoamericanos, los paises que avanzan no son los que venden materias primas ni productos manufacturados basicos, sino los que producen bienes y servicios de mayor valor agregado. Basta de historias es un agudo viaje periodistico alrededor del mundo, que aporta ideas utiles para trabajar en la principal asignatura pendiente de nuestros paises y la unica que nos podra sacar de la mediocridad economica e intelectual en la que vivimos: la educacion.
About the Author
Andres Oppenheimer es uno de los periodistas mas influyentes de la lengua espanola. Nacido en Buenos Aires, estudio Derecho en la Universidad de Buenos Aires y luego obtuvo una maestria en periodismo de la Universidad de Columbia, Nueva York. Fue jefe de la corresponsalia de The Miami Herald en Mexico, y encargado de la cobertura del periodico en Colombia, Panama y otros paises. Antes trabajo durante cinco anos en el Associated Press y ha colaborado para The New York Times, The Washington Post, The New Republic, CBS News y la BBC de Londres. Actualmente es editor para America Latina y columnista de The Miami Herald; analista politico de CNN en Espanol; conductor del programa de television Oppenheimer Presenta; y el autor de los libros Cuentos chinos, Cronicas de heroes y bandidos, Los Estados Desunidos de Latinoamerica, Mexico en la frontera del caos y La hora final de Castro. Entre numerosos premios y reconocimientos, fue co-ganador del premio Pulitzer en 1987 junto con el equipo de The Miami Herald que descubrio el escandalo Iran-Contras; recibio los premios Ortega y Gasset del periodico El Pais de Madrid (1993), el Rey de Espana otorgado por la agencia EFE (2001), el Maria Moors Cabot de la Universidad de Columbia (1998), el Overseas Press Club Award (2002) y el premio Emma Suncoast de la Academia Nacional de Television, Artes y Ciencias de Estados Unidos (2005)."
Advertisement