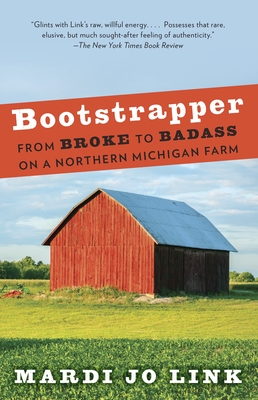 Bootstrapper: From Broke to Badass on a Northern Michigan Farm (Paperback)
From Broke to Badass on a Northern Michigan Farm
Vintage Books, 9780307743589, 257pp.
Publication Date: April 8, 2014
Description
When Mardi Jo Link finds herself a newly single mother after nineteen years of marriage, she makes a seemingly impossible resolution: to stay in her century old-farmhouse and continue raising her three boys on well-water, chopping wood, and dirt. Armed with an unflagging sense of humor and a relentless optimism that would put Rebecca of Sunnybrook Farm to shame, Link and her resolute accomplices struggle through one long, hard year of blizzards, foxes, bargain cooking, rampaging poultry, a zucchini-growing contest, and other challenges.
About the Author
Mardi Jo Link is the author of Bootstrapper, When Evil Came to Good Hart (2008) and Isadore s Secret (2009), winner of the Michigan Notable Book Award. She lives with her family on a small farm in northern Michigan."
Praise For Bootstrapper: From Broke to Badass on a Northern Michigan Farm…
Winner of the GREAT LAKES, GREAT READS Booksellers' Choice Award and the Michigan Notable Book Award

"Glints with Link's raw, willful energy. . . . Possesses that rare, elusive, but much sought-after feeling of authenticity."
     —The New York Times Book Review

"A heroic-comic saga of single motherhood, pure stubbornness, and the loyalty of three young sons. And more than that, an honest account of the working poor, the people who . . . don't need your sympathy. Just a break now and then."
     —Garrison Keillor

"A country song of a memoir, complete with a broken-down truck named Cookie. It's great fun to listen to . . . full blast."
     —San Francisco Chronicle
 
 "You'll fall in love with Mardi Jo Link's family in this irreverent and heartwarming memoir."
     —Parade

"Inspirational and funny in the I-might-as-well-laugh-or-I-think-I'll-cry sort of way."
     —Detroit Free Press

"Dynamic. . . . Throws a wrench, or in this case a pitchfork, into the saga of the newly single mother. . . . Link's snappy writing turns this potentially familiar story into a new kind of survivalist country song."
     —Minneapolis Star-Tribune

"Hilarious, wrenching, and heartwarming . . . Chronicles one woman's determination to discover meaning and wholeness in the midst of brokenness."
     –BookPage

"A tale of grit and determination. . . . In reading Bootstrapper other single parents might feel solidarity in the shared experience of struggle—may even derive strength."
     —New York Journal of Books

"Link's style of writing is like her style of living—direct, funny, void of self-pity and exceedingly humane. . . . This is a book about a mother's fierce love and the sustaining fabric of family; yet, just beneath is a powerful subtext about the value of work."
     —Kirkus Reviews

"Tough, honest . . . Will appeal to the bootstrapper in all of us."
     —Booklist

"As much triumph as tragedy. . . . Both humorous and heartwarming." 
     —Traverse City (Michigan) Record-Eagle

"Poignant, funny. . . . Filled with the kind of joy only a tough-minded mother could bring to her kids."
     —Northern Express

Advertisement