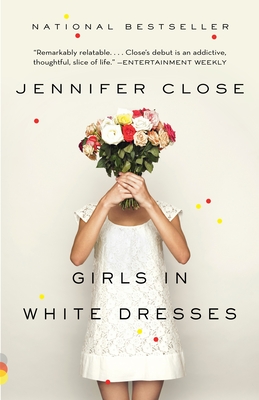 Girls in White Dresses (Vintage Contemporaries) (Paperback)
Vintage, 9780307743695, 304pp.
Publication Date: May 1, 2012
Other Editions of This Title:
Digital Audiobook (8/8/2011)
Hardcover (8/9/2011)
Compact Disc (8/9/2011)
Paperback (6/1/2011)
* Individual store prices may vary.
August 2011 Indie Next List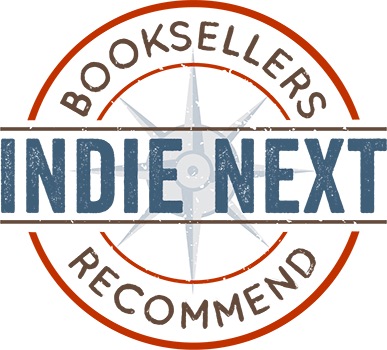 "This book is smart, hilarious, and sincere, a combination both rare and, here, perfectly balanced. The series of interconnected short stories features Isabelle, her family, and her group of close friends as Isabelle grows up and moves from being a reluctant member of her older sister's wedding party to attending numerous friends' weddings. But this is not just a book about getting married. It is a book about growing up, being a girl, being both a friend and a girlfriend, and trying to find one's place in the world. It is also incredibly funny - laugh out loud, run into the next room to read sections to whomever will listen, spot-on funny! This lovey book should not only be shared among mothers, daughters, and friends, but be passed on to brothers, boyfriends, and dads too!"
— Sarah Baline, Politics & Prose Books &, Washington, DC
View the List
Description
Isabella, Mary, and Lauren feel like everyone they know is getting married. On Sunday after Sunday, at bridal shower after bridal shower, they coo over toasters, collect ribbons and wrapping paper, eat minuscule sandwiches and cakes. They wear pastel dresses and drink champagne by the case, but amid the celebration these women have their own lives to contend with: Isabella is working a dead-end job, Mary is dating a nice guy with an awful mother, and Lauren is waitressing at a midtown bar and wondering why she's attracted to the sleazy bartender.

With a wry sense of humor, Jennifer Close brings us through those thrilling, bewildering years of early adulthood as she pulls us inside the circle of these friends, perfectly capturing the wild frustrations and soaring joys of modern life.
About the Author
Jennifer Close was born and raised on the North Shore of Chicago. She is a graduate of Boston College and received her MFA in Fiction Writing from The New School in 2005. She worked in New York in magazines for many years and then in Washington, D.C., as a bookseller. Girls in White Dresses is her first book.
Praise For Girls in White Dresses (Vintage Contemporaries)…
"Remarkably relatable. . . . Close's debut is an addictive, thoughtful, slice of life" —Entertainment Weekly
 
"What a delight! The young women in this hugely appealing book are charming, funny, rueful, poignant. . . . One of the freshest and most appealing new voices in fiction." —Ann Packer
 
"[Close's characters] grumble good-naturedly through their friends' weddings and the births of their babies . . . with the pluck and gimlet eye of Carrie Bradshaw's younger, smarter sisters." —Vanity Fair

"You'll relate, but mostly you'll laugh as Close turns her sweet-tart wit on the dating and mating shenanigans of this tight-knit group of friends." —Redbook

"Close's witty voice . . .  charts the romantic shenanigans of a bevy of New York women in their 20s, before career success or Botoxed foreheads. Dating is a phenomenon to be analyzed in improvised group therapy over cocktails." —The New York Times
 
"The one book that I will be recommending over and over again to all of my friends. I laughed, I cried, I nodded knowingly. . . . I can't remember the last time I loved a book as much as this one." —Allison Winn Scotch, New York Times bestselling author of The One That I Want
 
"Close straddles the line between melancholy and breeziness as she chronicles the exploits of recent college grads trying to make it in New York City . . . Hints at something deeper and truer: not just the adventure of being young, but the unmooring of it, too." —Entertainment Weekly
 
"These Girls are smart, funny and extremely engaging. You will adore them and their poignant—and often hilarious—romantic yearnings." —Danielle Ganek, author of The Summer We Read Gatsby
 
"This debut will ring bells. Wedding bells. . . . An uncanny portrait emerges of a time in life marked by too many hangovers, bad dates and bridal showers—as well as an abundance of solid friendships." —People 

"One wickedly observed first novel, a book that revels in contemporary city life, revealing it with a knowing flourish. . . . Girls in White Dresses is very much about New York City and about the current economic downturn. It's about the changes that might be necessary and those that are not. It's about friendship and heart, and it insists that relationships, if they're solid enough, can withstand just about anything." –The Anniston Star

 "[An] irresistible, pitch-perfect first novel." —Marie Claire
 
"Anyone who has seen The Sound of Music—that is, everyone—will likely recognize the title of Jennifer Close's Girls in White Dresses as a certain Oscar Hammerstein lyric. But given the tone and tenor of this debut novel, it shouldn't surprise that the reference isn't particularly affectionate. . . . Quite endearing." —USA Today
 
"An unsentimental, frank novel about female friendship—its lifelong loyalties and unconditional love." —Kate Christensen, PEN/Faulkner Award-winning author of The Great Man
 
"Modern and funny, with original, wry observations. Close's debut novel will appeal to both fans of contemporary women's fiction with a hip vibe and readers who enjoy old-school chick lit." —Library Journal (starred review)
 
"One of the most buzzed-about reads of the summer. . . . Funny and often poignant; the tone of the book is reminiscent of Melissa Bank's popular 1999 novel The Girls' Guide to Hunting and Fishing. . . . The vignettes of White Dresses are intricate and often absurd, yet instantly relatable." —Winnipeg Free Press
 
"It's a pleasure to get to know the characters and be able to leave them behind, knowing they'll keep muddling on toward some version of happiness." —The Columbus Dispatch
 
"Girls in White Dresses is a dark, funny, intimate romp through boyfriends, first apartments, and great friendships—but beneath the surface lurks the jealousy, disappointment, and love that didn't quite end up the way you thought it would. Jennifer Close's brilliant, deadpan humor made me laugh so hard my own roommate thought I was nuts." —Margot Berwin, author of Hothouse Flower
 
"So many books aimed at 25- to 35-year-old women say they perfectly capture the angst and soaring joys of post-college life, but Girls in White Dresses truly does. Told in intersecting stories of a group of friends, Close is able to nail the complexity of the times—who to date, what job to take and what to wear to the endless weddings." —Metro News (Toronto)
 
"Reading each story feels like catching up with an old friend. . . . Although the majority of the stories are humorous, they are never mean-spirited, and the friendships Close portrays feel incredibly realistic." —National Post
 
"Is this just another fluffy piece of chick lit about 20-somethings finally finding love? Not with Close's wry wit and deadpan delivery, which make this debut novel a treat to read. . . . An original confection with echoes of The Girls' Guide to Hunting and Fishing and a dollop of Sex and the City." —Shelf Awareness

"If Elizabeth Bennet were post-collegiate, hungover, lovelorn and living on the Upper West Side, she would definitely be rooming with the Girls in White Dresses. This debut is hilarious, warm-hearted and wise, and I couldn't put it down." —Holly LeCraw, author of The Swimming Pool