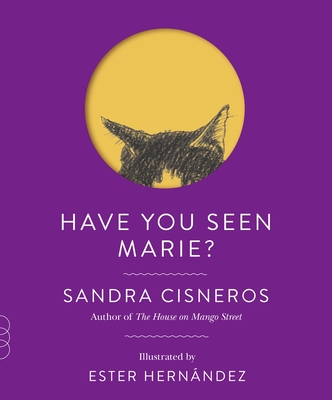 Have You Seen Marie? (Paperback)
Vintage Books, 9780307743862, 101pp.
Publication Date: April 8, 2014
Description
Have You Seen Marie? Showcases the storytelling magic of Sandra Cisneros, beloved author of The House on Mango Street. This lyrically told, richly illustrated fable for adults is the tale of a woman's search, in the wake of her mother's death, for a missing cat and a reminder that love, even when it goes astray, does not stay lost forever.
About the Author
Sandra Cisneros is the author of two highly celebrated novels, The House on Mango Street and Caramelo. Her awards include National Endowment for the Arts Fellowships, the Lannan Literary Award, the American Book Award, and a MacArthur Fellowship. Other books include the story collection Woman Hollering Creek; two books of poetry; and two books of children's literature. Her work has been translated into more than twenty languages. Cisneros is the founder of the Alfredo Cisneros Del Moral and Macondo Foundations, which serve creative writers. Ester Hernandez is an internationally acclaimed visual artist whose work is in the permanent collections of the Smithsonian American Art Museum, the Library of Congress, the San Francisco Museum of Modern Art, and the Museo Casa Estudio Diego Rivera y Frida Kahlo in Mexico City. She lives in San Francisco."
Praise For Have You Seen Marie?…
"A real-life bedtime story for grownups." 
—The Seattle Times

"Cisneros captures the experience of grief with moving and visceral clarity. . . . Like the best bedtime stories, [Have You Seen Marie?] both honors the darkness around us and keeps the same darkness at bay." 
—San Francisco Chronicle 

"[A] magical journey . . . . Cisneros has folded powerful themes into this seemingly simple fable:  onfronting and accepting the loss of a loved one, the importance of community, the presence of spirituality in our lives and the way that imagination and art can illuminate reality . . . . [Characters] come to life not only in Cisneros' poetic nuggets of prose, but in Ester Hernández's sweetly realistic color illustrations . . . . The book glows."
—The Miami Herald
 
"The narrative becomes a springboard for a moving exploration of loss."
—San Antonio Express-News
 
"Unique and uplifting . . . . Have You Seen Marie? does what every good picture book does by creating meaning through experience while being fun to read aloud . . . . Cisneros and Hernández invite the reader to visually enjoy the story, to listen to the music of the words, and have an experience without getting bogged down in self- help monotony."
—El Paso Times
 
"[Have You Seen Marie?] is at its heart a parable for adults, whose themes of death, mourning and loss take on new meaning when presented within a simple tale about a cat gone astray . . . . Full of picturesque illustrations of San Antonio and its colorful characters."
—NBC Latino
 
"A fable for grieving grown- ups, and . . . medicine for hearts broken from loss."
—CNN
 
"Cisneros's gift of storytelling and Ester Hernández's illustrations bring to life the story about death, grief, and the desire to move forward. This book is a wonderful gift to share with someone who is experiencing the pain of losing a loved one."
—Modern Latina
Advertisement