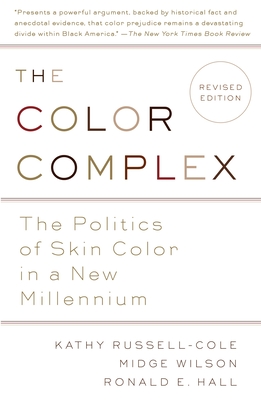 The Color Complex (Revised) (Paperback)
The Politics of Skin Color in a New Millennium
Anchor, 9780307744234, 304pp.
Publication Date: January 8, 2013
* Individual store prices may vary.
Description
A provocative exploration of how Western standards of beauty are influencing cultures across the globe and impacting personal, professional, romantic and familial relationships. Processes like skin lightening in India, hair smoothing in Black America, eyelid reconstruction in China, and plastic surgery worldwide continue to rise in popularity for men and women facing discrimination from both within and outside of their own increasingly fluid ethnic groups. Now including a wealth of new information since the first edition of The Color Complex over two decades ago, the authors, through a historical and sociological lens, have measured the impact of recent pop culture events effecting race relations to determine whether colorism has gotten better or worse over time.
About the Author
Kathy Russell is Vice President of Sales for Omar Supplies Inc and lives in Plainfield, Illinois with her husband, photographer James M. Cole. Midge Wilson is an associate dean and professor who holds a joint appointment in psychology and women's and gender studies at DePaul University, also in Chicago. Ronald E. Hall is a social work professor at Michigan State University.
Praise For The Color Complex (Revised): The Politics of Skin Color in a New Millennium…
"Presents a powerful argument, backed by historical fact and anecdotal evidence, that color prejudice remains a devastating divide within Black America."
—The New York Times Book Review 
 
"An exploration of tightly guarded beliefs regarding color and its relationship to status and self-worth . . . This thoughtful work pierces through denial and stereotypes and invites people to look into a mirror, see beyond color and probe the soul."
—Atlanta Constitution 
 
"A serious, scholarly work that tackles an extremely sensitive topic with compassion and objectivity."
—Boston Phoenix
 
"A clever, disturbing, well-documented examination of the origins and effects . . . of black-on-black bias."
—Chicago Tribune

"The Color Complex is a much needed and insightful examination of color prejudices which persist among African Americans. It illustrates how deeply white racism continues to intrude on the black psyche and behavior."
—Alvin F. Poussaint, M.D., Harvard Medical School
 
"Should make it easier for artists, writers and thinkers who want to probe deeper, examine new truths, and most of all, heal the wounds."
—Newsday
 
"The authors—a black woman, a white woman, and a black man—ably survey the highly charged issue of discrimination among blacks on the basis of skin color."
—Publishers Weekly
 
"Long overdue . . . Far too much time has been spent worrying about what to call ourselves—Afro-America, black, African-Americans, people of color—and not enough time learning how to understand and reconcile the many parts and hues."
—LA Weekly