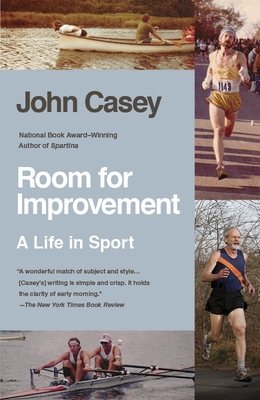 Room for Improvement (Paperback)
A Life in Sport
Vintage, 9780307744524, 256pp.
Publication Date: November 13, 2012
* Individual store prices may vary.
Description
PEN/ESPN Award Finalist

Spanning more than fifty years of ambitious and wild endeavors, Room for Improvement chronicles John Casey's most peculiar addiction, that of an adrenaline junky. Here we see Casey taking part in an Outward Bound course in Maine during the dead of winter; being pinned by a two-hundred-pound judo instructor; leading a lost couple on a yacht through the rocky waterways of Narragansett Bay by a simple rowboat; and completing--on his seventieth birthday--a 70K marathon of his own devising that included rowing, bicycling, skating, dog walking, and rollerblading. Be it a preoccupation with health or just an indomitably playful sense of adventure, John Casey's insatiable drive is an inspiration to us all
About the Author
John Casey was born in 1939 in Worcester, Massachusetts, and educated at Harvard College, Harvard Law School, and the University of Iowa. His novel Spartina won the National Book Award in 1989. He lives in Charlottesville, Virginia, where he is professor of English literature at the University of Virginia.
Praise For Room for Improvement: A Life in Sport…
"A wonderful match of subject and style . . . [Casey's] writing is simple and crisp. It holds the clarity of early morning." —The New York Times Book Review 

"He's a damned good writer . . . How many professor types do you reckon would tackle a 50-mile run along the Adirondack Trail or an 11-day winter-survival course in Main that included two nights along in a makeshift cave?" —Wall Street Journal

"There's a lot of humor in these essays, most of it good-naturedly aimed at Casey himself. But he's serious, too. Casey doesn't scold those of us who aren't as physically active as we used to be; rather, he entices us to consider getting moving again, preferably outside." —The Boston Globe

"Room for Improvement is a marvel of closely observed mostly outdoor sport, much of it alarmingly strenuous, but colored throughout by infectious exuberance and tolerance for discomfort. With genteel detachment well to the rear, Casey brings us point blank to the levels of sporting commitment that rise to illumination." —Thomas McGuane


"In these empirical and informative essays, John Casey writes with the 'savor of attentiveness' about those peaks in cardiovascular exercise when we feel transformed—about being, as he puts it, 'encased in the rhythm of what I was doing.' Casey has walked, run, rowed, paddled, and cross-country skied. Not unlike those sports, these connected essays flow into one another, and they reflect more than an author's willingness to suffer 'a ruffled minor vanity'; not unlike the over-seventy athlete he is, John Casey's writing is exemplary and tireless." —John Irving
 

or
Not Currently Available for Direct Purchase