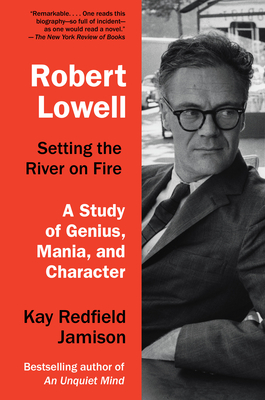 Robert Lowell, Setting the River on Fire
A Study of Genius, Mania, and Character
Paperback

* Individual store prices may vary.
Other Editions of This Title:
Digital Audiobook (2/27/2017)
Description
A Pulitzer Prize Finalist 

In this magisterial study of the relationship between illness and art, the best-selling author of An Unquiet Mind brings a fresh perspective to the life and work of Pulitzer Prize-winning poet Robert Lowell. In his poetry, Lowell put his manic-depressive illness (now known as bipolar disorder) into the public domain, and in the process created a new and arresting language for madness. Here Dr. Kay Redfield Jamison brings her expertise in mood disorders to bear on Lowell's story, illuminating not only the relationships between mania, depression, and creativity but also how Lowell's illness and treatment influenced his work (and often became its subject). A bold, sympathetic account of a poet who was—both despite and because of mental illness—a passionate, original observer of the human condition.
Praise For Robert Lowell, Setting the River on Fire: A Study of Genius, Mania, and Character…
One of the Best Books of the Year: The Washington Post, The Boston Globe, The Seattle Times, and The Times Literary Supplement

"Remarkable. . . . One reads this biography—so full of incident—as one would read a novel." —The New York Review of Books

"Groundbreaking. . . . A case study of what a person with an extraordinary will, an unwavering sense of vocation, and a huge talent . . . could and could not do about the fact that the defining feature of his gift was also the source of his suffering." —The New Yorker

"One of the finest biographies I have read." —Andrew Solomon
 
"Impassioned, intellectually thrilling. . . . Empathetic and astute, as heartfelt as it is heartbreaking." —The Washington Post

"Robert Lowell, Setting the River on Fire is a study in one genius reaching back in time to unpack the psyche of another." —Vanity Fair
 
"Jamison has amassed a wealth of fascinating research about Lowell, which should serve scholars for years to come. . . . But perhaps it is Jamison's personal take on mania that is finally most valuable. She knows the disease from bittersweet experience. She's been obsessed and absorbed by it." —The New York Times Book Review
 
"A remarkably poignant, in-depth . . . look at the making of art under often hair-raising circumstances. [Jamison] doesn't skimp on the damage Lowell caused, both to himself and others, when he was at his worst, which makes the insistent re-emergence of his best self an act worth marveling at, as courageous and full of stamina in its way as that of any war hero." —The Wall Street Journal
 
"Finally, a book commensurate to the immensity that was Robert Lowell. This is the soul that fires the poetry and prose, the soul that his friends fell in love with." —Frank Bidart
 
"Ambitious . . . penetrating. . . . Absorbing. . . . [Jamison] approaches Lowell's vexed life not only with scholarly authority but also with literary talent and confidence." —The New York Review of Books

"A book for the ages: poignant, ambitious, and bighearted, about friendship, history, and the mad dance of mind that Lowell faced with supreme courage." —Brenda Wineapple
 
"Jamison's understanding of literature is . . . 'fast, compound, legendary'; she draws from a vast knowledge while disclosing this larger than life poet who was loved, hated, and because of brain chemistry, often misunderstood." —The Boston Globe
 
"A remarkable look into the life and mind of a genius." —USA Today
 
"A writer of rare elegance, distinction and, above all, passion. . . . Dazzling and deeply moving. . . . The cost of making art, and how much of it the artist and those around him should have to bear, is the deep subject of Kay Jamison's magnificent study of a brilliant, wounded and lavishly gifted man." —John Banville, The Irish Times
 
"Beautifully written. . . . Achieves a magnificence and intensity. . . . The book demands that readers seriously engage with its arguments. . . . Exhilarating." —The Washington Post
Vintage, 9780307744616, 560pp.
Publication Date: February 6, 2018
About the Author
Kay Redfield Jamison is the Dalio Family Professor in Mood Disorders and a professor of psychiatry at the Johns Hopkins University School of Medicine, as well as an honorary professor of English at the University of St. Andrews in Scotland. She is the author of the national best sellers An Unquiet Mind, Night Falls Fast, and Touched with Fire, and is the coauthor of the standard medical text on bipolar disorder, Manic-Depressive Illness: Bipolar Disorders and Recurrent Depression. Dr. Jamison is a Fellow of the American Academy of Arts and Sciences and the Royal Society of Edinburgh and is a recipient of the Lewis Thomas Prize, the Sarnat International Prize in Mental Health from the National Academy of Medicine, and a John D. and Catherine T. MacArthur Fellowship. She is married to Thomas Traill, a cardiologist at the Johns Hopkins School of Medicine.
or
Not Currently Available for Direct Purchase