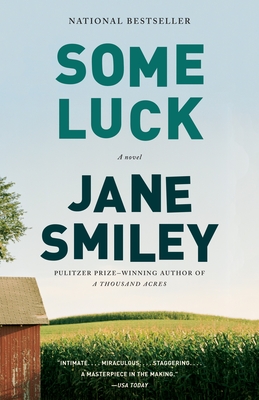 Some Luck (The Last Hundred Years Trilogy
A Family Saga #1)
Paperback

* Individual store prices may vary.
Other Editions of This Title:
Digital Audiobook (10/6/2014)
Paperback, Large Print (7/28/2015)
Compact Disc (10/7/2014)
Hardcover (10/7/2014)
Hardcover, Large Print (11/1/2014)
Description
National Book Award Nominee

A Best Book of the Year: The Washington Post, NPR, USA Today, San Francisco Chronicle, Financial Times, The Seattle Times, St. Louis Post-Dispatch, BookPage

1920, Denby, Iowa: Rosanna and Walter Langdon have just welcomed their firstborn son, Frank, into their family farm. He will be the oldest of five.
       
Each chapter in this extraordinary novel covers a single year, encompassing the sweep of history as the Langdons abide by time-honored values and pass them on to their children. With the country on the cusp of enormous social and economic change through the early 1950s, we watch as the personal and the historical merge seamlessly: one moment electricity is just beginning to power the farm, and the next a son is volunteering to fight the Nazis. Later still, a girl we'd seen growing up now has a little girl of her own.   
       
The first volume of an epic trilogy from a beloved writer at the height of her powers, Some Luck starts us on a literary adventure through cycles of birth and death, passion and betrayal that will span a century in America.
Praise For Some Luck (The Last Hundred Years Trilogy: A Family Saga #1)…
"Intimate. . . . Miraculous. . . . Staggering. . . . A masterpiece in the making." —USA Today

"Ravishing. . . . Reminiscent of the work of Willa Cather and Alice Munro. . . . Captur[es] the arc of personal and historical change in forthright prose that unexpectedly takes flight." —O, The Oprah Magazine 

"Moving. . . . Bold. . . . Sweeping. . . . [An] old-fashioned tale of rural family life in changing times." —The Washington Post
 
"[Smiley] seemingly writes the way her idol Dickens did—as easily as if it were breathing." —The New York Times

"Audaciously delicious. . . . Impeccably drawn. . . . Every character here steals our heart. . . . We read these lives, and we find our own." —Chicago Tribune

"Sweeping. . . . Set[s] the minor catastrophes and victories of the family's life against a backdrop of historical change.'" —The New Yorker

"The good news? This is the first of a trilogy. The bad news? We have to wait for the next volume." —Entertainment Weekly (A-)

"Smiley draws a convincing portrait of life on a farm in the early 20th century: the way lives were buffeted by weather, the way the work never ended and how, for kids, there was no such thing as spare time. . . . Smiley gives her trilogy the sweep of history." —NPR

"Smiley is that rare three-fer: meticulous historian, intelligent humorist and seasoned literary novelist. . . . She makes us see, in the kindest, gentlest way, that we're a lot more wonderful, and a lot more screwed up—as a nation, as a people, as families, as individuals—than we think we are. . . . . Make[s] the reader count down the days to Book Two." —Los Angeles Times

"The expansive American epic is Smiley's métier, and she's in top form with this multigenerational story of an Iowa farming family—sturdy sons, passionate daughters, a tough but tender existence—across the first half of the twentieth century." —Time

"The Langdon family knows growth, diaspora, heartbreak, and passion over three decades. It's breathtaking to realize that this novel is the first of a trilogy!" —The Philadelphia Inquirer

"Compelling. . . . Drawn with Smiley's signature specificity and clear-eyed compassion. . . . No writer has ever captured the satisfactions and frustrations of the American farmer with more insight, humor, accuracy and grace than Smiley." —More

"Unforgettable.  . . . What seems simple at first grows profound. . . . You don't have to have been raised on an Iowa farm to think: That sounds like my grandmother, my aunt, my father, my brother. That sounds like us." —Miami Herald

"From Pulitzer winner Smiley, a multi-generational saga about an Iowa farming family's shifting fortunes." —People, "Best Books of the Fall"

"Marvellously evoked. . . . Smiley's gifts as a storyteller are in full force from the first page." —Financial Times

"An impressive accounting of family life. . . . With Some Luck and a return to the heartland, the remarkable Smiley just got a little more remarkable." —Houston Chronicle

"An engaging read populated by sympathetic characters who take what life brings. It's a look back at what feels like simpler times. . . As always, Smiley is a master of the telling detail." —The Seattle Times

"Brilliant . . . Smiley is one of America's most accomplished and wide-ranging novelists. . . . Demonstrates how events on an isolated, unsophisticated farm in the middle of the country represent and influence the larger story of America." —Dallas Morning News

"Remarkable. . . . Midwestern farm country has proved fertile soil for fiction writers, and no one, perhaps, has cultivated it to such fine effect as Jane Smiley." —Minneapolis Star Tribune

"What's unusual about Some Luck is how closely it's meant to mimic real life, and yet how important Smiley's gifts as a novelist are to achieving that effect. . . . Smiley's ability to sketch a scene, to bring to life the quiet incidents as well as the big ones . . . are what transform the family stories into literature." —Kansas City Star

 "A literary triumph. . . . Perfectly, beautifully true to life." —Pittsburgh Post-Gazette

"Sumptuous . . . A meditation on the things we encounter in our lives that shape our personal histories. . . . Readers will find much enjoyment in her sharp prose and finely observed details." —Milwaukee Journal Sentinel

"The wonderful first installment of Smiley's The Last Hundred Years Trilogy, which tells the story of an Iowa farm family from 1920 to 2019. As far as I'm concerned, the next two cannot follow soon enough . . . Beautifully narrated . . . Extremely satisfying." —Natalie Serber, The Oregonian

"Delightfully engaging, a novel full of pleasures both large and small." —The Columbus Dispatch

"Satisfying . . . captivating . . . the reading experience is rewarding." —Bustle

"Engrossing." —San Jose Mercury News

"Sweeping, bold, and completely engrossing . . . Arguably Smiley's finest work." —PopMatters

"[A] tour de force. . . .  Wherever Smiley goes in Some Luck, most readers will willingly follow. Then wait, with bated breath, for her next steps." —BookPage

"A wide-angle view of mid-century America. Told in beautiful, you-are-there language, the narrative lets ordinary events accumulate to give us a significant feel of life at the time. . . . Highly recommended; a lush and grounded reading experience." —Library Journal (starred review)

"Tremendous . . . Smiley is a seductive writer in perfect command of every element of language. . . . Smiley's grand, assured, quietly heroic, and affecting novel is a supremely nuanced portrait of a family spanning three pivotal American decades." —Booklist (starred review)

"Expansive. . . . Engaging. . . . Smiley juggles characters and events with her customary aplomb and storytelling craft." —Kirkus Reviews (starred)
Anchor, 9780307744807, 416pp.
Publication Date: July 7, 2015
About the Author
Jane Smiley is the author of numerous novels, including A Thousand Acres, which was awarded the Pulitzer Prize, as well as five works of nonfiction and a series of books for young adults. In 2001 she was inducted into the American Academy of Arts and Letters, and in 2006 she received the PEN Center USA Lifetime Achievement Award for Literature. She lives in Northern California.
What do you think the title means? Whose luck does it
refer to? Is it only good or bad luck, or does the word
"luck" shift in connotation as the novel goes forward?
Each chapter in the novel takes place over the course of
one year. How does Smiley use this structure to propel her story?
How does Mary Elizabeth's death affect Rosanna? How does it change
her relationship with the children who follow?
Throughout the story, Frank is described as persistent, if not outright
stubborn. How does this quality help him in his life? Does it hinder him?
Over the course of the three decades Some Luck spans, various
characters embrace or resist new technology—Walter and the tractor,
Rosanna and electricity, Joey's farming techniques, Frank's study of
German warfare. How does Smiley use their reactions to deepen our
understanding of these characters and to show the passage of time?
What does Walter think and feel during the scene at the well? What
do his decisions at that moment say about his own personality and the
circumstances of the times? Why doesn't he tell Rosanna about it until
many years later?
What role do faith and religion play in the early parts of the novel?
What about for the subsequent generation? Would you say that
religion is related to the theme of luck?
How do the generations of men engage differently in the wars of their times?
What does their involvement show about their respective personalities,
the nature of war, and America's evolving role in world conflict?
How does parenting change from one generation to the next? Compare
Lillian and Andy to Rosanna, and Arthur and Frank to Walter. And
what about the roles of the sexes?
By the end of Some Luck, Henry is just becoming an adult and Claire
is still a child. What do you think might be ahead for them in the next
book(s) of this trilogy?
Did your knowledge that Some Luck is the first of a trilogy affect
your reading of the novel? In what ways is the conclusion of the book
definitive, full circle, and in what ways does it leave things open-ended?