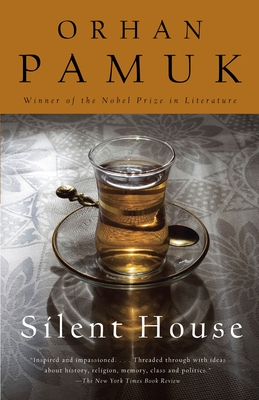 Silent House (Paperback)
Vintage, 9780307744838, 352pp.
Publication Date: July 2, 2013
Description
In a crumbling mansion in a gentrified former fishing village on the Turkish coast, the widow Fatma awaits the annual visit of her grandchildren: Faruk, a dissipated historian; his sensitive leftist sister, Nilgun; and Metin, a high schooler drawn to the fast life of the nouveaux riche. Bedridden, Fatma is attended by her faithful servant Recep, a dwarf and her late husband's illegitimate son. Mistress and servant share memories, and grievances, from the past. But the arrival of Recep's cousin, Hasan, a fervent right-wing nationalist, threatens to draw the family into the political cataclysm arising from Turkey's tumultuous century-long struggle for modernity. Written in the 1980s but never before published in English, this spellbinding novel is a stunning addition to the works of Nobel Prize-winning author Orhan Pamuk.

About the Author
Orhan Pamuk won the Nobel Prize for Literature in 2006. His novelMy Name Is Redwon the 2003 IMPAC Dublin Literary Award. His work has been translated into more than sixty languages."
Praise For Silent House…
"[A] superb novel, which grips the reader and refuses to let go."
—The New Yorker

"Propulsive. . . . Reveals a family that is as complicated and volatile as [their] country. . . . The work of a great engineer."
—The Washington Post

"Inspired and impassioned. . . . Threaded through with ideas about history, religion, memory, class and politics. . . . The reading experience is so very pleasurable."
—The New York Times Book Review

"Luminous and stylistically inventive. . . . Brilliantly captures the disorder, nostalgia and hope of a society struggling with violence and self-definition."
—San Francisco Chronicle

"An excellent introduction to a body of work that is worthy of its 2006 Nobel Prize. . . . Pamuk summons empathy."
—Milwaukee Journal Sentinel

"Impressive. . . . Proves once and for all that [Pamuk] is truly one of the world's most versatile fiction writers, no matter the language in which he is read. . . . [A] subtle portrayal of the slow-burning fire of Turkey's revolution."
—The New York Observer

"A poised and hugely impressive grasp of human variety."
—The Sunday Times (London)

"Artfully managed. . . . Illuminate[s] some of the sources of Islamist ideology, and sketch[es] the problems of Turkey. . . . Neither a polemic nor a history. It's a satisfying work of fiction by one of the best novelists writing today."
—The Washington Times

"An excellent introduction to [Pamuk's] Nobel Prize-winning body of work."
—The Miami Herald

"With its modernist multi-perspective narrative, the novel is full of arresting and unforgettable literary moments. . . . Psychologically gripping. . . . Silent House is both a highly readable fiction and an unsparing portrait of the Turkish intellectual class."
—The Independent (London)

"A poignant portrayal of everyday life in a 1980s Turkish seaside resort. . . . Pamuk transports us to a pivotal moment in his homeland's history—and maps the emotional geography of modern Turkey."
—National Geographic Traveler (Book of the Month)

"Fanatical politics might empty our heads, but it is literature that returns humanity to the silent house."
—The Daily Beast

"The beginnings of a great writer. . . . 30 years on, the novel feels doubly prescient."
—The Guardian (London)

"A powerful, assured and engaging multiple-voiced narrative. It provides exciting insights into the subsequent career of a consistently original novelist. . . . English-language readers now have the opportunity to experience early Pamuk; it has been well worth the wait."
—The Irish Times (Dublin)

"Pamuk builds a multifaceted panorama distinguished by his customary intellectual richness and breadth."
—Kirkus
Advertisement