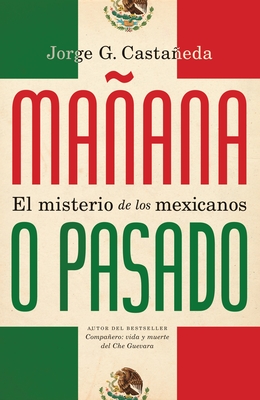 Manana O Pasado: El Misterio de Los Mexicanos (Paperback)
El Misterio de Los Mexicanos
Vintage Espanol, 9780307745095, 432pp.
Publication Date: June 14, 2011
Description
El rostro enigmatico de Mexico presenta hoy hondas cicatrices y un gesto que va del escepticismo a la ironia, del resentimiento al desprecio: Como pueden descifrarse las inquietudes de ese rostro? Que estigmas conservan los mexicanos, a que mitos se aferran? Que fracturas hay tras la guerra contra el narcotrafico, la voragine migratoria y el descredito de sus gobiernos, de sus aparatos de justicia y sus instituciones?
Jorge Castaneda nos ofrece aqui el analisis mas profundo que se ha hecho en los ultimos anos sobre el caracter de su pais. Sustentado por un estudio riguroso de filosofos, historiadores, economistas y demas intelectuales que han expresado su fervor o contrariedad por Mexico, asi como por las reflexiones de extranjeros que han visto en ese pais a una nacion marcada por la hospitalidad o la barbarie, Castaneda nos advierte sobre las idiosincrasias de los mexicanos: la indiferencia a la competencia; la desgana a defender sus convicciones; el por que se resisten a las acciones colectivas y a la participacion comprometida en luchas politicas; de que manera el descuido de la industria turistica afecta su economia; y como el crecimiento de la clase media no es necesariamente una senal contundente de bienestar y confianza en los gobiernos. Por las deducciones implacables sobre la realidad moderna mexicana, afiladas por la ironia en la critica y el reconocimiento de sus zonas mas oscuras y dolorosas, Manana o pasado es, sin duda, la obra imprescindible para entender el Mexico contemporaneo.
About the Author
Jorge G. Castaneda nacio en Mexico, Distrito Federal, en 1953. Fue Secretario de Relaciones Exteriores de Mexico y candidato independiente a la Presidencia de la Republica. Ha sido profesor durante mas de veinticinco anos en la Universidad Nacional Autonoma de Mexico, y actualmente es catedratico en la Universidad de Nueva York. Es articulista de los diarios Reforma y El Pais, y de la revista Time; es miembro de la Junta de Gobierno de Human Rights Watch y miembro de la American Academy of Arts and Science, de la American Philosophical Society. Es autor o coautor de mas de quince libros, publicados en toda America Latina, Estados Unidos y Europa, y traducidos a una decena de idiomas, entre ellos destacan Companero: vida y muerte del Che Guevara y La utopia desarmada. Actualmente vive en la Ciudad de Mexico y en Nueva York.
Advertisement