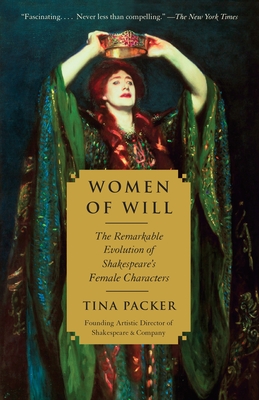 Women of Will
The Remarkable Evolution of Shakespeare's Female Characters
Paperback

* Individual store prices may vary.
Other Editions of This Title:
Digital Audiobook (4/6/2015)
MP3 CD (3/8/2016)
Compact Disc (3/8/2016)
Compact Disc (4/7/2015)
Compact Disc (4/7/2015)
MP3 CD (4/7/2015)
Hardcover (4/7/2015)
Description
Women of Will is a fierce and funny exploration of Shakespeare's understanding of the feminine. Tina Packer, one of our foremost Shakespeare experts, shows that Shakespeare began, in his early comedies, by writing women as shrews to be tamed or as sweet little things with no independence of thought. The women of the history plays are much more interesting, beginning with Joan of Arc. Then, with the extraordinary Juliet, there is a dramatic shift: suddenly Shakespeare's women have depth, motivation, and understanding of life more than equal to that of the men. As Shakespeare ceases to write women as predictable caricatures and starts writing them from the inside, his women become as dimensional, spirited, spiritual, active, and sexual as any of his male characters. Wondering if Shakespeare had fallen in love (Packer considers with whom, and what she may have been like), the author observes that from Juliet on, Shakespeare's characters demonstrate that when women and men are equal in status and passion, they can—and do—change the world.
Praise For Women of Will: The Remarkable Evolution of Shakespeare's Female Characters…
"Fascinating. . . . Detailed . . . [Packer's] experience in the theater gives her book a hands-on dimension. . . . Her knowledgeable tracing of connections among the plays and parallels among characters is never less than compelling." —New York Times

"Packer recognizes in Shakespeare's full dramatic trajectory a great artist gaining an ever fuller understanding of both genders' human identity . . . Important and fascinating." —Booklist (Starred Review)

"Astute. . . . At once humanistic and grounded in the historical context." —Christian Science Monitor

"Visceral and intellectual . . . A sparkling, insightful exploration of Shakespeare's words and world." —Kirkus Reviews
 
"Fierce and witty." —Broadway World
 
"This work by the founding artistic director of the celebrated Shakespeare & Company is everything lovers of the Bard would want. . . . Don't miss!" —Library Journal

"Rarely, if ever, have I experienced a work that leaps from the page into my mind, heart, body, and soul with such luminous, revelatory vibrancy. . . . To ponder the trajectory of Shakespeare's evolution in his understanding and portrayal of women, to enter into the tangled, interconnected historical and biographical connections and contexts of Shakespeare life with such precision and aliveness, and to surrender to the immense questions that matter most to us, of power, institutional and cultural structures, the realities of women in every era, the treasure of language, and the mysteries  and powers of creativity itself, gave me illumination and pleasure and hope beyond what I can express here." —Martha Andersen
 
"A joy to read. The language is conversational—an easy tone that belies the depth to which Tina Packer is able to reach into the plays to unveil the evolution of Shakespeare's awareness of the power inherent in 'the feminine' . . . This consummate lover of all things Shakespeare delivers a dazzling new message about Shakespeare's capacity to learn and grow from observations and interactions with women, and transmute these into characters that become more complex, more true, more powerful. Women of Will is destined to become one of the best-loved books about Shakespeare, never to be filed into the bookcase, always accessible in case of need." —Tamar March, Founder, Arden Seminars, Inc.
  
Vintage, 9780307745347, 352pp.
Publication Date: March 8, 2016
About the Author
TINA PACKER is the founding artistic director of Shakespeare & Company in Lenox, Massachusetts. She has directed most of Shakespeare's plays, acted in seven, and taught the entire canon at multiple colleges and universities, among them Harvard, MIT, and Columbia. Packer was an Associate Artist with the Royal Shakespeare Company in England, and worked at the Royal Court and Aldwych theatres in London, Leicester, Glasgow, Edinburgh, and other regional theatres, as well as for BBC and ITV television. The performance piece Women of Will has traveled across America as well as internationally. She lives in Stockbridge, Massachusetts.