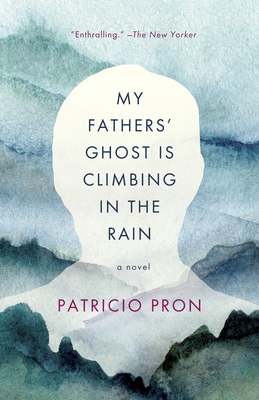 My Fathers' Ghost Is Climbing in the Rain (Paperback)
Vintage Books, 9780307745422, 212pp.
Publication Date: March 11, 2014
Description
The American debut of one of Granta's Best Young Spanish-Language Novelists, My Fathers' Ghost Is Climbing in the Rain is a daring and deeply affecting story of one Argentine family's buried secrets. When a young writer returns home to visit his dying father, he finds himself drawn into an obsessive search for a local man gone missing. As the truth--not only about his father but an entire generation--comes to light, the narrator is forced to confront the ghosts of Argentina's dark political past, as well as long-hidden memories about his own family's history. Powerful and audacious, this semi-autobiographical novel is a thoroughly original story of corruption and responsibility, of history and remembrance, from one of South America's most important new writers.
About the Author
Patricio Pron, born in 1975, is the author of three story collections and four previous novels, and he also works as a translator and critic. His fiction has appeared in Granta, Zoetrope: All-Story and The Paris Review, and has received numerous prizes, including the Juan Rulfo Short Story Prize and the Jaen Novel Prize. He lives in Madrid.
Praise For My Fathers' Ghost Is Climbing in the Rain…
"Enthralling."
—The New Yorker

"Patricio Pron is an immense talent, a daring writer with an absolutely unique voice. My Fathers' Ghost Is Climbing in the Rain is a marvel." 
—Daniel Alarcón, author of Lost City Radio

"Pron's novel haunts me. [It] turned my heart upside down. . . . [He] is brilliant on the topic of growing up in the aftermath of heroic collapse." 
—Marcela Valdes, The New York Times Book Review

"Startlingly brilliant. . . . As the book progresses Pron's intense and exquisitely described interiority of the early parts slowly falls prey to the pull of a personal, communal, and national history that ever more firmly stakes it claims on the narrator."
—The Daily Beast

"[A] moving meditation on trauma, memory, and home, beautifully translated. . . . [Pron] probes the thorniest of ontological and epistemological questions, [and] compellingly displays—as well as explores—fiction's power to unearth the most deeply buried emotional truths."
—The Independent (London)

"A riveting story, elegantly translated."
—Counterpunch

"Radiant and wrenching. You'll never see Argentina—or fathers or sons or the human soul—the same way again. . . . A sublime accomplishment."
—Carolina De Robertis, author of Perla

"Hugely rewarding—and deeply unsettling." 
—New York Journal of Books

"This is a brilliant, unforgettable novel. I was so entertained by Patricio Pron's inventive, poetic, deranging sentences that I found myself thinking of Lewis Carroll." 
—Francisco Goldman, author of Say Her Name

"A beautifully crafted novel, rich in metaphors. . . . My Father's Ghost Is Climbing in the Rain draws you in and holds your attention. . . . Pron paints a vivid picture of the aftermath of Argentina's tortured recent history."
—Washington Independent Review of Books

"This is an extraordinary book, and Pron is an extraordinarily gifted writer." 
—KUER radio (Salt Lake City)

"A modern masterpiece written with beauty and purpose—this is a novel about everything that most matters in the world." 
—Deborah Levy, author of Swimming Home

"With subtle intelligence, poetic insight, and exquisite style, My Fathers' Ghost Is Climbing in the Rain confirms Pron's position as one of the finest novelists writing in Spanish today." 
—Alberto Manguel, author of All Men Are Liars

"Deeply affecting." 
—Metro (UK)

"A moving exploration of guilt and memory, and an unflinching study of what History can do to us. Pron opens his eyes where the rest of us would rather close them and keep them closed." 
—Juan Gabriel Vásquez, author of The Informers

"From a major new voice in Spanish literature, this novel should grant Pron a much-deserved readership in the English-speaking world. . . . A melancholy and chilling work of postmodernism, examining family, memory, and what collective fear does to a society." 
—Booklist

"Pron has stitched the experiences of the activists, their survivors, and those who came later into a narrative that ties the individual to collective memory and a family's history to a nation's."
—Publishers Weekly
Advertisement