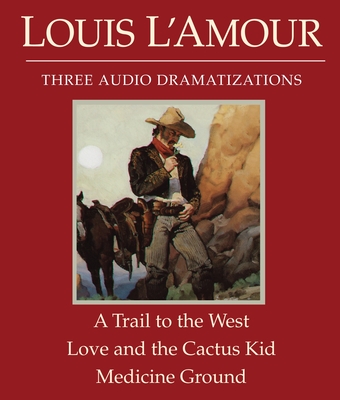 A Trail to the West/Love and the Cactus Kid/Medicine Ground (Compact Disc)
Random House Audio Publishing Group, 9780307748737
Publication Date: March 23, 2010
* Individual store prices may vary.
or
Not Currently Available for Direct Purchase
Description
A Trail to the West
Riding under an alias, Bowdrie joins up with Queen's ruthless gang to rescue the pretty niece of a powerful Texas judge. But when Queen discovers the lawman's true identity, Bowdrie must do some fast thinking and even faster shooting to beat the odds--five guns to one Love and the Cactus Kid
Folks far and wide know that the Cactus Kid can handle a pistol with the best of them. But for all his skill and coolness under fire, there's just one small weakness he can't seem to overcome--and it may prove the death of him. Medicine Ground
The Cactus Kid is on his way to the spring dance to meet his best girl, Bess O'Neal. As the Kid ambles through the lonely mountain trail toward town, two men emerge from the darkness--Miguel and Lobo Fernandez, of the menacing Fernandez brothers. And what they want from the Cactus Kid is vengeance.
About the Author
Louis L'Amour, truly America's favorite storyteller, was the first fiction writer ever to receive the Congressional Gold Medal from the United States Congress in honor of his life's work, and was also awarded the Medal of Freedom. There are more than 265 million copies of his books in print worldwide. From the Audiobook Download edition.
Advertisement