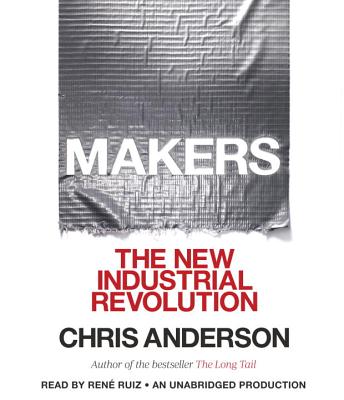 Makers: The New Industrial Revolution (Compact Disc)
The New Industrial Revolution
Random House Audio Publishing Group, 9780307878892
Publication Date: October 2, 2012
* Individual store prices may vary.
or
Not Currently Available for Direct Purchase
Description
"Wired "magazine editor and bestselling author Chris Anderson takes you to the front lines of a new industrial revolution as today's entrepreneurs, using open source design and 3-D printing, bring manufacturing to the desktop. In an age of custom-fabricated, do-it-yourself product design and creation, the collective potential of a million garage tinkerers and enthusiasts is about to be unleashed, driving a resurgence of American manufacturing. A generation of Makers using the Web's innovation model will help drive the next big wave in the global economy, as the new technologies of digital design and rapid prototyping gives everyone the power to invent -- creating the long tail of things .
About the Author
As editor-in-chief of "Wired" magazine, CHRIS ANDERSON has led the magazine to multiple National Magazine Award nominations, winning the prestigious top prize for General Excellence in 2005, 2007, and 2009. He was named Editor of the Year by "Advertising Age" magazine in 2005. In 2009 "Wired" was named Magazine of the Decade by the editors of "AdWeek." Chris Anderson is one of the most knowledgeable, insightful and articulate voices at the center of the new economy. In a series of groundbreaking articles and books, he has identified important new trends in the economy and described new business models for seizing the business opportunities they represent.
Praise For Makers: The New Industrial Revolution…
"A thrilling manifesto, a call to arms to quit your day job, pick up your tools, and change the future of manufacturing and business forever." –BoingBoing

"Chris Anderson has been called many things: a visionary, a pioneer of the Internet economy, a proselytizer of DIY 2.0. But it's probably more apt to think of him as a weather vane: He might not control the winds of change, but he's often the first to see which way they're blowing." -Foreign Policy

"Chris understands that the owners of the means of production get to decide what is produced. And now you're the owner. This book will change your life, whether you read it or not, so I suggest you get in early." –Seth Godin, bestselling author of Tribes and Purple Cow

"A visionary preview of the next technological revolution.  If you want to know where the future is headed, start here." –Tom Rath, author of StrengthsFinder 2.0
 
"Makers is must read for understanding the transformative changes that are shaping, and will shape, the future of inventing." –Dan Ariely, author of Predictably Irrational and The Upside of Irrationality

"Inspiring and engaging. Anderson delivers a compelling blueprint of a future where America can lead in making things again." –Elon Musk, co-fouder of Tesla Motors and CEO of SpaceX

 "In Makers, Chris Anderson gives us a fascinating glimpse of a hands-on future, a future where 'if you can imagine it, you can build it.'" –Dan Heath, co-author of Switch and Made to Stick

"For those who have marveled at the way software has helped disrupt industry after industry - buckle up, that wave is coming soon to an industry near you. Chris Anderson has written a compelling and important book about how technology is about to completely shake up how America makes things.  Required reading for entrepreneurs, policy makers, and leaders who want to survive and thrive in this brave new world." –Eric Ries, author of The Lean Startup

"The Maker movement powered by desktop manufacturing will revolutionize the global economy. Chris Anderson once again reinvents the future in "Makers": a big vision driven by down-to-earth and practical ideas. A must read for anyone who wants to see the leading edge of change." –Peter Schwartz, Co-founder of Global Business Network and author of The Art of the Long View
 
Advertisement