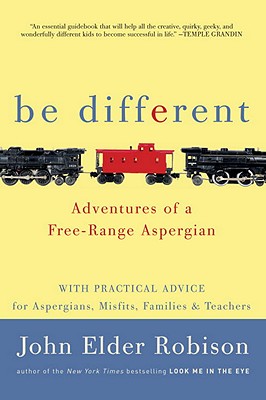 Be Different (Hardcover)
Adventures of a Free-Range Aspergian with Practical Advice for Aspergians, Misfits, Families & Teachers
Crown, 9780307884817, 304pp.
Publication Date: March 22, 2011
* Individual store prices may vary.
Description
"I believe those of us with Asperger's are here for a reason, and we have much to offer. This book will help you bring out those gifts."
 
In his bestselling memoir, Look Me in the Eye, John Elder Robison described growing up with Asperger's syndrome at a time when the diagnosis didn't exist. He was intelligent but socially isolated; his talents won him jobs with toy makers and rock bands but did little to endear him to authority figures and classmates, who were put off by his inclination to blurt out non sequiturs and avoid eye contact.

By the time he was diagnosed at age forty, John had already developed a myriad of coping strategies that helped him achieve a seemingly normal, even highly successful, life. In Be Different, Robison shares a new batch of endearing stories
about his childhood, adolescence, and young adult years, giving the reader a rare window into the Aspergian mind.

In each story, he offers practical advice—for Aspergians and indeed for anyone who feels "different"—on how to improve the weak communication and social skills that keep so many people from taking full advantage of their often remarkable gifts. With his trademark honesty and unapologetic eccentricity, Robison addresses questions like:

• How to read others and follow their behaviors when in uncertain social situations
• Why manners matter
• How to harness your powers of concentration to master difficult skills
• How to deal with bullies
• When to make an effort to fit in, and when to embrace eccentricity
• How to identify special gifts and use them to your advantage

Every person, Aspergian or not, has something unique to offer the world, and every person has the capacity to create strong, loving bonds with their friends and family. Be Different will help readers and those they love find their path to success.
About the Author
JOHN ELDER ROBISON is an author and frequent lecturer about his life with Asperger's. He blogs for "Psychology Today "and is an adjunct faculty member at Elms College in Chicopee, Massachusetts. John serves on committees and review boards for the Centers for Disease Control and the National Institutes of Health. He is currently involved in autism research and therapy programs at Harvard's Beth Israel Deaconess Medical Center and Massachusetts General Hospital. John also sits on the science and treatment boards of Autism Speaks. His previous book, "Look Me in the Eye," was a "New York Times" bestseller and has been translated into ten languages. He lives in Amherst, Massachusetts. Visit him at www.johnrobison.com.
Praise For Be Different: Adventures of a Free-Range Aspergian with Practical Advice for Aspergians, Misfits, Families & Teachers…
"For anyone who has difficulty fitting in, this book is fantastic."
—Temple Grandin, author of Thinking in Pictures
 
"In a love poem to his wife, Pedro Salinas, the Spanish poet, wrote, 'Glory to the differences / between you and me.' John Robison teaches us to celebrate differences
like Salinas did, but also offers clear insight and valuable advice on how to cope with the challenges that being different can create. This book transcends the specific case of Asperger's syndrome and is a lesson in humanity and the human condition."
—Alvaro Pascual-Leone, M.D., Ph.D., Harvard Medical School and Beth Israel Deaconess Medical Center
 
"Anyone with Asperger's, if not everyone else, will derive knowledge and pleasure from the wonderful stories told in John Elder Robison's newest book, Be Different. Clearly, John is one of our community's leading voices."
—Michael John Carley, author of Asperger's from the Inside Out and executive director of GRASP and ASTEP
 
"Be Different is a fascinating and unique guide for young people who may be struggling with autism and feel 'out of sync' with the world around them. John shares personal insights about growing up, feeling apart from his peers, and learning to modify his socializing skills and harness his gifts to discover his path to a successful life."
—Mark Roithmayr, president of Autism Speaks
 
"Robison offers down-to-earth life advice for his "Aspie" peers and their friends, families, and teachers...recommended reading for anyone seeking to understand Aspergian children and adults" —Kirkus

" ...provides incredibly helpful advice to families learning to live with these challenges. Robison's clear writing provides substantial insight into the mind of someone whose disorder makes clarity very, very difficult...a valuable read."‬--Booklist

or
Not Currently Available for Direct Purchase