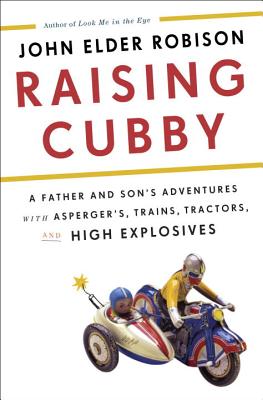 Raising Cubby
A Father and Son's Adventures with Asperger's, Trains, Tractors, and High Explosives
Hardcover

* Individual store prices may vary.
Other Editions of This Title:
Digital Audiobook (3/11/2013)
Paperback (3/18/2014)
Hardcover, Large Print (7/1/2013)
Compact Disc (3/12/2013)
Description
The slyly funny, sweetly moving memoir of an unconventional dad's relationship with his equally offbeat son--complete with fast cars, tall tales, homemade explosives, and a whole lot of fun and trouble
Misfit, truant, delinquent. John Robison was never a model child, and he wasn't a model dad either. Diagnosed with Asperger's syndrome at the age of forty, he approached fatherhood as a series of logic puzzles and practical jokes. When his son, Cubby, asked, "Where did I come from?" John said he'd bought him at the Kid Store and that the salesman had cheated him by promising Cubby would "do all chores." He read electrical engineering manuals to Cubby at bedtime. He told Cubby that wizards turned children into stone when they misbehaved.
Still, John got the basics right. He made sure Cubby never drank diesel fuel at the automobile repair shop he owns. And he gave him a life of adventure: By the time Cubby was ten, he'd steered a Coast Guard cutter, driven a freight locomotive, and run an antique Rolls Royce into a fence.
The one thing John couldn't figure out was what to do when school authorities decided that Cubby was dumb and stubborn--the very same thing "he" had been told as a child. Did Cubby have Asperger's too? The answer was unclear. One thing "was" clear, though: By the time he turned seventeen, Cubby had become a brilliant chemist--smart enough to make military-grade explosives and bring state and federal agents calling. Afterward, with Cubby facing up to sixty years in prison, both father and son were forced to take stock of their lives, finally coming to terms with being "on the spectrum" as both a challenge and a unique gift.
By turns tender, suspenseful, and hilarious, this is more than just the story of raising Cubby. It's the story of a father and son who grow up together.
Praise for John Robison's first book, "Look Me In the Eye"
"Lean, powerful in its descriptive accuracy and engaging in its understated humor...Emotionally gripping." --"Chicago Tribune"
"A fantastic life story told with grace, humor, and a bracing lack of sentimentality." --"Entertainment Weekly"
"Endearing...Robison is a natural storyteller." --"Boston Globe.
Praise For Raising Cubby: A Father and Son's Adventures with Asperger's, Trains, Tractors, and High Explosives…
"Charming and wise…Part parenting guide, part courtroom drama, part catalog of the travails and surprising joys of life with the high-functioning form of autism called Asperger's syndrome, this memoir will offer all parents — but particularly fathers — a lot to think about. That its author was almost 40 when he learned he had Asperger's…and that he eventually learned his son had the condition as well, make their story more remarkable, but do nothing to diminish its relevance even for readers with no personal experience of autism...[Robison's] deadpan humor [is] in evidence throughout… Touching, sympathetic, and often insightful."
--New York Times

"Robison ... sheds some light on how having Asperger's helped him cultivate an outlaw style of parenting...by turns hilarious, poignant, weird, shocking, and inspiring…This book will make you laugh, and make you think about how to parent a child who doesn't fit into the neat categories we expect our children to occupy."
--Parents.com

"How does a man who lacks a sense of empathy and an ability to read nonverbal cues learn to be a father? And how does a man with Asperger's learn to recognize the same symptoms in his own child? (A key element in the book is Robison's son's own diagnosis, and Robison's reaction to his having missed seeing the signs for as long as he had.) In many ways, this is a traditional father-and-son memoir, but the added element of Asperger's gives the story a stronger emotional core: when Robison and his wife separated, for example, he realized he had been misreading a lot of what had been going on between them. It's a story of a man learning to be a parent, yes, but it's also—and perhaps more importantly—the story of a man discovering, as an adult, who he really is."
—Booklist

"John Elder Robison is one of my autism super heroes because he bravely brings humor and humility to the heart and soul of the taboo and unexpected corners of life lived with autism.  His new book, Raising Cubby, is more than a memoir about a father and son bound by their Asperger syndrome. It's a story that reminds us how precious and precarious the parent child relationship is and how beautiful our lives can be when we are share that ride together. Raising Cubby is Robison's best work yet."
—Liane Holliday-Willey, coauthor of Pretending To Be Normal: Living with Asperger Syndrome

"Funny and moving...A warmhearted, appealing account by a masterful storyteller."
--Kirkus Reviews

"Robison's third book starts with a bang--his description of the 'malicious explosion' created by his teenage Cubby that has the boy, who has Asperger's syndrome, looking at 60 years in prison, is as disconcerting as it is captivating....With the ensuing investigation and trial, Cubby and the author are drawn into a crazy world that threatens to tear apart their already delicate lives."
--Publishers Weekly

"John Elder Robison has written two books on his experience with Asperger's syndrome: Look Me in the Eye and Be Different. In Raising Cubby, he brings his warmth, intelligence and humor to an equally personal subject: his own son."
—Shelf Awareness
Crown Publishing Group (NY), 9780307884848, 365pp.
Publication Date: March 12, 2013
About the Author
JOHN ELDER ROBISON is the author of two previous books, the "New York Times" bestseller "Look Me in the Eye" and "Be Different." He lectures widely on autism and neurological differences, and is a member of the Interagency Autism Coordinating Committee of the US Dept. of Health and Human Services. John also serves on committees and review boards for the CDC and the National Institutes of Health. A machinery enthusiast and avid photographer, John lives in Amherst, Massachusetts with his family, animals, and machines.
or
Not Currently Available for Direct Purchase