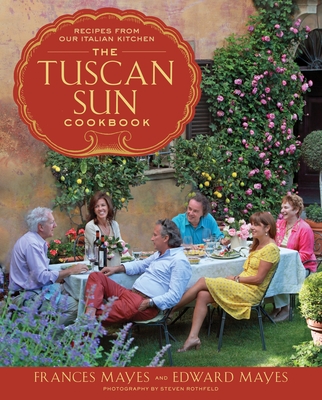 The Tuscan Sun Cookbook
Recipes from Our Italian Kitchen
Hardcover

* Individual store prices may vary.
Description
"Tuscan food tastes like itself. Ingredients are left to shine. . . . So, if on your visit, I hand you an apron, your work will be easy. We'll start with primo ingredients, a little flurry of activity, perhaps a glass of Vino Nobile di Montepulciano, and soon we'll be carrying platters out the door. We'll have as much fun setting the table as we have in the kitchen. Four double doors along the front of the house open to the outside—so handy for serving at a long table under the stars (or for cooling a scorched pan on the stone wall). Italian Philosophy 101: la casa aperta, the open house."
—from the Introduction
 
In all of Frances Mayes's bestselling memoirs about Tuscany, food plays a starring role. This cuisine transports, comforts, entices, and speaks to the friendly, genuine, and improvisational spirit of Tuscan life. Both cooking and eating in Tuscany are natural pleasures. In her first-ever cookbook, Frances and her husband, Ed, share recipes that they have enjoyed over the years as honorary Tuscans: dishes prepared in a simple, traditional kitchen using robust, honest ingredients.
           
A toast to the experiences they've had over two decades at Bramasole, their home in Cortona, Italy, this cookbook evokes days spent roaming the countryside for chestnuts, green almonds, blackberries, and porcini; dinner parties stretching into the wee hours,  and garden baskets tumbling over with bright red tomatoes.
           
Lose yourself in the transporting photography of the food, the people, and the place, as Frances's lyrical introductions and headnotes put you by her side in the kitchen and raising a glass at the table. From Antipasti (starters) to Dolci (desserts), this cookbook is organized like a traditional Italian dinner.
           
The more than 150 tempting recipes include:
·         Fried Zucchini Flowers
·         Red Peppers Melted with Balsamic Vinegar
·         Potato Ravioli with Zucchini, Speck, and Pecorino
·         Risotto Primavera
·         Pizza with Caramelized Onions and Sausage
·         Cannellini Bean Soup with Pancetta
·         Little Veal Meatballs with Artichokes and Cherry Tomatoes
·         Chicken Under a Brick
·         Short Ribs, Tuscan-Style
·         Domenica's Rosemary Potatoes
·         Folded Fruit Tart with Mascarpone
·         Strawberry Semifreddo
·         Steamed Chocolate Cake with Vanilla Sauce
 
Frances and Ed also share their tips on stocking your pantry, pairing wines with dishes, and choosing the best olive oil. Learn their time-tested methods for hand rolling pasta and techniques for coaxing the best out of seasonal ingredients with little effort.
           
Throw on another handful of pasta, pull up a chair, and languish in the rustic Italian way of life.
Praise For The Tuscan Sun Cookbook: Recipes from Our Italian Kitchen…
I own over a thousand cookbooks, but I have never been so enthralled by a cookbook as I was when I saw and read The Tuscan Sun Cookbook by Frances and Edward Mayes. From the very first beautiful photograph of Frances spoon feeding Edward and the mesmerizing opening paragraph--"The Choreography of the Kitchen"--I knew this cookbook would immediately rank with my all-time favorites. The recipes lure me into my Los Angeles kitchen and soon I feel like I am cooking in Tuscany. Even if there were no recipes, I would love The Tuscan Sun Cookbook for the brilliant photographs of by Steven Rothfeld--they are simply the best I have ever seen in a cookbook. Period. So to lovers of photography and food and Italy and to the simplest and most wonderful pleasures of life, I most enthusiastically say "Get this book."  
- -Nancy Silverton, founder of La Brea Bakery and co-owner of Pizzeria Mozza and Osteria Mozza restaurants in Los Angeles, Newport Beach, and Singapore
 
Frances and Edward Mayes generously invite us into their Tuscan world, to share in lavish, friend-filled feasts as we gather around the wood-fired bread oven. It's a book of joy and celebration, stories of the call of the owl, the invasion of wild boars, honest, earthy, and welcoming. We can taste their freshly-pressed olive oil, thrill in the flavor of the neighbor's lavender honey, want to run into the kitchen to prepare their long-simmered ragù, and plan to duplicate Ed's caper, anchovy, and mozzarella pizza.  Steven Rothfeld's stunning photos make their world sing, come truly alive.
--Patricia Wells,  author of Salad as a Meal
 
Frances and Ed Mayes haven't written some wistful expat's dream; they have done their homework about why Tuscan food is what it is, and what we need to know about it.  In their writing, Tuscany doesn't seem a picture postcard (even though the book is a beauty). Instead it comes off feeling much more like home. As for the dishes, they've captured the essential simplicity that is Tuscan cooking. Frances and Ed know what they're doing and it's a pleasure to read.  This is one of those books that makes you homesick, even if you never had a home like this.
--Lynne Rossetto Kasper, host of national radio show The Splendid Table® from American Public Media
Clarkson Potter, 9780307885289, 224pp.
Publication Date: March 13, 2012
About the Author
Named the "bard of Tuscany" by the New York Times, FRANCES MAYES is the author of the bestsellers Under the Tuscan Sun, Bella Tuscany, Every Day in Tuscany, and, with EDWARD MAYES, In Tuscany and Bringing Tuscany Home. She also wrote Swan: A Novel, A Year in the World, and five books of poetry. She lectures frequently on Italian life. Edward is the prize-winning author of four books of poetry, most recently, Speed of Life and Works and Days. Photographer STEVEN ROTHFELD is the author of French Dreams, Shrines, and Italian Dreams. His work appears in books by Frances Mayes among others.