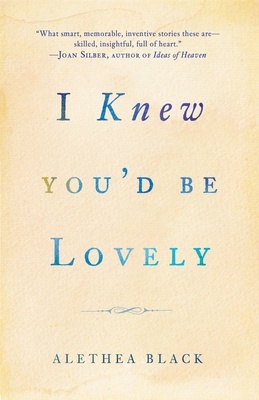 I Knew You'd Be Lovely (Paperback)
Broadway Books, 9780307886033, 238pp.
Publication Date: July 5, 2011
* Individual store prices may vary.
or
Not Currently Available for Direct Purchase
Description
Alethea Black's deeply moving and wholly original debut features a coterie of memorable characters who have reached emotional crossroads in their lives. Brimming with humor, irony, and insights about the unpredictable nature of life, the unbearable beauty of fate, and the power that one moment, or one decision, can have to transform us, I Knew You'd Be Lovely delivers that rare thing--stories with both an edge and a heart.
About the Author
Alethea Black was born in Boston and graduated from Harvard College in 1991. Her work has won the Arts & Letters prize, been cited as distinguished in The Best American Short Stories, and appeared in nearly a dozen literary magazines, including The Kenyon Review, The Antioch Review, and Narrative.
Praise For I Knew You'd Be Lovely…
"[A] sly and emotionally complex debut collection…[Black's] unflinching candor allows her to mine extraordinary revelations." –Boston Globe

"Alethea Black's characters are witty […] without turning caustic, and remain mostly cheerful about their uncertain futures—just the kind of people with whom we want to connect." — Corrie Pikul, Oprah.com

"This debut reads like a dream, with nary a false note…a well-balanced collection filled with low-key charm and notable talent." – Kirkus Reviews
 
"A sense of vulnerable restlessness is betrayed by the otherwise pragmatic characters of Black's strong debut collection." – Publishers Weekly

"I Knew You'd Be Lovely is an impressive offering, from a strong new voice, of stories about life's desperation." – Joseph Arellano, New York Journal of Books

"Alethea Black is downright brilliant at capturing the restless striving for a self that we all are feeling in this parlous and unsettling age. I Knew You'd Be Lovely is a splendidly resonant debut by an important young writer." – Robert Olen Butler, Pulitzer Prize winning author of A Good Scent From a Strange Mountain
 
" With humor, honesty and wary hope, Alethea Black's stories capture the pain and power of loving fully—and celebrate life's small astonishments amid our shared human search for the divine.  I KNEW YOU'D BE LOVELY is thoughtful, entertaining and, ultimately, powerful." – Daphne Kalotay, author of Russian Winter
 
"When I came to the end I wanted to read the next page - or write it, but then I realized that there was no more to be said; as in the Navajo prayer, 'In beauty it is finished.'"--N. Scott Momaday, Pulitzer Prize winning author of House Made of Dawn
 
"Alethea Black writes with a deceptively light touch, yet her work packs a serious punch...There's a spiritual hunger in her stories reminiscent of Flannery O'Connor, combined with a voice that is all her own." – Sharon Pomerantz, author of Rich Boy
 
"Reading Alethea Black's seemingly effortless prose is like slipping into water – the eerily clear kind, that shows you more than you may want to see." – Glen Hirshberg, winner of the 2008 Shirley Jackson Award 
 
"Alethea Black can drop you into a dream with a single sentence, then convince you it's real. Her characters' best hopes and worst fears usually come to pass, often in fabulous ways, but their adventures feel inevitable and true—not only because Ms. Black richly imagines her people, but because she loves them. I Knew You'd Be Lovely is a lovely debut, with masterful prose and inspired invention on every page."
—Ralph Lombreglia, author of Men Under Water
 
"There's a touch of Lorrie Moore in Alethea Black's stories, but the voice is all her own.  Black writes about love, yes, but she also writes about solitude--its travails and its pleasures--with a winning combination of insight and charm.  I Knew You'd Be Lovely is a terrific debut." – Joshua Henkin, author of Matrimony

"Black's is a rich, accomplished and startlingly good literary presence…the 13 stories collected here are well-crafted and engaging. Black's observations on life, love and the human condition are keen and welcome." –Monica Stark, januarymagazine.blogspot.com 

"The title of Black's collection reflects the optimism buoying these 13 stories…[Black's] nimble wit carries her through." – Vikas Turakhia, Cleveland Plain Dealer



 
Advertisement