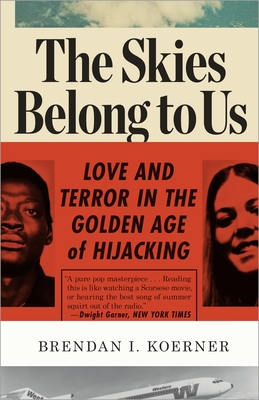 The Skies Belong to Us
Love and Terror in the Golden Age of Hijacking
Paperback

* Individual store prices may vary.
Other Editions of This Title:
Hardcover (6/18/2013)
MP3 CD (6/18/2013)
Compact Disc (6/18/2013)
Compact Disc (6/18/2013)
Description
The true stroy of the longest-distance hijacking in American history.

In an America torn apart by the Vietnam War and the demise of '60s idealism, airplane hijackings were astonishingly routine. Over a five-year period starting in 1968, the desperate and disillusioned seized commercial jets nearly once a week, using guns, bombs, and jars of acid. Some hijackers wished to escape to foreign lands; others aimed to swap hostages for sacks of cash. Their criminal exploits mesmerized the country, never more so than when shattered Army veteran Roger Holder and mischievous party girl Cathy Kerkow managred to comandeer Western Airlines Flight 701 and flee across an ocean with a half-million dollars in ransom—a heist that remains the longest-distance hijacking in American history.

More than just an enthralling story about a spectacular crime and its bittersweet, decades-long aftermath, The Skies Belong to Us is also a psychological portrait of America at its most turbulent and a testament to the madness that can grip a nation when politics fail.
Praise For The Skies Belong to Us: Love and Terror in the Golden Age of Hijacking…
A New York Times Book Review Notable Book
Selected as a Top Ten Book of the Year by Dwight Garner, New York Times
A Boston Globe Top Nonfiction Book of 2013
An Outside Best Adventure Book of the Year
A Slate Staff Pick of 2013
ALA 2014 Notable Book
A Google Play Best Book of 2013
A San Francisco Chronicle Recommended Book of 2013
A KQED Best Book of 2013

"This material, naturally a great yarn, is handled exceedingly well… Koerner has a rare empathy, and by acknowledging the fullness of [this] strange story, he suggests a deeper truth about the nature of extremism." —New York Times Book Review

"Such pure pop storytelling that reading it is like hearing the best song of summer squirt out of the radio. Both the author and his subjects are so audacious that they frequently made me laugh out loud." —Dwight Garner, New York Times

"Brilliantly evoking the atmosphere of the era with its bubbling racial tensions, Vietnam War disillusionment, and marijuana fug, The Skies Belong To Us weaves a vivid retelling of America's longest-distance hijacking and its globe-spanning, stranger-than-fiction aftermath with the history of this most mediagenic of crimes... As The Skies Belong To Us so entertainingly and insightfully demonstrates, even a recent historical era can seem not merely like a different time, but like a different planet." —The Daily Beast

"The free-wheeling, hijacking-crazy days of the 1960s and early '70s come to life vividly in Brendan I. Koerner's evocative new page-turner The Skies Belong to Us: Love and Terror in the Golden Age of Hijacking. With abundant research and a sharp eye for the absurd, Koerner transports us to a time long before anyone thought of crashing planes into buildings, when people took over airplanes for all sorts of weird reasons that were only occasionally political." —Los Angeles Times

"Thrums with the revolutionary, paranoid energy of the era." —Boston Globe

"Koerner's book is original and riveting, relying on extensive information derived from Freedom of Information Act requests, newspaper reports, and original interviews… These descriptions, which form the bedrock of the book, are amazing." —Bookforum

"Skillfully re-creates this tumultuous era...an impressive job of research that includes interviews with many of the central players in the drama...a gripping portrait of a chaotic time." —Washington Post

"Koerner captures the tenor of the times with a splendid and stylish tale." —San Francisco Chronicle

"Arresting from its opening, with a cinematic attention to the details of how two ordinary kids from the suburbs got wrapped up in everything from the Black Panthers to Parisian art circles to Angela Davis to the evening news… Where Skies hit me wasn't merely in its text, but in the profound implications of its story on our contemporary issues." —Anil Dash

"Brendan Koerner tracks the duo's adventures, from their mingling with Black Panthers in Algeria to schmoozing with celebs in Paris. Predictably, their sojourn soured."
—Mother Jones 

"The level of detail in The Skies Belong to Us is outstanding, and it's these quirky pieces that make the book so mesmerizing… essential reading for anyone interested in aviation or the cultural history of the '60s and '70s, but honestly I don't know how anyone could read this book and not find it enthralling." —MetroPulse

"The ratio of astonishing facts to words per page makes this book a terrifically fun summer read." —Kathryn Schulz, New York

"[A] cracking new book." —New York Post

"Both a fascinating look into the psychology of America and a detailed portrait of the lives of two of the era's key players, Koerner has put together a brilliant piece of narrative non-fiction that often reads like an exciting caper." —RVANews

"The true story of young lovers who commandeer a flight from LAX to Seattle and get away with one of the biggest skyjackings in American history." —Los Angeles Magazine

"A thrill-ride… Koerner's chronicle of these events is exhaustively researched and staggering to behold." —Ask the Pilot

"Hard not to like... Koerner captures the kinetic energy of the criminals on the lam and the syrup-slow lifestyles they lead after the engines are shut off and everyone is led off the plane." —Boing Boing

"Brendan I. Koerner has meticulously reconstructed one of the maddest and most fascinating crime stories in American history.  The result is a riveting and illuminating book that will hold you in its spell."
—David Grann, author of The Lost City of Z

"The Skies Belong to Us is one of the most exciting and fascinating books that I've read this year.  It recreates a time when American skyjackings were so common – and casual – that they occurred every week, and brings you into the thrilling heart of one of the most audacious hijackings in history.  I couldn't stop reading, and what's most amazing is that it's all true."
—Charles Duhigg, author of The Power of Habit

"Brendan I. Koerner has turned an odd, nearly forgotten aerial-hijacking episode into an astonishing, hilarious, and un-put-downable true-crime narrative. I had no idea that any story could connect the Eldridge Cleaver of the Sixties with the TSA miseries of today's air travel, but The Skies Belong to Us does that and much more. This is a marvelously entertaining, instructive, and humane book."
—James Fallows, National Correspondent for The Atlantic and author of China Airborne

"Besides being a can't-put-it-down page-turner and an evocative recollection of a forgotten slice of history, The Skies Belong To Us feels uncannily relevant today in its depiction of how political forces can impede rational solutions to criminal violence."
—Benjamin Wallace, author of The Billionaire's Vinegar

"A thrill ride through the turbulent times when airline hijackings were a weekly occurrence, The Skies Belong to Us is true-crime writing at its best.  Fast-paced and hard to put down, Brendan I. Koerner's historical page-tuner artfully reconstructs one of the most astonishing skyjackings of Vietnam War era while telling a larger story of politics, money, and how air travel became what it is today." —Nick Turse, author of Kill Anything That Moves

"A riveting, highly readable tale of terror in the skies." —Kirkus Reviews

"Koerner crafts thorough research into a perceptive, riveting presentation." —Booklist

"Gripping… A fascinating look at the history of skyjacking. The odyssey of Holder's life before and after his act of terror, aided by his lover, Cathy Kerkow, makes for a compelling read." —Publishers Weekly
Crown, 9780307886118, 336pp.
Publication Date: June 17, 2014
About the Author
BRENDAN I. KOERNER is a contributing editor at Wired and the author of Now the Hell Will Start, which was optioned by filmmaker Spike Lee. A former columnist for both The New York Times and Slate, he was named one of Columbia Journalism Review's "Ten Young Writers on the Rise." Visit www.theskiesbelongtous.com and follow him at @brendankoerner.
or
Not Currently Available for Direct Purchase