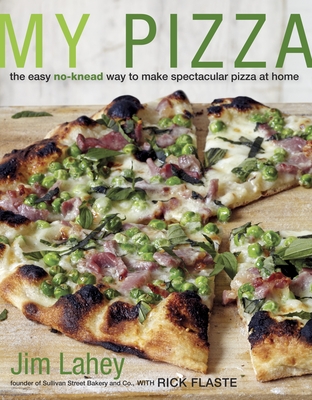 My Pizza
The Easy No-Knead Way to Make Spectacular Pizza at Home: A Cookbook
Hardcover

* Individual store prices may vary.
Description
Make homemade pizza that exceeds your wildest expectations—yet couldn't be simpler—with Jim Lahey's groundbreaking no-knead dough and inventive toppings.
 
Jim Lahey, the baking genius behind New York City's celebrated Sullivan Street Bakery and Co. pizza restaurant, has developed a brilliant recipe that requires no kneading and produces an irresistible crust in any home oven—gas or electric—in fewer than five minutes. The secret to incredible pizza is a superb crust—one that is crisp yet chewy, and slightly charred around the edges. My Pizza shares this revolutionary technique and the creative pies that put Co. on the map, as well as recipes for salads, soups, and desserts to make a meal complete.
           
The pizzas in this book aren't your usual, run-of-the-mill pies. In fact, Jim's unique topping pairings—such as Corn and Tomato, Coppa and Fennel, and Potato and Leek—reinvigorate this American favorite. His whimsy is apparent in his Pepperoni Pie, which doesn't include the cured meat we have all come to expect; instead, riffing on "pepperoni" as the Italian plural for "pepper," Jim offers a pie with red pepper puree, ground lamb, and pecorino cheese. To round out dinner, My Pizza also has recipes for starters and side salads—such as Cannellini Bean Toast, Pea Soup, and Bibb and Roasted Squash Salad—and sweet finishes, from Milk Chocolate Sundae to Banoffee Pie.
           
With gorgeous color photographs and helpful tips on equipment and techniques, My Pizza unlocks the secrets of great, easy pizza for home cooks everywhere.
Praise For My Pizza: The Easy No-Knead Way to Make Spectacular Pizza at Home: A Cookbook…
"Jim Lahey's book gives everyone—and I mean everyone—the tools to make incredible, crisp-crusted, crackling pizza at home. His recipes and instructions are simple to follow but leave nothing to chance; aspiring pizza makers of all levels are in good hands. You might never call for pizza delivery again!"
—Melissa Clark
 
"I have known Jim Lahey for many years and have always thought him to be the best baker in town. His bread brings back memories of the rustic French country loaves of my childhood. Jim's new pizza book allows everyone to be a pizza chef at home with easy-to-follow recipes, both classic and innovative."
—Jean-Georges Vongerichten
 
"The most crucial element of a good pizza is the crust. Finding and using the best mozzarella and finest of tomatoes is essential to a good pizza, but any determined potential pizzaiolo can track down good ingredients. The key is that crust and Jim Lahey is a master. His pizzas are so good I could scrape off all the toppings and still savor his magnificent pies. Jim's book My Pizza should be required reading for anyone serious about making pizza at home."
—Nancy Silverton


Additional praise for Jim Lahey/Co.:
"The frequently mobbed and fervently discussed new restaurant Co. — pronounced "company" — was born of a worship of dough. That's why the pizzas at the center of its menu are as good as they are." – Frank Bruni, New York Times

"(Jim Lahey is) New York's king of dough." – Gourmet Magazine

"Jim Lahey is one of the country's elite bread bakers, so when he decided to open a pizza place, it was huge news." – Food & Wine Magazine

"Who needs Naples when the world's greatest pizza is currently baked at Co., on a windswept corner in Chelsea? Here, Jim Lahey, the fanatic behind Sullivan St Bakery, turns out jagged, faintly tangy, artfully blistered pies perfectly engineered to support their toppings without being soggy or bready or overly chewy—a feat that usually eludes even Italy's best pizzaioli." – Travel & Leisure

"In the world of pizza, debates over crust can resemble sectarian disputes. There are the ascetics, who demand pies as thin and brittle as Communion wafers, versus the libertines, who prefer something they can sink their teeth into. If anyone can persuade the quarrellers to break bread, it's surely Jim Lahey, of Co."  – New Yorker

Co., Named one of the top 10 pies in United States.  (#8) – GQ Magazine
Clarkson Potter, 9780307886156, 192pp.
Publication Date: March 20, 2012
About the Author
Jim Lahey opened the Sullivan Street Bakery in 1994, and Co., a pizza restaurant, in 2009 in New York City. Lahey and his businesses have been featured in Vogue, Saveur, and the New York Times, and he has appeared on the Martha Stewart Show and NBC's Today show. His innovative no-knead bread recipe, first published in an article by Mark Bittman in the New York Times in 2006, became the basis of Lahey's cookbook My Bread, which was a Gourmet Cookbook Club selection. In 2015, Lahey became the first recipient of the James Beard Award for Outstanding Baker. Jim Lahey studied sculpture before learning the art of bread baking in Italy.
 
Rick Flaste, the first editor of the Dining Section of the New York Times, has collaborated on several books.