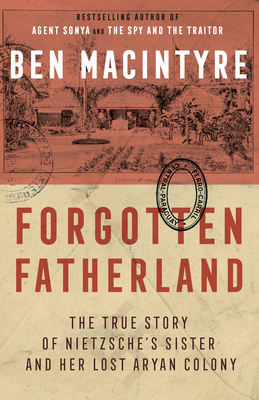 Forgotten Fatherland
The True Story of Nietzsche's Sister and Her Lost Aryan Colony
Paperback

* Individual store prices may vary.
Description
NEW YORK TIMES BESTSELLING AUTHOR OF A SPY AMONG FRIENDS

In 1886 Elisabeth Nietzsche, Friedrich's bigoted, imperious sister, founded a "racially pure" colony in Paraguay together with a band of blonde-haired fellow Germans. Over a century later Ben Macintyre sought out the survivors of this "Nueva Germania" to discover the remains of this bizarre colony. Forgotten Fatherland vividly recounts his arduous adventure locating the survivors, while also tracing the colorful history of Elisabeth's return to Europe, where she inspired the mythical cult of her brother's philosophy and later became a mentor to Hitler. Brilliantly researched and mordantly funny, this is an illuminating portrait of a forgotten people and of a woman whose deep influence on the twentieth century can only now be fully understood.
Praise For Forgotten Fatherland: The True Story of Nietzsche's Sister and Her Lost Aryan Colony…
"A fascinating, provocative, and highly eccentric volume that is part biography, part travelogue, part detective story."
—New York Times
 
 
"Witty, intelligent, and told with rollicking, trenchant style."
—Boston Globe
 
 
"A hoot of a book."
—Washington Post Book World
 
 
"A black-comic stylist who never misses an opportunity for a malicious aside."
—Newsday
 
 
"A sparkling idea, and its realization...yields vivid travel writing and information of a ghostly but fascinating sort."
—The New Yorker
 
 
"Absorbing and highly readable....Since the collapse of Easy Germany in 1989, the Nietzsche papers have become more accessible. Mr. Macintyre has made excellent use of them in reconstructing the story of this formidable woman."
—New York Times Book Review

 
"Enjoyable and informative."
—New York Review of Books
 
 
"Macintyre's journey and his descriptions of what he found make compelling reading. But more fascinating still is the story Macintyre interweaves with his discovery of Nueva Germania, that of Elisabeth's own life, and her deliberate distortions of her brother's philosophy to make it accord with her own."
—The Sunday Times [UK]
 
 
"In 1886, Bernard Forster and Elisabeth Nietzsche arrived in Paraguay with a boatload of German peasants...The venture failed, but what became of the colony? Ben Macintyre set off to find out."
—The Sunday Telegraph [London]
 
 
"Engaging and entertaining...Forgotten Fatherland weaves together a number of curious and disparate strands, and makes new use of the Nietzsche archive in Weimar."
—The Times Literary Supplement
 
 
"Lurid and delightful: Rider Haggard couldn't ask for more."
—Kirkus Reviews
 
 
"[A] brilliant piece of investigative journalism."
—Publishers Weekly
Broadway Books, 9780307886446, 304pp.
Publication Date: April 5, 2011
About the Author
BEN MACINTYRE is a writer-at-large for The Times of London and the bestselling author of A Spy Among Friends, Double Cross, Operation Mincemeat, Agent Zigzag, The Napoleon of Crime, and Forgotten Fatherland, among other books. Macintyre has also written and presented BBC documentaries of the wartime espionage trilogy.