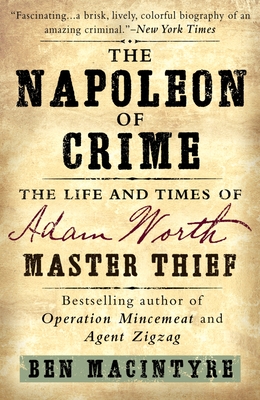 The Napoleon of Crime
The Life and Times of Adam Worth, Master Thief
Paperback

* Individual store prices may vary.
Description
NEW YORK TIMES BESTSELLING AUTHOR OF A SPY AMONG FRIENDS

He is the Napoleon of crime, Watson.
He is the organizer of half that is evil and of nearly all that is undetected in this great city.
He is a genius, a philosopher, an abstract thinker. . . .
--Sherlock Holmes on Professor Moriarty in "The Final Problem"

The Victorian era's most infamous thief, Adam Worth was the original Napoleon of crime.  Suave, cunning Worth learned early that the best way to succeed was to steal.  And steal he did.

Following a strict code of honor, Worth won the respect of Victorian society.  He also aroused its fear by becoming a chilling phantom, mingling undetected with the upper classes, whose valuables he brazenly stole.  His most celebrated heist: Gainsborough's grand portrait of the Duchess of Devonshire--ancestor of Diana, Princess of Wales--a painting Worth adored and often slept with for twenty years.

With a brilliant gang that included "Piano" Charley, a jewel thief, train robber, and playboy, and "the Scratch" Becker, master forger, Worth secretly ran operations from New York to London, Paris, and South Africa--until betrayal and a Pinkerton man finally brought him down.

In a decadent age, Worth was an icon.  His biography is a grand, dazzling tour into the gaslit underworld of the last century.  .  .  and into the doomed genius of a criminal mastermind.
Praise For The Napoleon of Crime: The Life and Times of Adam Worth, Master Thief…
"Fascinating...a brisk, lively, colorful biography of an amazing criminal."
--The New York Times

"Adam Worth, the greatest thief of the 19th century, could have furnished the basis of a great novel...Ben Macintyre has given him a biography that reads like one."
--Los Angeles Times Book Review

A New York Times Notable Book
Broadway Books, 9780307886460, 400pp.
Publication Date: April 5, 2011
About the Author
BEN MACINTYRE is a writer-at-large for The Times of London and the bestselling author of A Spy Among Friends, Double Cross, Operation Mincemeat, Agent Zigzag, The Napoleon of Crime, and Forgotten Fatherland, among other books. Macintyre has also written and presented BBC documentaries of the wartime espionage trilogy.