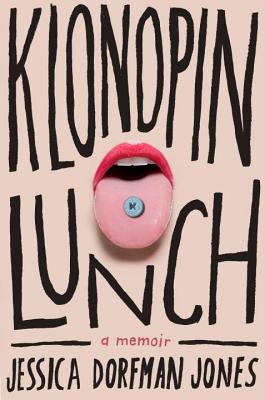 Klonopin Lunch
A Memoir
Hardcover

* Individual store prices may vary.
Description
Gritty. Dirty. Hard-core. Transformative. Funny.  This is the real Sex and the City.
 
By her late twenties, Jessica Dorfman Jones had dutifully achieved everything she thought she was supposed to: marriage, law degree, high-paying job, nice apartment in Greenwich Village. But she was miserable and felt like she was living a life that wasn't hers. Desperate to change her status quo and figure out who she really was, Jessica went about the business of making a change by demolishing the life she knew. She threw her good-girl image aside and set out to unleash the very bad girl she had never before tried to be.

Embracing the deliciously debauched world of sex, drugs, and rock and roll, Jessica leaves behind her sweet and well-behaved husband for the ultimate bad-boy guitar player, starts her own band, and parties harder than she had ever thought possible. She starts a band, puts her job in jeopardy, and causes her friends and family no end of worry with her illicit behavior. And then, in the midst of her self-created chaos, the wildest thing of all happens. She figures out who she is, who she most definitely is not, and what might, if she's lucky, come next.

Klonopin Lunch is Jessica's wickedly funny and uncensored journey down the rabbit hole and back out again, into a life that, at last, makes her truly happy.
Praise For Klonopin Lunch: A Memoir…
"Massively entertaining...the writing--expressive, ribald, honest--keeps this hard-core cautionary tale lively, diverting, and fresh." --Elle Magazine

"A funny, sexy memoir of a good girl gone momentarily very bad....Jones writes freshly and perceptively about love, lust and sex. She is starkly (and wittily) honest about her own faults while being generous toward the deeply flawed men in her life....a guilty pleasure" --Kirkus

"[A] very raw, human lesson about vulnerability and growth." --Publishers Weekly

"Brave, horrifying, hilarious, and totally entertaining Jessica Dorfman Jones is nothing like the girl I remember from private school." —Cecily Von Ziegesar, author of the #1 New York Times bestselling Gossip Girl novels
 
"Sex, drugs, rock and roll, even love—Klonopin Lunch has it all. Brave, heartbreaking in spots, laugh-out-loud funny in others, Jessica Dorfman Jones's story is a captivating mix of depravity and heart." —Jancee Dunn, author of Why is My Mother Getting a Tattoo? And Other Questions I Wish I Never Had to Ask
 
"Klonopin Lunch is every bit as funny and irreverent as the title suggests. Jessica Dorfman Jones' story of an Upper East Side preppie law school graduate who leaves it all behind for New York's downtown rock scene is hysterically funny and surgically accurate. It captures every detail of that sadly bygone subculture in all its lurid, cringe-worthy glory. Tom Petty sang about a good girl who loved her mama, and if you want to see what happens when that girl goes full Winehouse, then this is the only book you'll ever need." —Dan Bukszpan, author of The Encyclopedia of Heavy Metal and The Encyclopedia of New Wave
 
Crown, 9780307886972, 336pp.
Publication Date: July 17, 2012
About the Author
A die-hard native New Yorker, graduate of the Nightingale-Bamford School (she still has the white gloves to prove it), Kenyon College, and Cardozo Law School, Jessica Dorfman Jones started her life in publishing in the publicity department of Simon & Schuster. She continued on, among other jobs, as a literary agent (responsible for bringing "Legally Blonde" into the world) and book packager. She is the author of "The Art of Cheating: A Nasty Little Book for Tricky Little Schemers and Their Hapless Victims, " which she is adapting into a feature film. Jessica is currently at work on a novel, as well as a musical titled "Friends Like These" about the triumphs and trials of female friendships. She is also the cofounder of Glass Elevator Media, a production company based in LA and New York. Jessica lives and works in New York City and her writing is frequently interrupted by her tiny dog Oscar's loud indignation at not being catered to 24/7.
or
Not Currently Available for Direct Purchase