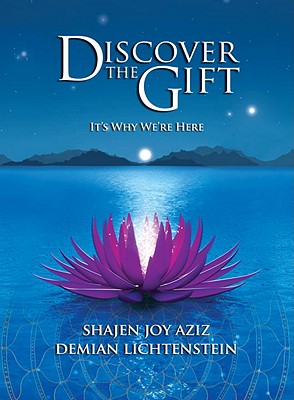 Discover the Gift
Hardcover

* Individual store prices may vary.
Other Editions of This Title:
Paperback (9/7/2016)
Hardcover (9/7/2016)
Description
Take the first steps toward your destiny and begin living the life you were meant to live today.

From brother and sister team Demian Lichtenstein and Shajen Joy Aziz comes an inspiring book that explores the basic but vital reality that we are each given a unique Gift, a purpose in our life that is always seeking to express itself. Find that Gift and you can experience joy, power, fulfillment, freedom and unconditional love in ways beyond your imagination.
 
Discover the Gift presents a simple roadmap to a journey of self-discovery that will, undoubtedly, change your life forever. Sharing their own heartfelt, personal stories of tragedy and redemption, Demian and Shajen introduce us to eight fundamental steps that will help you discover the gift within you—and prepare you to share that gift with others. Along the way you will receive both direction and support from a wide range of the world's most influential transformational leaders, people from all walks of life who not only live their Gift every day, but who have made it their purpose to help you do the same. Among them: His Holiness the Dalai Lama; His Holiness Sri Sri Ravi Shankar; Mark Victor Hansen; Dr. Sonia Powers; Mary Manin Morrissey; Dr. Barbara De Angelis, Jack Canfield, and Michael Bernard Beckwith, to name just a few.

Inspiring as well as practical, Discover the Gift illuminates that place inside each of us where an extraordinary Gift awaits to come alive.

Your Destiny Awaits. Discover the Gift. It's Why You're Here.


Praise For Discover the Gift…
"The Gift is our unique way of expressing love, our unique way of revealing creativity, our unique way of alleviating suffering, our unique way of downloading wisdom and beauty and all of the transcendent qualities that are everywhere present. As individuals release their Gifts, they're releasing the next stage of their own evolution and they're activating that same vibration and frequency in others. It's why we're here."
—Michael Bernard Beckwith

"The Gift is the essence of who we are; both the qualities of being, like love and joy, peace, harmony, authenticity, spontaneity and we each have unique talents. We've been given a set of talents that we might call our 'core genius' or unique abilities and each of us has I think the responsibility to develop those Gifts and to express them fully into the world."                                                                         
—Jack Canfield

"Discover the Gift is an extraordinary new documentary, book, blog, and CD that reaches from the broadest universal dreams to the most intimate, personal insights..."--Beliefnet.com

"Discover the Gift is more than just an exquisite and uplifting film—it is a unique, transformational experience that will expand the mind, heart and consciousness of anyone who sees it...Discover the Gift is a gift for our time. It is to film what Oprah has been to television. It is in perfect alignment with my own work and life mission, and it is a true honor to be a part of it."--Dr. Barbara De Angelis, #1 New York Times Bestselling Author and Transformational Teacher
 
"Discover the Gift is nothing less than a masterpiece. Demian Lichtenstein took his soul and offered it up to the world on every reel of his new film. I am honored to participate in the genius of this work of heART"--Janet Bray Attwood - New York Times Co-author of The Passion Test
 
"The most important spiritual transformational film on the planet."—Mark Victor Hansen, co-author of Chicken Soup for the Soul series
 
"To the awesome twosome, Shajen and Demian, I want to thank you for the Gift you have given to the world and to me…. I hope you have on your spiritual seatbelts as your gift spreads around the world and into the entire universe. Thanks for sharing your story, revealing your pain and giving us permission to do the same."--Rev. Sheila McKeithen

"Sure to be a word-of-mouth winner…. Discover the Gift follows the siblings' [Lichtenstein's and Aziz's] journeys towards fulfillment, joy and unconditional love, as they reveal that we all have special gifts within us waiting to be awakened and shared. Theirs include storytelling and being visually creative. As well as their own uplifting and heartwarming stories, you'll be inspired by the wisdom of more than 40 of today's transformational leaders who share their experiences on finding and working with your gift."
—Spirit & Destiny Magazine
Harmony, 9780307887115, 256pp.
Publication Date: June 14, 2011
About the Author
Demian Lichtenstein is the co-author, Director, and Producer of "DISCOVER THE GIFT," and the President of Equilibrium Entertainment. He has served as senior head coach for the Self-Expression and Leadership Program for Landmark Education, an internationally recognized seminar conglomerate specializing in transformational leadership.

Shajen Joy Aziz is the co-author and Executive Producer of "DISCOVER THE GIFT"; she is also Director of Operations at Equilibrium Entertainment. A founding member of the Southern California Association of Transformational Leaders, Aziz is passionate about children and young adults: they are our future. Her motto is "Learning for Life-Empowering the Future."

o learn more about Discover the Gift visit: www.discoverthegift.com.
or
Not Currently Available for Direct Purchase