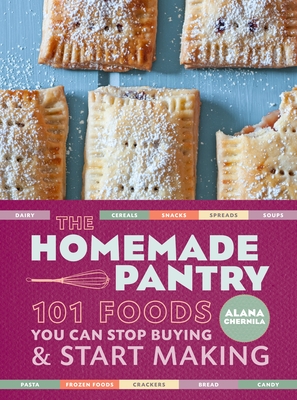 The Homemade Pantry
101 Foods You Can Stop Buying and Start Making: A Cookbook
Paperback

* Individual store prices may vary.
Description
"This is my kitchen. Come on in, but be prepared—it might not be quite what you expect. There is flour on the counter, oats that overflowed onto the floor, chocolate-encrusted spoons in the sink. There is Joey, the husband, exhausted by the thirty-five preschoolers who were hanging on him all day, and he is stuffing granola into his mouth to ease his five o'clock starvation. There are two little girls trying to show me cartwheels in that miniscule space between the refrigerator and the counter where I really need to be."
 
In her debut cookbook, Alana Chernila inspires you to step inside your kitchen, take a look around, and change the way you relate to food. The Homemade Pantry was born of a tight budget, Alana's love for sharing recipes with her farmers' market customers, and a desire to enjoy a happy cooking and eating life with her young family. On a mission to kick their packaged-food habit, she learned that with a little determination, anything she could buy at the store could be made in her kitchen, and her homemade versions were more satisfying, easier to make than she expected, and tastier. 
           
Here are her very approachable recipes for 101 everyday staples, organized by supermarket aisle—from crackers to cheese, pesto to sauerkraut, and mayonnaise to toaster pastries. The Homemade Pantry is a celebration of food made by hand—warm mozzarella that is stretched, thick lasagna noodles rolled from flour and egg, fresh tomato sauce that bubbles on the stove. Whether you are trying a recipe for butter, potato chips, spice mixes, or ketchup, you will discover the magic and thrill that comes with the homemade pantry.
           
Alana captures the humor and messiness of everyday family life, too. A true friend to the home cook, she shares her "tense moments" to help you get through your own. With stories offering patient, humble advice, tips for storing the homemade foods, and rich four-color photography throughout, The Homemade Pantry will quickly become the go-to source for how to make delicious staples in your home kitchen.
Praise For The Homemade Pantry: 101 Foods You Can Stop Buying and Start Making: A Cookbook…
"Alana is the real deal: A practically minded, thoroughly modern yet authentically old school homesteader. Ingeniously opting for quality over quantity, she strives for excellence, taste, and nutrition, and inspires her readers to do the same. She shows us the functional beauty in a frugal kind of cooking that's nevertheless alive with luxury and abundance. Believe her and practice what she preaches."
—LUCINDA SCALA QUINN, host of Mad Hungry with Lucinda Scala Quinn and author of Mad Hungry

"Alana Chernila's food is the sort of honest, natural, and down-to-earth cooking that I crave. On the top of my can't-wait-to-make list are the toaster pastries, which I'm sure my own daughter will adore, and the cucumber pickles, which are right up my DIY-alley. Plus, Alana's stories are engaging and fun to read. But what I really love about this book is Alana's passionate approach to homemade kitchen staples, which I hope will get people to rethink the questionable goods that we all keep in our pantries. We can do better, and she shows us how. I would feel confident cooking any of her recipes for my friends and family, and that means a lot."
—MELISSA CLARK, New York Times food columnist and author of Cook This Now
 
"You can work culinary magic on a whim when you keep a well-stocked, mindfully edited pantry. Alana's beautiful book shows you the way with an impressive range of homemade go-tos. She covers all the useful day-to-day staples here with understated style. Pancake and waffle mixes, granola, tomato sauce, and salad dressings bump up against recipes for crackers, soda syrups, sauerkraut, and spice blends. It's the sort of book that makes you want to head straight for your kitchen."
—HEIDI SWANSON, bestselling author of Super Natural Every Day
 
"Alana Chernila has given us something incredibly special: a book both practical and inspiring, authoritative, and down to earth. Reading THE HOMEMADE PANTRY, I feel as though I'm in the kitchen with her and her family, and that together, there's nothing that we can't do. Why not make my own hot sauce, mozzarella, or graham crackers? From now on, I know I will."
—MOLLY WIZENBERG, bestselling author of A Homemade Life
 
"Alana Chernila not only understands the power of food, she understands the power of food and family. She understands the comfort and security a bowl of creamy soup brings on a winter day; she understands that a lasagna from scratch can bond a family in ways that the boxed kind can't; and perhaps most importantly, she understands that a warm homemade toaster pastry will go a long way in easing any brand of maternal guilt. I think that recipe in particular is going to be a keeper in my house."
—JENNY ROSENSTRACH, creator of DinnerALoveStory.com 

"The Homemade Pantry is an important, beautiful work that can change the way people approach their food lives."
—MOLLIE KATZEN, author of The Moosewood Cookbook

"A gorgeous collection of recipes for making fresh, healthier versions of store-bought packaged foods like Pop Tarts, pizza, and more. Good for your waistline, your wallet, and the environment."  
- SCHOLASTIC PARENT & CHILD
Clarkson Potter, 9780307887269, 288pp.
Publication Date: April 3, 2012
About the Author
ALANA CHERNILA writes, cooks, sells fresh vegetables, and teaches cheese making. She created the blog EatingFromTheGroundUp in 2008. Alana is a graduate of St. John's College in Santa Fe and lives with her husband and their two young daughters in western Massachusetts, where she is a selectman.
or
Not Currently Available for Direct Purchase