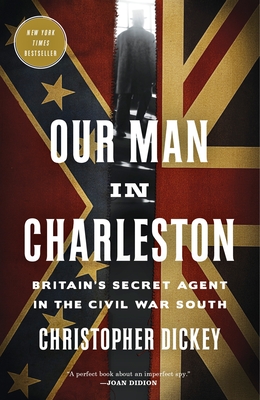 Our Man in Charleston (Paperback)
Britain's Secret Agent in the Civil War South
Broadway Books, 9780307887283, 400pp.
Publication Date: July 26, 2016
* Individual store prices may vary.
Description
Between the Confederacy and recognition by Great Britain stood one unlikely Englishman who hated the slave trade. His actions helped determine the fate of a nation.
 
When Robert Bunch arrived in Charleston to take up the post of British consul in 1853, he was young and full of ambition, but even he couldn't have imagined the incredible role he would play in the history-making events to unfold. In an age when diplomats often were spies, Bunch's job included sending intelligence back to the British government in London. Yet as the United States threatened to erupt into Civil War, Bunch found himself plunged into a double life, settling into an amiable routine with his slavery-loving neighbors on the one hand, while working furiously to thwart their plans to achieve a new Confederacy.
 
As secession and war approached, the Southern states found themselves in an impossible position. They knew that recognition from Great Britain would be essential to the survival of the Confederacy, and also that such recognition was likely to be withheld if the South reopened the Atlantic slave trade. But as Bunch meticulously noted from his perch in Charleston, secession's red-hot epicenter, that trade was growing. And as Southern leaders continued to dissemble publicly about their intentions, Bunch sent dispatch after secret dispatch back to the Foreign Office warning of the truth—that economic survival would force the South to import slaves from Africa in massive numbers. When the gears of war finally began to turn, and Bunch was pressed into service on an actual spy mission to make contact with the Confederate government, he found himself in the middle of a fight between the Union and Britain that threatened, in the boast of Secretary of State William Seward, to "wrap the world in flames."
 
In this masterfully told story, Christopher Dickey introduces Consul Bunch as a key figure in the pitched battle between those who wished to reopen the floodgates of bondage and misery, and those who wished to dam the tide forever. Featuring a remarkable cast of diplomats, journalists, senators, and spies, Our Man in Charleston captures the intricate, intense relationship between great powers on the brink of war.
About the Author
Award-winning author CHRISTOPHER DICKEY, the foreign editor of The Daily Beast, is based in France. Previously he was the Paris bureau chief and Middle East editor for Newsweek. He served as Cairo bureau chief for the Washington Post and, before that, as the paper's Central America bureau chief. His books include the acclaimed memoir Summer of Deliverance as well as Securing the City, Expats, With the Contras, and two novels about espionage and terrorism.
From the Hardcover edition.
Praise For Our Man in Charleston: Britain's Secret Agent in the Civil War South…
New York Times Bestseller

New York Times Book Review Editors' Choice

"Our Man in Charleston is a joy to discover. It is a perfect book about an imperfect spy."
—Joan Didion

"Thoroughly researched and deftly crafted. [Our Man in Charleston will] introduce people to a man who should be better known, one who cannily fought the good fight at a fateful moment in history."
—Wall Street Journal

"Dickey tells Bunch's story with aplomb and a good deal of fine wit. On one level, Dickey has written a spicy historical beach read, chock-full of memorable characters and intrigue. But into this page-turning entertainment, Dickey has smuggled a thoughtful examination of the geopolitical issues of the day...splendid."
—Boston Globe

"A fascinating page-turner that takes on special relevance as South Carolina fills our thoughts in the summer of 2015...[Dickey] brings to life a feverish Southern city, an un-united nation of states, and the 'lively and indiscreet, indefatigable and thoroughly British' man in the middle. Dickey...clearly understands the dance of diplomacy that evolves day by day as personalities and priorities change."
—Christian Science Monitor

"A dynamite tale of international gamesmanship...Dickey's prose is lively and entertaining. He writes with care for the reader — identifying and characterizing the major players in the political drama that unfolded."
—Dallas Morning News

"One heck of a good read."
—The Charlotte Observer

"Dickey tells the story of this unsung hero with dash, clarity and a feel for fine detail. ... Our Man in Charleston blows the dust off this forgotten chapter in history and, remarkably, turns it into a thriller."
—Pittsburgh Post-Gazette

"A good historical primer on the buildup to the Civil War and a behind-the-scenes look at England's concern for its own future as the conflict unfolded."
—Minneapolis Star Tribune

"A unique history of the War Between the States from the perspective of Bunch and his important, and little-known, role in the outcome of the conflict."
—Fort Worth Star Telegram

"[Bunch is] a brilliant find…Dickey, the foreign editor of The Daily Beast and a former longtime Newsweek correspondent, uses his research well: in a story like this one, point of view is everything, and Bunch's is razor sharp."
—American Scholar

"Dickey has written a book that is as much suspense and spy adventure as it is a history book... A story as compelling as this one does not come around very often. With so much already written about the Civil War, and more coming every year, originality is a rare thing these days. The story of Robert Bunch is that and more."
—The Carolina Chronicles

"A fascinating tale of compromise, political maneuvering, and espionage."
—Publishers Weekly

"Dickey's comprehension of the mindset of the area, coupled with the enlightening missives from Bunch, provides a rich background to understanding the time period….A great book explaining the workings of what Dickey calls an erratic, cobbled-together coalition of ferociously independent states. It should be in the library of any student of diplomacy, as well as Civil War buffs." 
—Kirkus Reviews (starred)

"A fine examination of a superbly skilled diplomat."
—Booklist 

"Britain's consul in Charleston before and during the first two years of the Civil War was outwardly pro-Southern and earned notoriety in the North. But in secret correspondence with the British Foreign Office he made clear his hostility to slavery and the Confederacy. His dispatches helped prevent British recognition of the Confederacy. Christopher Dickey has skillfully unraveled the threads of this story in an engrossing account of diplomatic derring-do."
—James M. McPherson, Pulitzer Prize-winning author of Battle Cry of Freedom

"Did Robert Bunch, Her Majesty's consul in Charleston, keep Britain out of the Confederacy's war? Drawing on Bunch's clandestine correspondence, Christopher Dickey makes a compelling case that this dazzlingly duplicitous, ardent anti-slaver played a key role. A fascinating, little-known shard of vital Civil War history, brought glitteringly alive with all the verve and panache of a master story teller."
 —Geraldine Brooks, Pulitzer Prize-winning author of March

"In his extraordinary new history Our Man in Charleston, Christopher Dickey has written a book you can't put down. This is a well-researched history with the immense power and sheer element of surprise we find in the finest spy novels. It's like reading a book by Graham Greene, written while he was staying at the house of John le Carré, discussing the fate of nations over drinks. With Charleston consul Robert Bunch, Dickey has introduced a new great man in the great war that haunts America still. I adored this book."
—Pat Conroy, author of The Great Santini and South of Broad

"Our Man in Charleston is a superlative and entertaining  history of the grey area where diplomacy ends and spy craft begins. British Consul Robert Bunch played a secret role in the anti-slavery fight in Charleston, which would remain secret to this day were it not for Christopher Dickey's extraordinary detective skills."
—Amanda Foreman, author of A World on Fire and Georgiana

"Wonderfully written and researched, Our Man in Charleston is the best espionage book I've read. I couldn't put it down."
 —Robert Baer, former CIA case officer and author of See No Evil

"Robert Bunch is an unlikely spy, but his bravery and moral sensibility make him an intriguing hero for Christopher Dickey's Civil War history. Dickey knows his stuff, from spying to the slave trade, and he's a master at telling a fast-paced, gripping yarn."
—Evan Thomas, author of John Paul Jones and The Very Best Men

"Christopher Dickey has accomplished the near-impossible—exhuming a forgotten but irresistible character from the dustbin of Civil War history, and bringing him back to life with painstaking research and bravura literary flair. This irresistible book opens new windows onto the complicated worlds of wartime diplomacy, intelligence-gathering and outright intrigue, and the result is fresh history and page-turning excitement."
—Harold Holzer, author of Lincoln and the Power of the Press and winner of the 2015 Gilder Lehrman Lincoln Prize
 
"A long-needed study of Robert Bunch, British consul in Charleston—a secret agent for the Crown in the Civil War era who outwardly praised the city and its people while privately loathing both, and who discouraged diplomatic recognition of the Confederacy by keeping his superiors abreast of its determination to continue importing slaves. Elegantly written, well researched, an engrossing story."
—Howard Jones, author of Blue and Grey Diplomacy


From the Hardcover edition.