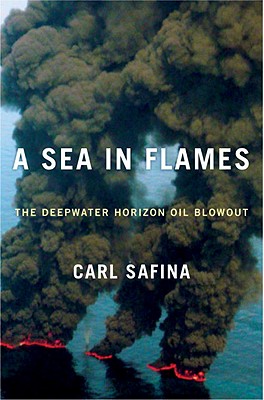 A Sea in Flames (Hardcover)
The Deepwater Horizon Oil Blowout
Crown, 9780307887351, 368pp.
Publication Date: April 19, 2011
Other Editions of This Title:
Paperback (4/19/2011)
MP3 CD (7/12/2016)
* Individual store prices may vary.
Description
Carl Safina has been hailed as one of the top 100 conservations of the 20th century (Audubon Magazine) and A Sea in Flames is his blistering account of the months-long manmade disaster that tormented a region and mesmerized the nation. Traveling across the Gulf to make sense of an ever-changing story and its often-nonsensical twists, Safina expertly deconstructs the series of calamitous misjudgments that caused the Deepwater Horizon blowout, zeroes in on BP's misstatements, evasions, and denials, reassesses his own reaction to the government's crisis handling, and reviews the consequences of the leak—and what he considers the real problems, which the press largely overlooked.

Safina takes us deep inside the faulty thinking that caused the lethal explosion. We join him on aerial surveys across an oil-coated sea. We confront pelicans and other wildlife whose blue universe fades to black. Safina skewers the excuses and the silly jargon—like "junk shot" and "top kill"—that made the tragedy feel like a comedy of horrors—and highlighted Big Oil's appalling lack of preparedness for an event that was inevitable.

Based on extensive research and interviews with fishermen, coastal residents, biologists, and government officials, A Sea In Flames has some surprising answers on whether it was "Obama's Katrina," whether the Coast Guard was as inept in its response as BP was misleading, and whether this worst unintended release of oil in history was really America's worst ecological disaster.            
           
Impassioned, moving, and even sharply funny, A Sea in Flames is ultimately an indictment of America's main addiction. Safina writes: "In the end, this is a chronicle of a summer of pain—and hope.  Hope that the full potential of this catastrophe would not materialize, hope that the harm done would heal faster than feared, and hope that even if we didn't suffer the absolutely worst—we'd still learn the big lesson here. We may have gotten two out of three.  That's not good enough. Because: there'll be a next time."             
About the Author
CARL SAFINA is author of, among other books, "The View From Lazy Point; A Natural Year in an Unnatural World Song""for the Blue Ocean." His honors include a Pew Fellowship, Guggenheim Fellowship, World Wildlife Fund fellowship, the National Academies' communications award for year's best book, the John Burroughs Medal, Raab Medal, and a MacArthur "genius" Fellowship. "Audubon "Magazine named him among the top 100 conservationists of the 20th century. Dr. Safina is an adjunct professor at Stony Brook University, an elected member of The Explorers Club, and founding president of Blue Ocean Institute. He has written upwards of 100 articles for scientific and popular journals and he lectures around the country. Visit: http: //blueocean.org/ and http: //carlsafina.org.
Praise For A Sea in Flames: The Deepwater Horizon Oil Blowout…
"An impressive book that provides a vivid account of how the spill happened, coupled with a report on the anxiety experienced by those who had no way of knowing how long the spill would last or how bad it would get...Readers will find the book accessible and agreeable…an insightful work." —The New York Times Book Review

"Safina offers an impassioned, on the ground chronicle of the 2010 Gulf oil blowout that surpassed Exxon-Valdez to rank as the worst in history. His account achieves a broad, reasoned perspective that frames events against the more insidious damage that farm and industrial runoff, canal-digging, levee-building, and rising sea level have wrought on the Gulf and its wetlands." —Publishers Weekly

The blowout was awful, but look at the bigger picture, writes Safina in this illuminating, monitory study: "The real catastrophe is the oil we don't spill…the oil we burn, the coal we burn, the gas we burn…And as the reefs dissolve and the ocean's productivity declines, so will go the food security of hundreds of millions of people." 
—Kirkus Reviews

"Environmentalist Safina brings his signature compassion, marine expertise, and gorgeous writing to his candidly expressive coverage of the Deepwater Horizon disaster a year after the explosion." —Booklist

Praise for previous works by Carl Safina:
 
Song for the Blue Ocean:
 
"Engrossing and illuminating . . . passionate and enthralling narrative . . . [A] landmark book." —New York Times Book Review
 
"You will never think about fish—or the ocean—the same way again."
—Sylvia Earle, National Oceanic and Atmospheric Association
 
Eye of the Albatross:
 
"One of the most delightful natural history studies in decades."
—The Boston Globe
 
 "A beautiful, awe-inspiring tableau of our world as you've never seen it . . . a moving depiction of how interconnected life on this planet truly is."
—The Christian Science Monitor
 
"Safina delivers a message full of wonder at the natural world and concern about the fragility of his subject."
—New York Times Book Review
  
Voyage of the Turtle:
 
"Magnificent... a book that makes the sea air palpable….A joyful, hopeful book that at the same time, doesn't let us off the hook."
— Los Angeles Times
 
"Thrums with fascination."
— New York Times Book Review

or
Not Currently Available for Direct Purchase