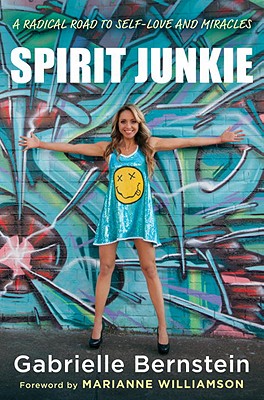 Spirit Junkie: A Radical Road to Self-Love and Miracles (Hardcover)
A Radical Road to Self-Love and Miracles
Harmony, 9780307887405, 288pp.
Publication Date: September 13, 2011
* Individual store prices may vary.
or
Not Currently Available for Direct Purchase
Description
How does a New York City publicist and party girl turn into a go to guide for the next generation? In her new book, "Spirit Junkie: A Radical Road to Self-Love and Miracles," Gabrielle Bernstein shares the story of how she transformed her life, offering her spiritual journey as a guidebook for overcoming fear, changing perceptions, and creating a life you're psyched to wake up for. Bernstein has traded self-doubt and addiction for a new kind of high. In 2005 she became a student of A Course in Miracles and since then she has been guided to teach those spiritual principles to the next generation of seekers.
About the Author
Gabrielle Bernstein has been labeled by the "New York Times" as the next-generation guru. A motivational speaker, life coach, and author, she is expanding the lexicon for the seekers of today and tomorrow. She gives talks and leads seminars throughout the country, is on the "Forbes" list of the 20 Best Branded Women, and has been featured in media outlets such as Oprah Radio, "Marie Claire, ""Health, Self, " CNN, NBC, CBS, FOX, and the "Wall Street Journal." She is the author of "Add More ing to Your Life" and can be seen riding around the East Village on a unicycle. Or just look for her online at gabbyb.tv.
Praise For Spirit Junkie: A Radical Road to Self-Love and Miracles…
"So long, Carrie Bradshaw--there's a new role model for go-getting thirty-somethings. Gabrielle Bernstein is doling out inner peace and self-love for the postmodern spiritual set."  
—Elle Magazine

"Gabrielle is one of my most treasured soul sisters and a true 'Spirit Junkie' in the most fun and exhilarating ways imaginable! I read Gabby's books for spiritual life lessons on how to love myself and others more deeply and with authentic honesty. Open your hearts to this beautiful goddess-diva and, most important, discover the one that lives inside you!" 
—Eliza Dushku

"A decade ago, young women like Ms. Bernstein might have been expected to chase the lifestyle of high heels and pink drinks…But now there is a new role model for New York's former Carrie Bradshaws…well versed in self-help and New Age spirituality…Ms. Bernstein is one of a circle of such figures, influenced less by the oeuvre of Candace Bushnell than that of Marianne Williamson."  
—The New York Times

"For those ready to give up their addiction to suffering or who simply need to release the general malaise of a too-busy, too shallow way of life, Spirit Junkie is a soothing balm for the soul.  Gabrielle Bernstein is a brilliant shining guide for all who seek to have more love, more light and more miracles in their life."
—Arielle Ford, author of The Soulmate Secret
 
"In this mixture of humor, grief and how-to instructions on achieving enlightenment, Bernstein offers more than just autobiography or a user's guide to meditation . . . A groovy blend of meditative and instructive writing."--Kirkus
Advertisement