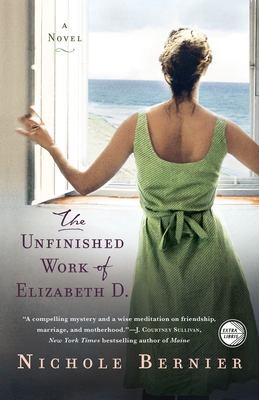 The Unfinished Work of Elizabeth D. (Paperback)
A Novel
Broadway Books, 9780307887825, 336pp.
Publication Date: March 12, 2013
Other Editions of This Title:
Hardcover (6/5/2012)
Compact Disc (11/13/2012)
MP3 CD (7/1/2012)
Compact Disc (7/1/2012)
Hardcover, Large Print (12/26/2012)
* Individual store prices may vary.
Description
"A compelling mystery and a wise meditation on friendship, marriage, and motherhood."—J. Courtney Sullivan, New York Times bestselling author of Maine

Summer vacation on Great Rock Island was supposed to be a restorative time for Kate, who'd lost her close friend Elizabeth in a sudden accident. But when she inherits a trunk of Elizabeth's journals, they reveal a woman far different than the cheerful wife and mother Kate thought she knew. 

The complicated portrait of Elizabeth—her troubled upbringing, and her route to marriage and motherhood—makes Kate question not just their friendship, but her own deepest beliefs about loyalty and honesty at a period of uncertainty in her own marriage. When an unfamiliar man's name appears in the pages, Kate realizes the extent of what she didn't know about her friend, including where she was really going on the day she died. 

The more Kate reads, the more she learns the complicated truth of who Elizabeth really was, and rethinks her own choices as a wife, mother, and professional, and the legacy she herself would want to leave behind.

Now with Extra Libris material, including a reader's guide and bonus content

Praise for The Unfinished Work of Elizabeth D.

"An absorbing, bittersweet novel that examines the vast gray area between protecting and deceiving the ones we love."—Vanessa Diffenbaugh, New York Times bestselling author of The Language of Flowers

"Bernier's excellent storytelling skills will keep you pondering long after the final page."—Washington Post

"Bernier masterfully eases open the doors that guard our deepest fears and, against a backdrop of a New England beach vacation, sweeps in fresh air and hope."—Parade
About the Author
NICHOLE BERNIER has written for publications including Psychology Today, Salon, Elle, Self, Health, and Men's Journal. A longtime contributing editor with Conde Nast Traveler, she lives outside Boston with her husband and five children.
Praise For The Unfinished Work of Elizabeth D.: A Novel…
"Thanks to incredibly realistic characters, this smart, bittersweet tale brilliantly captures what it means to be a mom, wife and friend." —Family Circle

"I loved this bittersweet novel, which manages to be both a compelling mystery and a wise meditation on friendship, marriage and motherhood in an age of great anxiety. Bernier will have you thinking about her characters long after you've turned the final page." —J. Courtney Sullivan, New York Times bestselling author of Commencement and Maine

"A smart, poignant novel about the bittersweet choices women make and the secrets they keep. This is one of those rare novels that's so real you forget it's written; I literally carried it around with me, and I missed the characters when I was done." —Jenna Blum, New York Times bestselling author of Those Who Save Us and The Stormchasers

"Nichole Bernier writes as though she were born knowing how to do so.  She understands the fragility of the human heart and also the enduring strength of even imperfect relationships.  The Unfinished Work of Elizabeth D. is a gripping book with a delicate, tender core.  You will read on to unravel a mystery but also, to be moved, page after page."  —Robin Black, author of If I Loved You, I Would Tell You This

"Written with exquisite grace, depth, and honesty, The Unfinished Work of Elizabeth D. explores decisions driven by motherhood and marriage. I was transfixed as Kate read the journals she'd inherited from Elizabeth, peeling back the layers of her friend's life, and in the process grappling with her own choices and terrors. Women have secret lives—sometimes hidden in the corners of our minds, sometimes in dreams unrealized. One mark of friendship is when and whether these nightmares and ambitions can be revealed. This riveting novel fiercely captures this fulcrum of the public and private lives of American mothers."  —Randy Susan Meyers, international bestselling author of The Murderer's Daughters 

"Debut novelist Bernier's thoughtful observations on friendship, identity, motherhood, work, and marriage wrap around the mystery of Elizabeth, whose journal writing enlivens the book and gives readers much to think about. This literary novel should be a favorite of book groups and have broad appeal beyond." —Library Journal

"Moments of beauty and depth of spirit will appeal to readers interested in secrets revealed." —Publishers Weekly

"This exquisite and honest portrait of friendship and motherhood unfurls a suspenseful plot whose jaw-dropping surprise ending is one that readers will be sure to discuss long after the book has been finished...Bernier successfully explores how women manage to balance so much in their everyday life and the complicated emotions (guilt, frustration, fear) that go along with being a working mother...The Unfinished Work of Elizabeth D. is an important read for anyone who dares to ask just how well we really know our friends and neighbors, and what those discoveries mean about us." —BookPage