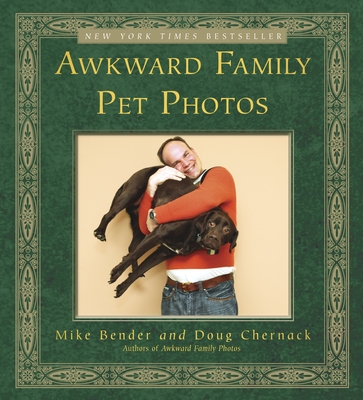 Awkward Family Pet Photos (Paperback)
Three Rivers Press, 9780307888129, 176pp.
Publication Date: November 1, 2011
Other Editions of This Title:
Hardcover (10/1/2011)
* Individual store prices may vary.
Description
The authors of the New York Times bestseller Awkward Family Photos are back with a hilarious tribute to the unbreakable and sometimes uncomfortable bond between people and their pets.

There are few things more rewarding than having a pet. They love us unconditionally, shower us with attention, and because of them, we actually live longer. So, what can possibly be awkward about our animal BFFs? Well . . . nothing. In fact, we're the awkward ones. We adore our pets, but let's face it—sometimes L-O-V-E makes us go a little overboard. Like giving them middle names, throwing them elaborate birthday parties, and making them a Christmas sweater to match with the rest of the family. Truth is, what they cherish most is our companionship. And maybe that's the reason we care about them so much—because for such simple pleasures, they allow us to be as awkward as we want.
About the Author
MIKE BENDER is a screenwriter whose credits include Not Another Teen Movie and the MTV Movie
Awards. DOUG CHERNACK has created and produced television shows for E, Fox Sports, and the
Golf Channel.
Praise For Awkward Family Pet Photos…
Online buzz for AwkwardFamilyPetPhotos.com:

"The folks who brought the Internet the face-palming absurdity that is Awkward Family Photos have struck comedy gold again with Awkward Family Pet Photos." --AOL

"Hilariously awkward." --MSNBC.com

"The genius minds behind the hilarious site Awkward Family Photos - which features cringe-worthy, embarrassing photos of fairly creepy, fashion-challenged families - have taken their collection of awkward photos to a whole new level with their hysterical new site, Awkward Family Pet Photos." -AnimalPlanet.com

Praise for Awkward Family Photos:

"This is the best book of embarrassing and strange photos of people who look like my family that I have ever seen." --Judd Apatow

"A living, breathing, laugh-out-loud reminder that no matter how badly you dressed, how oddly you posed, and how weird Uncle Dave who lived in the basement was, somebody out there had it worse." --Jennifer Weiner, bestselling author of In Her Shoes

"Being a test tube baby doesn't seem such a bad idea after looking at these folks. I laughed till it hurt. To paraphrase Tolstoy... every family is freaky in its own way. There's so much love here- but maybe a little more pain, or desperation, or bewilderment. I often feel slightly sad or guilty that I'm not closer with my own family- but looking at this bunch I sense we all have something in common and I'm far from being alone." --David Byrne

"Anything that both makes me laugh and think my family isn't so embarrassing deserves to be a book." --Joel Stein, Time magazine columnist

"I wept with laughter fourteen times while reading this book and snorted aloud twice. I dare you to find a higher weep/snort ratio in any other publication." --Karen McCullah Lutz, screenwriter of Legally Blonde and The Ugly Truth

"Awkward Family Photos is the funniest book that I've read in a long time. It reminds you that it's okay to laugh at yourself and celebrates the family that made you awkward in the first place." --Mia Kirshner, The L Word

"Awkward Family Photos is absolutely hysterical, yet at the same time, it's a stunningly accurate photographic record of the late 20th century American family. Now I can be certain I was not alone in my awkwardness."  --Adam Herz, Writer, American Pie I, II, III