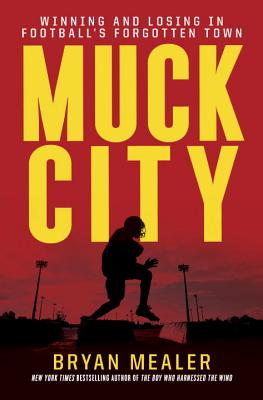 Muck City (Hardcover)
Winning and Losing in Football's Forgotten Town
Crown Archetype, 9780307888624, 336pp.
Publication Date: October 23, 2012
Other Editions of This Title:
Digital Audiobook (4/24/2017)
Paperback (8/13/2013)
* Individual store prices may vary.
Description
In a town deep in the Florida Everglades, where high school football is the only escape, a haunted quarterback, a returning hero, and a scholar struggle against terrible odds.

The loamy black "muck" that surrounds Belle Glade, Florida once built an empire for Big Sugar and provided much of the nation's vegetables, often on the backs of roving, destitute migrants. Many of these were children who honed their skills along the field rows and started one of the most legendary football programs in America. Belle Glade's high school team, the Glades Central Raiders, has sent an extraordinary number of players to the National Football League – 27 since 1985, with five of those drafted in the first round.

The industry that gave rise to the town and its team also spawned the chronic poverty, teeming migrant ghettos, and violence that cripples futures before they can ever begin. Muck City tells the story of quarterback Mario Rowley, whose dream is to win a championship for his deceased parents and quiet the ghosts that haunt him; head coach Jessie Hester, the town's first NFL star, who returns home to "win kids, not championships"; and Jonteria Willliams, who must build her dream of becoming a doctor in one of the poorest high schools in the nation. For boys like Mario, being a Raider is a one-shot window for escape and a college education. Without football, Jonteria and the rest must make it on brains and fortitude alone. For the coach, good intentions must battle a town's obsession to win above all else.

Beyond the Friday night lights, this book is an engrossing portrait of a community mired in a shameful past and uncertain future, but with the fierce will to survive, win, and escape to a better life. 
About the Author
BRYAN MEALER is the author of "Muck City: Winning and Losing in Football's Forgotten Town" and the "New York Times" bestseller "The Boy Who Harnessed the Wind," which he wrote with William Kamkwamba, in addition to the children's book of the same title. He's also the author of "All Things Must Fight to Live," which chronicled his years covering the war in the Democratic Republic of Congo for "Harper's" and the Associated Press. His work has appeared in the anthology "Best American Travel Writing" and was chosen for an Overseas Press Club Award Citation. He and his family live in Austin, Texas.
Praise For Muck City: Winning and Losing in Football's Forgotten Town…
"Just as the black muck "seeps into your socks and under toenails," by the end Muck City will have made its way into you and be difficult to forget." - Jay Jennings, New York Times 

"This is another version of Buzz Bissinger's Friday Night Lights (1990), and since both are less about football than they are about family, community, and the horrific struggle to rise above  poverty, each boasts a unique set of characters who are well worth knowing. A heartbreaking look at poverty in America, with some football on the side." - Booklist (starred review)

"Muck City is like Friday Night Lights as imagined by Richard Price. It's a sad, powerful, and evocative portrait of a benighted place--and an accidental indictment of our nation's strange cultural priorities, to say the least. The people of Belle Glade have their ideal chronicler in Bryan Mealer. Go Raiders!" – Tom Bissell
 
"Beautifully written and expertly reported by Bryan Mealer, Muck City is like nothing I've ever read. Set against the backdrop of Big Sugar, in a region of muck, this is the endless story of desperation, betrayal and the will to win. Muck City turned out a legion of great football players. How they got there shatters all myths, and will shake your senses." - Jim Dent, author of The Junction Boys and Courage Beyond The Game
 
"Like all great writing about football, Muck City takes the nuances of sport and succeeds in illuminating the larger life lessons. This book casts a well-trained eye on what goes on beyond the Friday night lights. Bryan Mealer is a major talent, and Muck City a tremendous accomplishment."   - Gary Myers, author of The Catch and Coaching Confidential

"Muck City takes the reader deep into the experience of football, poverty and hope." - Gregg Easterbrook, football columnist, ESPN

"Superbly reported and deftly told, Muck City is much more than a narrative about high school football. It's an utterly compelling story that careens between triumph and tragedy, good and evil, hope and despair, a richly evocative account of the people and the culture of Belle Glade, Florida, a place of silt and sorrow and a very special football field." - Wayne Coffey, co-author of the New York Times bestseller, Wherever I Wind Up: My Quest for Truth, Authenticity and the Perfect Knuckleball 

"Mealer recounts Belle Glade's colorful history, reports from living rooms and locker rooms, and perfectly captures the area's distinct dialect." - Publisher's Weekly

"A multi-layered immersion tale that is a lot more ambitious than simply following the Glades Central High School football Raiders….Belle Glade is a notoriously tough town for journalists and outsiders to penetrate, but Mealer largely succeeded in winning over enough of the locals — starting with Hester, his besieged coaching staff and players, plus school administrators and key members of the community — to bring Muck City to life, warts and all."—Miami Herald
 
"A lesson-filled trip into the past, a compelling, richly told story of the tragically flawed 2010 Glades Central football team….Muck City takes you to a place that, if you aren't a reporter or a local football player or coach, you won't ever see or experience. And, like any good piece of nonfiction, Muck City leaves you asking more questions than you started with."—Palm Beach Post

"There is real drama here, with the stakes much higher than the question of who wins or loses the big game…. a stirring tale of sports as a means of escape from dire circumstances." - Kirkus


or
Not Currently Available for Direct Purchase