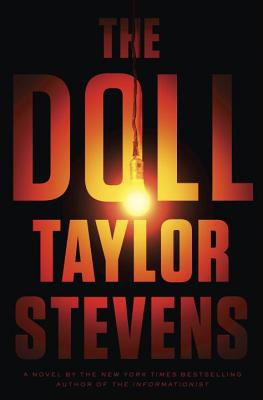 The Doll (Hardcover)
Crown Publishing Group (NY), 9780307888785, 335pp.
Publication Date: June 4, 2013
Other Editions of This Title:
Digital Audiobook (6/3/2013)
Paperback (3/4/2014)
Compact Disc (6/1/2013)
Hardcover, Large Print (1/8/2014)
* Individual store prices may vary.
Description
"A heroine every bit as provocative as Stieg Larsson's Lisbeth Salander." –The Dallas Morning News
 
   Haunted by a life of violence and as proficient with languages as she is with knives, Vanessa Michael Munroe, chameleon and hunter, has built her life on a reputation for getting things done—dangerous and often not-quite-legal things. Born to missionary parents in lawless Africa, taken under the tutelage of gunrunners, and tortured by one of the jungle's most brutal men, Munroe was forced to do whatever it took to stay alive.
   The ability to survive, fight, adapt, and blend has since taken her across the globe on behalf of corporations, heads of state, and the few private clients who can afford her unique brand of expertise, and these abilities have made her enemies. 
   On a busy Dallas street, Munroe is kidnapped by an unseen opponent and thrust into an underground world where women and girls are merchandise and a shadowy figure known as The Doll Maker controls her every move. While trusted friends race to unravel where she is and why she was taken, everything pivots on one simple choice: Munroe must use her unique set of skills to deliver a high-profile young woman into the same nightmare that she once endured, or condemn to torture and certain death the one person she loves above all else.
   Driven by the violence that has made her what she is, cut off from help, and with attempts to escape predicted and prevented, Munroe will hunt for openings, for solutions, and a way to strike back at a man who holds all the cards. Because only one thing is certain: she cannot save everyone. 
   In this high-octane thriller for fans of Lee Child, Stieg Larsson, and Robert Ludlum's Bourne trilogy, Vanessa Michael Munroe will have to fight fast, smart and furiously to overcome a dangerous nemesis and deliver her trademark brand of justice.
About the Author
TAYLOR STEVENS is the "New York Times" bestselling and award-winning author of "The Informationist" and "The Innocent," both featuring Vanessa Michael Munroe. Her novels have received critical acclaim, have been published in twenty languages, and "The Informationist" has been optioned for film by James Cameron's production company, Lightstorm Entertainment. Raised in communes across the globe and denied an education beyond the sixth grade, Stevens broke free of the Children of God and now lives in Texas, where sheis currently at work on the next Munroe adventure."
Praise For The Doll…
"I read The Doll in one frenzied, caffeine-fueled sitting, then re-read it slowly and luxuriantly, just for the sheer pleasure of it. Out of everything I've read ever, if I had to pick a fictional character to have dinner with, Michael Munroe would certainly make my Top 5. . . Stevens excels at depicting pulse-pounding danger, and her prose and plotting are spectacular, especially given her cult background. She was denied all but a sixth-grade education, but her writing places her heads above most authors working in the thriller genre. Only Dan Brown and Lee Child come close; not even the lauded Larsson could turn a phrase or twist a plotline like Stevens can. Really, my only complaint is that I'd like her to please write faster." —Dallas Morning News
 
"Munroe is a sensational character and Stevens is a sensational writer, and together they put The Doll high on my books-of-the-year list." —Lee Child, New York Times bestselling author of the Jack Reacher series
 
"If you are a fan of Jack Reacher, Lisbeth Salander, or Nina Zero, you need to check out Vanessa Michael Munroe!" —BookPage

"If you can stand the heat, Stevens' third thriller is a sizzler." —Minneapolis Star Tribune

"If Lisbeth Salander…had special-ops training and a knack for languages, she'd be Vanessa Michael Munroe… [A] guilty-pleasure thrill ride." —Winnipeg Free Press
 
"This New York Times Bestselling author is back...with a truly spellbinding story. . . Readers have finally found a 'Bond girl' that is actually Bond, himself. Vanessa is a heroine that will face the worst facets of humanity and will fight to the finish to save a soul from following in her blood-soaked footsteps." —Suspense Magazine

"Now for some fun. If you are a thriller buff, and especially if you loved Stieg Larsson's The Girl with the Dragon Tattoo you won't want to miss Taylor Stevens newest novel The Doll….Her new novel takes readers on a cat-and-mouse trip through Central Europe as Vanessa tries to outrun a villain. And, let's say, a villain you will never forget. Scary as hell!" —Hudson Valley News

"What a great gripping novel with a provocative heroine. Taylor Stevens has done it again. This is her third novel and it, too, should be an award winner." —I Love A Mystery

"If you're looking for a fast-paced thriller, The Doll and the two previous Vanessa Michale Munroe novels are pretty hard to beat." —Huntington News
 
"Munroe, skilled at strategy, tactics, and languages, is a powerful and dangerous figure whose violent aspect is reminiscent of James Bond." —Criminal Elements

"Taylor Stevens treads where the faint-hearted dare not go: the land of violence, greed and opportunism, a vast underbelly of worldwide criminal enterprise—in this case human trafficking… From one frantic scene to another, Stevens creates unbearable tension. …Stevens uses her protagonist's ability to morph from female to male, her dexterity and her wits, to establish Michael as a viable heroine. She moves confidently through a man's world with impunity, but only her humanity stands between Michael and the monster she might become…Couched in a non-stop thriller, this larger-than-life revenge heroine never disappoints." —CurledUp.com

"Prolific linguist and exquisitely honed killer Munroe is no less effective here for still suffering from past trauma…Stevens's third series outing is another brisk, adrenaline-fueled adventure with a trail of bodies and a damaged protagonist who may live to kill another day." —Library Journal
 
"Stevens' third Munroe book is another international action-adventure with a Bourne-like avenging angel at the reins." —Booklist

"Lean and mean thriller featuring Vanessa Michael Munroe, an "informationist" with a scary dark streak… This book is strongly influenced by the existential bare-bones approach of Lee Child's Reacher books, and its brilliant but damaged heroine, the estranged daughter of missionaries, owes much to The Girl with the Dragon Tattoo. But Stevens stamps the novel with her own bleak, punishing, bullet-flying outlook… Out of that gloomy intensity comes edgy suspense. In Stevens' powerfully contained follow-up to The Innocent, there is no release for the tormented heroine, only license to live another day." —Kirkus

"Good and bad deeds alike have a high price, as dramatically shown in Stevens's harrowing third Vanessa Michael Munroe novel…Munroe remains as compelling as ever: violent yet protective of innocence, imprisoned by not only her past but also the choices she has made in response to it, and painfully conscious of her closeness to sanity's edge." —Publishers Weekly

or
Not Currently Available for Direct Purchase