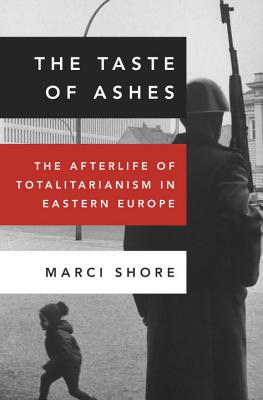 The Taste of Ashes (Hardcover)
The Afterlife of Totalitarianism in Eastern Europe
Crown Publishing Group (NY), 9780307888815, 370pp.
Publication Date: January 15, 2013
Other Editions of This Title:
Paperback (1/21/2014)
* Individual store prices may vary.
Description
An inventive, wholly original look at the complex psyche of Eastern Europe in the wake of the revolutions of 1989 and the opening of the communist archives.
 
   In the tradition of Timothy Garton Ash's The File, Yale historian and prize-winning author Marci Shore draws upon intimate understanding to illuminate the afterlife of totalitarianism.  The Taste of Ashes spans from Berlin to Moscow, moving from Vienna in Europe's west through Prague, Bratislava, Warsaw and Bucharest to Vilnius and Kiev in the post-communist east. The result is a shimmering literary examination of the ghost of communism – no longer Marx's "specter to come" but a haunting presence of the past.
 
   Marci Shore builds her history around people she came to know over the course of the two decades since communism came to an end in Eastern Europe: her colleagues and friends, once-communists and once-dissidents, the accusers and the accused, the interrogators and the interrogated, Zionists, Bundists, Stalinists and their children and grandchildren.  For them, the post-communist moment has not closed but rather has summoned up the past: revolution in 1968, Stalinism, the Second World War, the Holocaust.  The end of communism had a dark side.  As Shore pulls the reader into her journey of discovery, reading the archival records of people who are themselves confronting the traumas of former lives, she reveals the intertwining of the personal and the political, of love and cruelty, of intimacy and betrayal. The result is a lyrical, touching, and sometimes heartbreaking, portrayal of how history moves and what history means.
About the Author
Marci Shore, an associate professor of intellectual history at Yale, has spent much of her adult life in central and eastern Europe. She is the author of "Caviar and Ashes: A Warsaw Generation's Life and Death in Marxism," which won eight prizes, including a National Jewish Book Award. She is also the translator of Michał Głowiński's Holocaust memoir "The Black Seasons."
Praise For The Taste of Ashes: The Afterlife of Totalitarianism in Eastern Europe…
"For people familiar with Eastern Europe, Marci Shore's The Taste of Ashes is, in spite of its subject matter, delicious.  A professor at Yale with much experience in Eastern Europe, she writes with great sureness of touch, weaving personal recollections with intellectual commentary, and ideas with emotions, including her own." – Norman Davies, The New York Review of Books

[Shore] has found a way to illuminate certain Polish and Jewish ideas about the worst episodes of the twentieth century that is frank, fresh, and gripping."– Christopher Caldwell, The New Republic

"Closely observed moments like these are little treasures, and make you wish more academics were willing to dip into their personal experiences." –Adam Hochschild, New York Times Book Review

"[A] lapidary memoir of a two-decade encounter with the region…. Shore is a confident guide through this 'desperately complicated' terrain." – Wall Street Journal

"Her kaleidoscopic book of reminiscences and encounters gives an authentic feel to the difficulties that outsiders often have in making sense of this intricate history." – The Economist

"Her fine book is a very personal account of the people that she came to know in eastern Europe after the end of Soviet domination in 1989… The novelty of Shore's approach lies in her focus on the families of Poland's Stalinists." – Financial Times

"Part-memoir, part-intellectual history, Shore's book follows her journey into the heart of the Polish and Czech intelligentsia, exploring their reactions to and involvement in the Holocaust, the purges and the revolutions that dominate 20th century Eastern European history….poignant and thought-provoking." – Sunday Times

"A surprising and even revolutionary way to write history....A Taste of Ashes is rich with incident, recollection and conversation, a memoir of the author's long endeavor to understand in human terms the ideas and events that are the raw material of intellectual history....A masterpiece." –Jewish Journal

"Brilliant and perceptive….[The Taste of Ashes] is not a conventional history, with a straight narrative, though it tells an important story about the legacy of the three utopian ideas of the 20th century – Fascism, Communism and Zionism – that transformed Europe.  It is part memoir, part reportage, a treatise on the philosophy of history, and part romance written with lyrical beauty in places….There's an interesting and original idea on almost every page." – The Spectator

"By sharing the emotional fervor of her many, often deep personal relationships with eastern Europeans, formed during ten years of travel and research in the region, Shore gets at the agony and guilt felt by some and the sublimation resorted to by others….[She] gives depth to this searching, personalized account by weaving into her story brief but deft and unobtrusive elements of historical context." – Foreign Affairs

"[A] beautifully written, brilliantly perceptive, and often moving book….Structured like a piece of travel literature, with loosely connected chapters based around her visits, it is packed with anecdotes and humour and is extremely readable.  But the informality is deceptive, for she always brings her scholar's eye to her experiences and encounters, using them to illuminate the big historical questions of this troubled region….I cannot think of any [histories of communist eastern Europe] that succeed so well as this in communicating the ways in which individuals responded to both communism and its legacy.  In combining subtle historical judgments with literary flair, Shore has produced a masterpiece." – BBC History Magazine

"Lively and interesting" – Washington Times

"Intimate and penetrating….Particularly remarkable is the book's unabashed honesty, rare for a work of its type.  A flowing, conversational memoir, this is not simply a survey of post-communist Eastern Europe, but the story of a young scholar's acculturation through path-beating travel and intimate human interaction….Marci Shore has produced an excellent exploration into the essence of the modern Eastern European in an era of significant change - some have adapted, some have yet to, and some never will." – The Vienna Review

"Disturbing and enlightening, Shore's book of many voices paints an enormously complex picture that befits its subject." – Jweekly.com

"As this brilliant and haunting work proves, the past is neither dead nor buried, especially for those who lived through the Communist era and their descendants….An outstanding retrospective." – Booklist

"A mix of memoir, travelogue, and philosophical treatise, [The Taste of Ashes] is above all an anthropological study of a people living in a world obscured by cobwebs, more mindful of yesterday than today, where the future cannot be realized until the deaths of all those who witnessed the abyss." – Publishers Weekly

"Shore gathers reflections of her intellectual journeys through the deeply scarred, still-grieving lands of Eastern Europe from the mid-1990s to the present….A fascinating grab bag of the author's dogged research and personal interviews."
– Kirkus Reviews

"Diving through the kaleidoscope of betrayal that exists alongside the tourist lands of Krakow and Prague, Marci Shore talked to people the rest of us are content to forget, though once, not so long ago, we hung on their every word. Excavating the strata of their guilt and complicity in the crimes of Hitler and Stalin both, we confront over and over that most fundamental 20th century question: What would you do when asked to betray your neighbor?  The answer can only consist of further questions, and, luckily for her subject, Shore is a relentless interlocutor."
– Tom Reiss, Pulitzer Prize-winning author of The Black Count and The Orientalist

"Marci Shore has written a one-of-a-kind book - a personal, intellectual, literary and historical tour of contemporary central Europe - with something in it for anyone who wants to understand this fascinating part of the world." – Anne Applebaum, author of Iron Curtain and Gulag

"With deep respect for what the historian can and cannot know and what the witness can and cannot share, Marci Shore has achieved something rare: a narrative history that is also a philosophy of history.  Her subject is Eastern Europe in the aftermath of  the Holocaust and Stalinism, but her stories of people and places – tragic, ironic, carnavalesque – have a universal appeal." – Alice Kaplan, author of Dreaming in French

"The Taste of Ashes is about more than the floodwaters of history; it's the story of those who learned to swim, those who didn't, and those still adapting to an era of accelerated change. This is a brilliant, lyrical and gripping book, one woven from stories that will linger in the minds of readers for years to come." – Ian Bremmer, president of Eurasia Group and author of The End of the Free Market
or
Not Currently Available for Direct Purchase