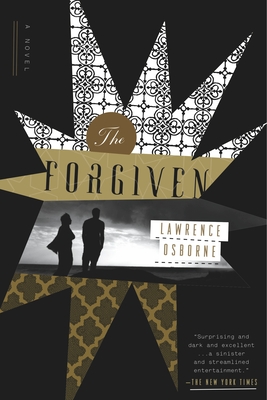 The Forgiven (Paperback)
Hogarth Press, 9780307889041, 290pp.
Publication Date: June 4, 2013
Description
In this haunting novel, journalist and novelist Lawrence Osborne explores the reverberations of a random accident on the lives of Moroccan Muslims and Western visitors who converge on a luxurious desert villa for a decadent weekend-long party.

David and Jo Henniger, a doctor and a children's book author, in search of an escape from their less than happy lives in London, accept an invitation to attend a bacchanal at their old friends' home, deep in the Moroccan desert. But as a groggy David navigates the dark desert roads, two young men spring from the roadside, the car swerves...and one boy is left dead.
When David and Jo arrive at the party, the Moroccan staff, already disgustedby the rich, hedonistic foreigners in their midst, soon learn of David's unforgiveable act. Then the boy's irate Berber father appears, and events begin to spin beyond anyone's control.
With spare, evocative prose, searing eroticism, and a gift for the unexpected, Osborne memorably portrays the privileged guests wrestling with their secrets amid the remoteness and beauty of the desert landscape. He gradually reveals the jolting backstory of the young man who was killed and leaves David's fate in the balance as the novel builds to a shattering conclusion.
Now with Extra Libris material, including aQ&A and bonus content
About the Author
A celebrated novelist and journalist, LAWRENCE OSBORNE is the author of six travel narratives, including The Wet and the Dry. His latest novel, The Ballad of a Small Player is out in April 2014. He has written for the New York Times Magazine, the Wall Street Journal Magazine, the New Yorker, Forbes, Harper's, and several other publications. He lives in New York City and Bangkok.
Praise For The Forgiven…
Selected by The Economist as one of the Best Books of the Year 2012

Selected by Library Journal as one of the Year's Best Books 2012

Year's Best Books Chosen by Writers, selected by Lionel Shriver, The Guardian 2012

"A sinister and streamlined entertainment in the tradition of Paul Bowles, Evelyn Waugh and the early Ian McEwan….This is a lean book that moves like a panther. Even better, Mr. Osborne has a keen and sometimes cruel eye for humans and their manners and morals, and for the natural world. You can open to almost any page and find brutally fine observations….surprising and dark and excellent."
—New York Times

"Extraordinarily acute to human nature….Stylishness holds the book together, and makes all the bits of plot machinery feel new again….There are enough ways to read the book that one finishes it and immediately wants to start it again."
—Newsweek

"A perfect storm of a novel."
—Fredericksburg Freelance Star

"A master of the high style" 
—The Guardian

"Osborne writes mercilessly, savagely well. He excavates his characters, and the centuries-long cultural rift between the desert people and the Western infidels with a pathologist's precision, wrapping fear, boredom, forgiveness, judgment, honour and sexual attraction into a novel that plunges with sinister pace towards its denouement." 
—The Daily Mail

"Brooding, compelling...There's a strong, almost old-fashioned moral force at work in Osborne's novel... At the novel's dramatic close, you could accuse Osborne of forcing the hand of moral come-uppance just a little too much — but it barely detracts from the tension he has maintained throughout the novel, and the pleasure of his bringing under such scrutiny the unpredictable behaviour of his morally tortuous characters."
—The London Sunday Times

"With nods to Paul Bowles and Evelyn Waugh, Osborne portrays the vacuity of high society as gorgeously and incisively as he does the unease of cultures thrust together in the unforgiving desert."
—Publishers Weekly (starred)

"Osborne comes up with an ending that's at the same time ironic, surprising and completely fitting.  A gripping read with moral ambiguity galore."
—Kirkus Reviews (starred)

"[A] brilliant, unsentimental rendering of contemporary East-West conflict and the imperfect human psyche….Osborne has done an extraordinary job of capturing moral complexity, never letting his characters or his readers off easy. The result should be grim reading, but instead it's vivifying.  Highly recommended."
—Library Journal (starred)

"In the desert, all life and emotions are stripped to their very core.  In his elegant and incisive second novel, travel-journalist Osborne hauntingly captures this exposed essence in all its inscrutable mystery and dispassionate brutishness."
—Booklist Online

"No mere imitation but a contribution to the shelf on which The Sheltering Sky and The Bonfire of the Vanities also sit, The Forgiven explores the clash of two cultures, each of which feels superior to the other.  Osborne's writing is uncomfortably well observed; his story is sickeningly, addictively headlong."
—Lionel Shriver, author of We Need to Talk About Kevin

"The Forgiven shines darkly with a rich and mordant fatalism.  Osborne's characters emerge like people in a dream – diamond-sharp but fascinatingly askew.  His prose is gorgeous and precise; the story slices keenly through the exotic haze of its setting.  It's an absolutely brilliant novel – the ending is a shock in the best way."
—Kate Christensen, author of The Epicure's Lament and The Astral
 
"The prose of The Forgiven has a very particular, knowing luminosity, much like the tarnished world it describes.  A beautiful, compelling book to savor line by line."
—Nikita Lalwani, author of Gifted
Advertisement