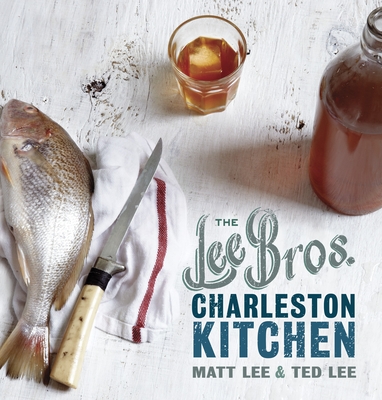 The Lee Bros. Charleston Kitchen
A Cookbook
Hardcover

* Individual store prices may vary.
Description
Let James Beard Award–winning authors and hometown heroes Matt Lee and Ted Lee be your culinary ambassadors to Charleston, South Carolina, one of America's most storied and buzzed-about food destinations.
 
Growing up in the heart of the historic downtown, in a warbler-yellow house on Charleston's fabled "Rainbow Row," brothers Matt and Ted knew how to cast for shrimp before they were in middle school, and could catch and pick crabs soon after. They learned to recognize the fruit trees that grew around town and knew to watch for the day in late March when the loquats on the tree on Chalmers Street ripened. Their new cookbook brings the vibrant food culture of this great Southern city to life, giving readers insider access to the best recipes and stories Charleston has to offer.
   No cookbook on the region would be complete without the city's most iconic dishes done right, including She-Crab Soup, Hoppin' John, and Huguenot Torte, but the Lee brothers also aim to reacquaint home cooks with treasures lost to time, like chewy-crunchy, salty-sweet Groundnut Cakes and Syllabub with Rosemary Glazed Figs. In addition, they masterfully bring the flavors of today's Charleston to the fore, inviting readers to sip a bright Kumquat Gin Cocktail, nibble chilled Pickled Shrimp with Fennel, and dig into a plate of Smothered Pork Chops, perhaps with a side of Grilled Chainey Briar, foraged from sandy beach paths. The brothers left no stone unturned in their quest for Charleston's best, interviewing home cooks, chefs, farmers, fishermen, caterers, and funeral directors to create an accurate portrait of the city's food traditions. Their research led to gems such as Flounder in Parchment with Shaved Vegetables, an homage to the dish that became Edna Lewis's signature during her tenure at Middleton Place Restaurant, and Cheese Spread à la Henry's, a peppery dip from the beloved brasserie of the mid-twentieth century. Readers are introduced to the people, past and present, who have left their mark on the food culture of the Holy City and inspired the brothers to become the cookbook authors they are today.
   Through 100 recipes, 75 full-color photographs, and numerous personal stories, The Lee Bros. Charleston Kitchen gives readers the most intimate portrayal yet of the cuisine of this exciting Southern city, one that will resonate with food lovers wherever they live. And for visitors to Charleston, indispensible walking and driving tours related to recipes in the book bring this food town to life like never before.
Praise For The Lee Bros. Charleston Kitchen: A Cookbook…
 "Matt and Ted Lee are both charming, ebullient men as elegant as the city they were born to praise. The Lee Bros Charleston Kitchen is a work of art; it brings the city of Charleston to every home lucky enough to own this book."
—Pat Conroy
 
"If I suddenly sell everything and move to Charleston it's the Lee Bros' fault. I was so totally charmed by this book; it makes me want to bring my hammer to the oyster roast, sip bourbon in the afternoon, and carouse with the guinea fowl of Lamboll Street."
—Gabrielle Hamilton
 
"This beautiful, witty, nostalgic edition is filled with delicious memories. I remember the cheese dip at Henry's, the pickle barrel at Harold's Cabin—every page holds some piece of our lives. Buy this book even if you don't cook. It's just that wonderful." 
—Dorothea Benton Frank
 
"An education in manners and mores. A testament to great cooks of generations past. A census of modern foodways. The Lee Bros. Charleston Kitchen is all those things. More important, Matt and Ted's new book is a back gate passkey to life on America's most storied peninsula, where mulberry trees sag with fruit, waters course with roe-engorged shad, and cook pots bob with greens and neck bones."
—John T Edge
 
"Charleston may be America's most charming city, and in this delicious book the Lee brothers have captured its soul. This is the South seen through a different lens, a place filled with fresh fish, heirloom vegetables, and recipes handed from one generation to the next. Reading through these recipes, I found myself wanting to run into the kitchen and cook every one."
—Ruth Reichl 
 
"In amongst the classic recipes—many of them ingeniously updated—the Lee brothers serve up plenty of Lowcountry culinary lore. And, with a gentlemanly bow to the locals who make it happen, they fold in profiles of such colorful characters as the master filleter of shad, the tractor-riding truck farmer of Johns Island, the Queen of the Shrimpers, and Martha Lou of 'NoMo.' The Lee Bros. Charleston Kitchen is easily as entertaining as it is informative."
—John Berendt

Clarkson Potter, 9780307889737, 240pp.
Publication Date: February 26, 2013
About the Author
MATT LEE and TED LEE, founders of The Lee Bros. Boiled Peanuts Catalogue, a mail-order source for Southern pantry staples, grew up in Charleston, South Carolina. They are the authors of The Lee Bros. Southern Cookbook, which won the James Beard Award for Cookbook of the Year in 2007, and The Lee Bros. Simple Fresh Southern, which won the IACP award for Best American Cookbook in 2011. They are contributing editors for Travel + Leisure and contributors on Cooking Channel's Unique Eats.