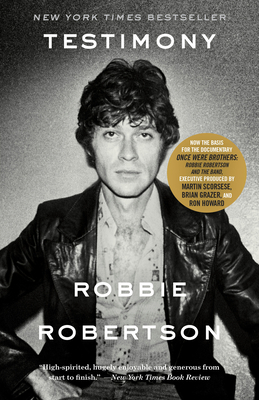 Testimony
A Memoir
Paperback

* Individual store prices may vary.
Other Editions of This Title:
Digital Audiobook (11/14/2016)
Description
New York Times Bestseller • On the 40th anniversary of The Band's legendary The Last Waltz concert, Robbie Robertson finally tells his own spellbinding story of the band that changed music history, his extraordinary personal journey, and his creative friendships with some of the greatest artists of the last half-century.

Robbie Robertson's singular contributions to popular music have made him one of the most beloved songwriters and guitarists of his time. With songs like "The Weight," "The Night They Drove Old Dixie Down," and "Up on Cripple Creek," he and his partners in The Band fashioned a music that has endured for decades, influencing countless musicians.

In this captivating memoir, written over five years of reflection, Robbie Robertson employs his unique storyteller's voice to weave together the journey that led him to some of the most pivotal events in music history. He recounts the adventures of his half-Jewish, half-Mohawk upbringing on the Six Nations Indian Reserve and on the gritty streets of Toronto; his odyssey at sixteen to the Mississippi Delta, the fountainhead of American music; the wild early years on the road with rockabilly legend Ronnie Hawkins and The Hawks; his unexpected ties to the Cosa Nostra underworld; the gripping trial-by-fire "going electric" with Bob Dylan on his 1966 world tour, and their ensuing celebrated collaborations; the formation of the Band and the forging of their unique sound,  culminating with history's most famous farewell concert, brought to life for all time in Martin Scorsese's great movie The Last Waltz. 

This is the story of a time and place--the moment when rock 'n' roll became life, when legends like Buddy Holly and Bo Diddley criss-crossed the circuit of clubs and roadhouses from Texas to Toronto, when The Beatles, Hendrix, The Stones, and Warhol moved through the same streets and hotel rooms. It's the story of exciting change as the world tumbled through the '60s and early 70's, and a generation came of age, built on music, love and freedom. Above all, it's the moving story of the profound friendship between five young men who together created a new kind of popular music.

Testimony is Robbie Robertson's story, lyrical and true, as only he could tell it.
Praise For Testimony: A Memoir…
A Rolling Stone Top 10 Music Book of 2016

"Robertson's book is written with a full range of literary devices… his strong point of view is offset by the tenderness he shows, and his stress on his own experience is set within a craftsman's effort to tell the story whole — an effort to do justice to their adventures as young men, talented, stylish, successful and lucky, who knew the joy of creative friendship… Testimony is high-spirited, hugely enjoyable and generous from start to finish." —New York Times Book Review
 
"Robust, wry, gritty and wise." —The Wall Street Journal  

"Confident and well oiled. At times it has the mythic sweep of an early Terrence Malick movie."—New York Times

"Robertson has the same knack for cinematic storytelling that he displays in his songs…Testimony reads like one long, grand adventure through rock's golden age, as told by a world-class raconteur."—Billboard

"Captivating... this is essential reading."—Rolling Stone

"Testimony proves that Robertson is an immensely capable storyteller and a keen observer of the gifts of others."—New Yorker 

"Astonishing... [Testimony is full of] detail and remarkable intimacy."—Esquire

"A riveting memoir from the Band guitarist, who chronicles his journey from the Six Nations Indian Reserve to the heart of rock and roll."—People Magazine

"Mr. Robertson is a natural storyteller...Testimony shines."—Pittsburgh Post Gazette

"There's a lot of rock and roll history in the life and times of Robbie Robertson...Robertson delves deeply into [the Band's] tale in his memoir Testimony, tracing their evolution from bar band to Rock and Roll Hall of Famers"—New York Daily News

"Robertson recalls all the key moments of an eventful life with a songwriter's eye for detail… Essential for any devotee of the Band, Dylan, or rock music in the last half of the 20th century." —Kirkus Reviews, starred review

"This long-awaited and colorfully told memoir paints a masterpiece of a life in rock and roll." —Publishers Weekly, starred review

"Robertson is a masterful and engaging storyteller who brings his genius for hitting the right note in the right place to his melodious and riveting memoir...." —No Depression 

"Robbie Robertson's Testimony is a book of memories and wonders, a personal testament of a magical time in American music from someone who was there, at the center of it all, playing and casting spells and writing songs that helped define those great lost years. There's history here, and anecdote, regret and reminiscence, a long fond look back at the trials and triumphs of finding your voice then holding your ground. The tone is easy, conversational, like reminiscing with a friend about things you never realized you were part of too. Robbie brings you along with him, keeps you right by his side first to last, just the way his songs do, drawing you close, spellbound by his easy sorcery. You can feel the music in every word." —Martin Scorsese
 
"Well, once I started, I couldn't put it down. It is such a well-paced, well-structured narrative. Robertson's voice is powerful and strong. He has harnessed vivid language to a clean, elegant, writing style, and the sense of honesty, openness, and completeness makes it so very compelling. The personal and the historic that he bears witness to is, of course, extraordinarily special. One of the best documents of our times. And one of the best books on rock and roll ever written." —Jann Wenner
 
"Nobody tells a story like Robbie Robertson. I can't think of a memoir that is more compelling, fascinating, or rich in history. Across every page you can feel his love, passion, and musical genius." —David Geffen
Crown, 9780307889799, 512pp.
Publication Date: October 3, 2017
About the Author
Robbie Robertson was the guitarist and principal songwriter in the Band. He has produced many movie soundtracks for Martin Scorsese and others, and continues to record as a solo artist. His most recent record, How to Become Clairvoyant, came out in 2011.
or
Not Currently Available for Direct Purchase