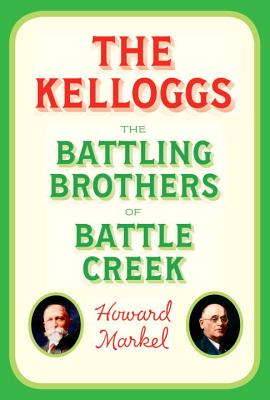 The Kelloggs
The Battling Brothers of Battle Creek
Hardcover

* Individual store prices may vary.
Other Editions of This Title:
Digital Audiobook (8/7/2018)
Paperback (7/10/2018)
Compact Disc (8/8/2018)
MP3 CD (8/8/2018)
Description
***2017 National Book Critics Circle Award Finalist for Nonfiction***

"What's more American than Corn Flakes?" —Bing Crosby

From the much admired medical historian ("Markel shows just how compelling the medical history can be"—Andrea Barrett) and author of An Anatomy of Addiction ("Absorbing, vivid"—Sherwin Nuland, The New York Times Book Review, front page)—the story of America's empire builders: John and Will Kellogg.
 
John Harvey Kellogg was one of America's most beloved physicians; a best-selling author, lecturer, and health-magazine publisher; founder of the Battle Creek Sanitarium; and patron saint of the pursuit of wellness. His youngest brother, Will, was the founder of the Battle Creek Toasted Corn Flake Company, which revolutionized the mass production of food and what we eat for breakfast.
 
In The Kelloggs, Howard Markel tells the sweeping saga of these two extraordinary men, whose lifelong competition and enmity toward one another changed America's notion of health and wellness from the mid-nineteenth to the mid-twentieth centuries, and who helped change the course of American medicine, nutrition, wellness, and diet.
 
The Kelloggs were of Puritan stock, a family that came to the shores of New England in the mid-seventeenth century, that became one of the biggest in the county, and then renounced it all for the religious calling of Ellen Harmon White, a self-proclaimed prophetess, and James White, whose new Seventh-day Adventist theology was based on Christian principles and sound body, mind, and hygiene rules—Ellen called it "health reform."
 
The Whites groomed the young John Kellogg for a central role in the Seventh-day Adventist Church and sent him to America's finest Medical College. Kellogg's main medical focus—and America's number one malady: indigestion (Walt Whitman described it as "the great American evil").
 
Markel gives us the life and times of the Kellogg brothers of Battle Creek: Dr. John Harvey Kellogg and his world-famous Battle Creek Sanitarium medical center, spa, and grand hotel attracted thousands actively pursuing health and well-being. Among the guests: Mary Todd Lincoln, Amelia Earhart, Booker T. Washington, Johnny Weissmuller, Dale Carnegie, Sojourner Truth, Henry Ford, John D. Rockefeller, Jr., and George Bernard Shaw. And the presidents he advised: Taft, Harding, Hoover, and Roosevelt, with first lady Eleanor. The brothers Kellogg experimented on malt, wheat, and corn meal, and, tinkering with special ovens and toasting devices, came up with a ready-to-eat, easily digested cereal they called Corn Flakes.
 
As Markel chronicles the Kelloggs' fascinating, Magnificent Ambersons–like ascent into the pantheon of American industrialists, we see the vast changes in American social mores that took shape in diet, health, medicine, philanthropy, and food manufacturing during seven decades—changing the lives of millions and helping to shape our industrial age.
Praise For The Kelloggs: The Battling Brothers of Battle Creek…
"[W]hen I was growing up, Battle Creek was this kind of mythic place for me… I'd have breakfast cereals for breakfast and, whether it was Post or Kelloggs, the address would be Battle Creek and I would stare at the cereal boxes and there wasn't much to read on them, so you were always seeing the name Battle Creek and there was always a come-on the boxes, if you wrote to the address in Battle Creek you'd get free something or other, a souvenir of the cereal.  It would all lead back to Battle Creek.  I had no idea what that was or what that meant but it sounded like a really interesting name. Who knew what kind of battles went on there that helped to produce these cereals?"
 —Terry Gross, NPR's Fresh Air

"A compelling yarn and a fascinating window into the genesis of both modern medicine and management . . . a vivid portrait of the brothers and their era."
—Jonathan A. Knee, New York Times "DealBook" column
 
"A brilliant (and big!) new biography of the two brothers, The Kelloggs. . .There's no better midsummer's read, in my mind, than a biography or narrative big enough to act as a doorstop. The Kelloggs offers even more. I haven't even been able to scratch the surface of it all here. One could devote an entire review to the large swaths of the book on Kellogg's, the company, alone—which I may have done had I not written so many words before that tale begins, on page 236! The Kelloggs is a brilliant biography, a medical and industrial (even natural and environmental) history, a great lesson in entrepreneurship, leadership, and management, and a great family drama all rolled into one."
—Editor's Choice, Dylan Schleicher, 800 CEO 
 
"Markel does an extraordinary job covering the many complex dimensions of this story . . . a rich and satisfying account of the lives, work and enmity of two warring brothers and of a pivotal epoch in American history."
—Katherine A. Powers , Newsday
 
"Insightful and entertaining . . . A revealing window into America as it evolved from the Civil War to World War II"
—The National Book Review
 
"Markel's new book vividly recounts the contentious story of two men behind the early 20th century's revolution in ready-to-eat foods.  …  a mix of a Horatio Alger success story and a cautionary fable about blind egos sabotaging their own best efforts. . . [the book is] lively throughout as it delivers a tale both personal in its intensity and grand in its scope."
—Michael Upchurch,  Chicago Tribune
 
"This incredible story by itself would be sufficient for a book. Markel, however, goes much further . . .an engrossing adventure about the rise of Midwest America from the pioneering days of the Kellogg family to World War II with all of its failures and successes. Medicine, breakfast foods, and the Seventh Day Adventist Church are part of the story."
—Robert S. Davis, New York Journal of Books
 
"Howard Markel's riveting, deeply researched new book covers vast territory: the saga of the squabbling Kellogg brothers ("magnificent showmen, resolute empire builders, and unwavering visionaries"), their mass-branding of breakfast cereals, their concept of "wellness", and their enormous influence on the diet of millions of Americans.  This book arrives at a pivotal moment in our own history when mass-marketing, showmanship, and the media deserve particularly deep study.  Markel's incandescent scholarship and his incisive analysis shine through this book.  The Kelloggs can certainly be read as a biography of two visionaries (and their extended families), but it also deserves to be read as a case study by generations of future readers.  
—Siddhartha Mukherjee, Pulitzer Prize winning author of The Emperor of All Maladies: A Biography of Cancer
 
 
"In this illuminating account, medical historian Markel chronicles the long-running animosity between Michigan brothers John and Will Kellogg, "the Cain and Abel of America's heartland" . . . Readers will never look at corn flakes or Post Toasties (created by C.W. Post, who stole the Kelloggs' recipes) in quite the same way again."
—BookPage
 
"A turbulent tale . . . Markel's amazing amalgamation of biography and history, covering the pursuit of health in late-nineteenth- and early twentieth-century America, industrialism, and the invention of cold cereals is adorned with fetching photographs and illustrations. Sibling rivalry has rarely been so dastardly and delectable."
—Tony Miksanek, Booklist (starred review)
 
"The story of the Kellogg Brothers is the story of innovation, of determination, and the creation of a giant industry as American business came of age just prior to the Second World War.  It is a tale of grit, controversy, faith and the emergence of the 'wellness' movement. In the hands of Markel, a trained historian, physician, seasoned writer and chronicler of America, this tale comes alive. A fabulous read."
—Abraham Verghese, author of Cutting for Stone
 
"Delightful . . . Markel refreshingly resists the temptation—not resisted by films and novels—to deliver caricatures . . . A superb warts-and-all account of two men whose lives help illuminate the rise of health promotion and the modern food industry."
—Kirkus Reviews (starred review)
 
"A rollicking tale of family intrigue and inventiveness. This full exegesis of the Kelloggs' unseemly personalities makes for a riveting read."
—Andrew Solomon, author of Far and Away
 
"Howard Markel's The Kelloggs recounts the incredible exploits of the Kellogg Brothers—John and Will—who turned nineteenth-century medicine upside down for the better. Markel does a marvelous job recounting the birth of the Kellogg cereal empire and the Battle Creek sanitarium. An amazing American story!"
—Douglas Brinkley, author of Rightful Heritage
Pantheon, 9780307907271, 544pp.
Publication Date: August 8, 2017
About the Author
HOWARD MARKEL, M.D., Ph.D., is the George E. Wantz Distinguished Professor of the History of Medicine, and director of the Center for the History of Medicine at the University of Michigan. His books include Quarantine!, When Germs Travel, and An Anatomy of Addiction. His articles have appeared in The New York Times, The Journal of the American Medical Association, and The New England Journal of Medicine. Markel is a member of the National Academy of Medicine and lives in Ann Arbor, Michigan.
Coverage from NPR
or
Not Currently Available for Direct Purchase