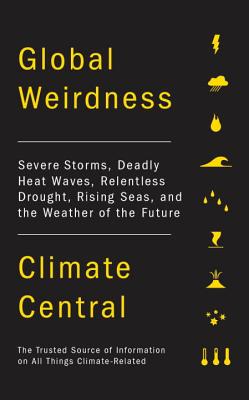 Global Weirdness (Hardcover)
Severe Storms, Deadly Heat Waves, Relentless Drought, Rising Seas and the Weather of the Future
Pantheon Books, 9780307907301, 214pp.
Publication Date: July 24, 2012
Other Editions of This Title:
Compact Disc (7/24/2012)
Compact Disc (7/1/2012)
MP3 CD (7/24/2012)
MP3 CD (7/24/2012)
* Individual store prices may vary.
Description
Produced by Climate Central—a highly regarded independent, nonprofit journalism and research foundation founded in 2008—and reviewed by scientists at major educational and research institutions the world over, Global Weirdness summarizes, in clear and accessible prose, everything we know about the science of climate change; explains what is likely to happen to the climate in the future; and lays out in practical terms what we can and cannot do to avoid further shifts.
 
Sixty easy-to-read entries tackle such questions as: Is climate ever "normal"? Why and how do fossil-fuel burning and other human practices produce greenhouse gases? What natural forces have caused climate change in the past? What risks does climate change pose for human health? What accounts for the diminishment of mountain glaciers and small ice caps around the world since 1850? What are the economic costs and benefits of reducing carbon emissions?
 
Global Weirdness enlarges our understanding of how climate change affects our daily lives, and arms us with the incontrovertible facts we need to make informed decisions about the future of the planet and of humankind.

With black-and-white images interspersed throughout.
About the Author
This book was produced collectively by scientists and journalists at Climate Central, a nonprofit, nonpartisan science and journalism organization. It was written by Emily Elert and Michael D. Lemonick. Prior to external scientific peer review, it was reviewed by staff scientists Philip Duffy, Ph.D. (chief scientist), Nicole Heller, Ph.D. (ecosystems and adaptation), Alyson Kenward, Ph.D. (chemistry), Eric Larson, Ph.D. (energy systems) and Claudia Tebaldi, Ph.D. (climate statistics).
Praise For Global Weirdness: Severe Storms, Deadly Heat Waves, Relentless Drought, Rising Seas and the Weather of the Future…
"Without talking down to readers, the authors do a masterful job of clarifying all aspects of a complicated and alarming topic, making it that much more difficult for global-warming denialists to keep their heads in the sand." –Booklist (starred review)
 
"With quippy titles, helpful summaries, and a jargon-free writing style, Climate Central integrates scientific, historical, and sociological facts in an appealing and informative manner.... A great starter text on climate-change issues--fans of Bill McKibben will enjoy this work and then pass it along to skeptical friends." –Library Journal

"An ideal introduction to the facts about global warming . . . Lucidly written and thoughtful."
—Kirkus Reviews
 
"An easily digestible read, with most chapters less than three pages long. Divided into four sections ('What the Science Says,' 'What's Actually Happening,' 'What's Likely to Happen in the Future,' and 'Can We Avoid the Risks of Climate Change?'), the book covers all the basics, including descriptions of Earth's previous climates and how hard it is for different cultures to adjust to changes; the difference between weather and climate; the greenhouse effect; and how climate scientists' predictions are coming true."
—Publishers Weekly

"Slim and elegant…written in the kind of plain English of which Strunk and White would approve, that lays out what we know about climate change while hewing to the facts and taking great care to avoid bias and hysteria."
—The New York Times
 
"Written in straightforward prose and fact-checked by the world's eminent climate scholars, Global Weirdness reads like the 9/11 Commission Report: all of the facts, none of the hyperbole. In four succinct sections, its authors detail the truth about climate change."
—CBS Smart Planet
 
 "a breath of fresh air: just the facts, efficient and easy to understand. It'll be within arm's reach of my own desk."
—Scientific American
 
"Global Weirdness is probably the weirdest book about global warming you're going to read…because it's nonpartisan, making absolutely zero attempts to agitate for legislation."
—Time Out Chicago
 
 "so welcome…explains climate change in simple, easy-to-understand language and ultrashort chapters."
—Mark Bittman, The New York Times

"This primer on the science of global warming provides a fact-filled explanation of how climate change impacts, and will continue to impact, our daily lives. The 60 concise and easily digestible chapters tackle such questions as: Is climate ever 'normal'? What risks does climate change pose for human health? What are the economic costs and benefits of reducing carbon emissions? The authors are up-front about the potential downfalls of alternative energy and technological fixes."
—Conversation Magazine

"Written in language that most people can understand, with nine pages of supporting scientific references, the book probably comes as close as possible to satisfying journalist Thomas Friedman's 2010 public plea in The New York Times for a report 'summarizing everything we already know about climate change in language a sixth grader could understand, with unimpeachable peer-reviewed footnotes'…A concise summary for anyone who wants a better understanding of what is happening to the planet and the possible actions that can be taken."
—Santa Fe New Mexican's Pasatiempto
Book Videos
or
Not Currently Available for Direct Purchase