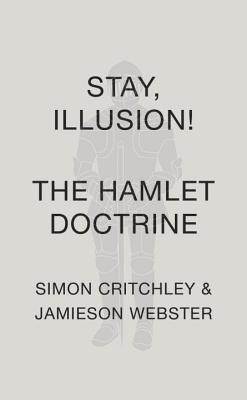 Stay, Illusion!
The Hamlet Doctrine
Hardcover

* Individual store prices may vary.
Other Editions of This Title:
Paperback (4/22/2014)
Description
The figure of Hamlet haunts our culture like the ghost haunts Shakespeare's melancholy Dane. Arguably, no literary work is more familiar to us. Everyone knows at least six words from Hamlet, and most people know many more. Yet the play—Shakespeare's longest—is more than "passing strange," and it becomes even more complex when considered closely. 
 
Reading Hamlet alongside other writers, philosophers, and psychoanalysts—Carl Schmitt, Walter Benjamin, Freud, Lacan, Nietzsche, Melville, and Joyce—Simon Critchley and Jamieson Webster go in search of a particularly modern drama that is as much about ourselves as it is a product of Shakespeare's imagination. They also offer a startling interpretation of the action onstage: it is structured around "nothing"—or, in the enigmatic words of the player queen, "it nothing must."
 
From the illusion of theater and the spectacle of statecraft to the psychological interplay of inhibition and emotion, Hamlet discloses the modern paradox of our lives: how thought and action seem to pull against each other, the one annulling the possibility of the other. As a counterweight to Hamlet's melancholy paralysis, Ophelia emerges as the play's true hero. In her madness, she lives the love of which Hamlet is incapable.
 
Avoiding the customary clichés about the timelessness of the Bard, Critchley and Webster show the timely power of Hamlet to cast light on the intractable dilemmas of human existence in a world that is rotten and out of joint.
Praise For Stay, Illusion!: The Hamlet Doctrine…
"In their provocative new study, Simon Critchley, a professor of philosophy at the New School, and Jamieson Webster, a practicing psychoanalyst and author, offer a novel take on this most commented-upon of dramas. It is as much an astute account of the reactions of various philosophers and psychoanalysts to the play—and their often profound and sometimes wacky analyses—as a chronicle of the authors' own passionate response to virtually every aspect of the tragedy. The authors have an impressive mastery of all the factual details of the play . . . their discussions of such thinkers as Hegel and Nietzsche or Freud and Lacan are at once pithy and perceptive." —The Wall Street Journal

"Critchley and Webster's fierce, witty exploration of Hamlet makes most other writing about Shakespeare seem simple-minded." —Hari Kunzru, author of Gods Without Men 

"I had no time to read Stay, Illusion!, and yet I found myself ravenously turning pages. I absolutely love the book, which I think is brilliant both as a set of readings of the play and as a meditation on contemporary, post-illusion existence. Hamlet is, as everyone knows, about everything, but it's also about nothing, or rather, nothingness. And this almost impossibly aphoristic book penetrates to the center of this paradox. A thrilling performance." —David Shields, author of Reality Hunger  
 
"The gap between thought and action has rarely been contemplated with so much intellectual excitement and energy as it is in this book. Indeed, this study of Hamlet is a kind of thrill ride, a breathless investigation of some of the most important ideas from philosophy and psychoanalysis from the Modern era. But the great pleasure it holds in store for most readers has to do with its profound understanding of reflection, and its discontents." —Charles Baxter, author of The Feast of Love

"A brilliant set of readings of a work that, like an insistent ghost, seems to have more to tell us with each passing era." —Tom McCarthy, author of Remainder   

"This is an engaging, eloquent, and insistently pleasurable text that makes the best case possible for "rash" reading.  Hamlet can now be read in light of a number of new theoretical vocabularies such that we cannot think about love, self-reflection, doubt, or obstinacy without being haunted by his ghost. This collaborative writing gives us a dynamic set of forays, recruiting us into the start and stop of thought, making Hamlet crucial for the thinking of our own impasses and delights. In the mix is a singular and illuminating encounter between philosophy and psychoanalysis." —Judith Butler  
 
"A philosophy professor and a psychoanalyst—also husband and wife—take Hamlet well beyond the confines of literary criticism and Shakespearean scholarship. . . . In a tone that is companionable and conversational despite the authors' obvious erudition, the book examines Hamlet through a variety of lenses—philosophical, psychological, political, Christian redemptive—without resolving the tension between thought and action that remains the essence of the work and generates so much fascination with it. . . . Critchley and Webster provide plenty of food for thought and fuel for obsession." —Kirkus  

"Critchley and Webster advance a daring commentary on the Bard's Hamlet. . . . A spirited literary foray by audacious interlopers." —Booklist  

"What more can be said about Shakespeare's great Hamlet, known to just about every thinking person on earth? But this book is different, aiming not for literary but cultural and psychological analysis; the authors bring a different perspective to the work. Are you ready, Shakespearians? That is the question." —Library Journal

"[An] insightful interpretation. . . . The authors' passion for the play and its questions are clearly evident." —Publishers Weekly

"Impressive…Critchley and Webster offer some intriguing and original thoughts on what Hamlet has to say about shame and love, taking up a new tone that suddenly makes the play feel intimately connected to both the authors themselves and the state of the world today…it's refreshing to read such unorthodox and enthusiastic explorations of canonical literature. Critchley and Webster manage to show both how philosophy and psychology illuminate Hamlet and how Hamlet, conversely, has illuminated those fields and the worlds around them." –Bookslut

"Intriguing…Critchley and Jamieson's take always feels fresh, in part because they address a range of interpretations, many of which they are unafraid to challenge…Erudite, witty and probing, Stay! Illusion offers new insights into a literary touchstone while deepening our appreciation for its complexity and its enigmatic core." –Shelf Awareness
 
"This is both an in-depth analysis of the play Hamlet and a study of our lives today. A compelling page turner, Stay, Illusion! digs deep into a character and play we all know, but perhaps haven't considered from this point of view." –Largeheated Boy
 
"[A] thoughtful, elegant work of criticism." –NPR.org, Best Books Coming Out This Week
Pantheon Books, 9780307907615, 269pp.
Publication Date: June 25, 2013
About the Author
Simon Critchley is Hans Jonas Professor of Philosophy at the New School for Social Research. He also teaches at Tilburg University and the European Graduate School. His many books include "Very Little . . . Almost Nothing, The Faith of the Faithless, "and "The Book of Dead Philosophers." He is the series moderator of The Stone, a philosophy column in "The New York Times, "to which he is a frequent contributor.

Jamieson Webster is a psychoanalyst in private practice in New York City. She is the author of "The Life and Death of Psychoanalysis: On Unconscious Desire and Its Sublimation" and has written for "Apology, Cabinet, The New York Times, "and many psychoanalytic publications. She teaches at Eugene Lang College at the New School and supervises doctoral students in clinical psychology at the City University of New York.
or
Not Currently Available for Direct Purchase