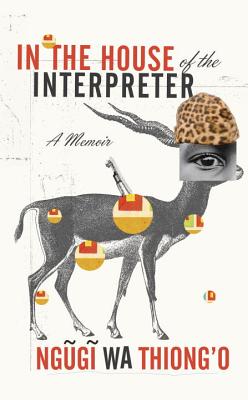 In the House of the Interpreter
A Memoir
Hardcover

* Individual store prices may vary.
Other Editions of This Title:
Paperback (5/12/2015)
Description
With black-and-white illustrations throughout

World-renowned Kenyan novelist, poet, playwright, and literary critic Ng ug y wa Thiong'o gives us the second volume of his memoirs in the wake of his critically acclaimed Dreams in a Time of War.
In the House of the Interpreter richly and poignantly evokes the author's life and times at boarding school--the first secondary educational institution in British-ruled Kenya--in the 1950s, against the backdrop of the tumultuous Mau Mau Uprising for independence and Kenyan sovereignty. While Ng ug y has been enjoying scouting trips, chess tournaments, and reading about the fictional RAF pilot adventurer Biggles at the prestigious Alliance High School near Nairobi, things have been changing rapidly at home. Poised as he is between two worlds, Ng ug y returns home for his first visit since starting school to find his house razed and the entire village moved up the road, closer to a guard checkpoint. Later, his brother Good Wallace, a member of the insurgency, is captured by the British and taken to a concentration camp. As for Ng ug y himself, he falls victim to the forces of colonialism in the person of a police officer encountered on a bus journey, and he is thrown into jail for six days. In his second year at Alliance High School, the boarding school that was his haven in a heartless world is shattered by investigations, charges of disloyalty, and the politics of civil unrest.
In the House of the Interpreter hauntingly describes the formative experiences of a young man who would become a world-class writer and, as a political dissident, a moral compass to us all. It is a winning celebration of the implacable determination of youth and the power of hope.
Praise For In the House of the Interpreter: A Memoir…
Praise for In the House of the Interpreter 

National Book Critics Circle Award Finalist

"Ngugi's memoir eloquently telegraphs the complicated experience of being simultaneously oppressed and enlightened at the hands of a colonial regime."
—New York Times Book Review

"It's a work of understated and heartfelt prose that relates one man's intimate view of the epic cultural and political shifts that created modern Africa . . . . Ngugi wa Thiong'o's Kenya endures. And it comes alive in the pages of his brilliant and essential memoir."
—Los Angeles Times
 
"Many incidents in In the House of the Interpreter will remind readers of the great novels of the African American canon, particularly Richard Wright's Black Boy and Ralph Ellison's Invisible Man, both about blacks pursuing an education in a nation riddled by racial prejudices . . . . Considering the scope of Ngugi's life, when completed his extraordinary memoirs encompassing colonialism, post-colonialism, English racism, African despotism, exile, and fame may well belong among the major works of history and literature of our time."
—Washington Post
  
"Elegantly written…a testament to the power of education."
—Chicago Tribune, "Editor's Choice"

 "More than 60 years later, wa Thiong'o continues to wrestle with the greater significance of each event in his formative years, searching for resolution but often only discovering more questions…a useful firsthand look at circumstances which have played out, and continue to play out, on countless stages around the world."
—The Boston Globe 
 
"In the House of the Interpreter stands out as a particularly powerful indictment of British colonialism and a lasting testament to the healing power of literature. Never bitter or one-sided, tempered throughout by a love of language that cuts across deep cultural divisions, including inter-tribal rivalry, this memoir leaves the reader eager for the next installment."
—The Times of Higher Education
 
"Richly moving…[Ngugi]'s reconstruction of the era is lucid, the incidents he records from these years are vividly recorded; it's very easy to see the young man slowly changing directions as he becomes one of Africa's great writers and thinkers."
—Counterpunch

"Luckily there was such a sharp mind present at this time and place to record with such perspicacity the confluence of race, politics, war, and literature."
—The Daily Beast
 
 "Amazing…The author easily keeps the balance between the whimsical, political, spiritual, and personal."
—Ebony
 
"An inspiring story of a young man determined to excel and escape."
—Kirkus Reviews
 
"Alternately youthfully innocent and politically savvy, this is a first-rate telling of that African revolutionary elite who determined the future of their continent."
—Publishers Weekly

Praise for Dreams in a Time of War

"Absorbing . . . Infused with a child's curiosity and wonder, this book is deeply touching in its revelation of a whole community's stake in nurturing a writer."
—The Guardian
 
"Startling, vivid, [and] inspiring . . . Whether recalling joyful or challenging times, Ng˜ug˜ý displays a plainspoken yet beautiful prose style."
—The Christian Science Monitor
 
Praise for Wizard of the Crow

"In his crowded career and his eventful life, Ng˜ug˜ý has enacted, for all to see, the paradigmatic trials and quandaries of a contemporary African writer caught in sometimes implacable political, social, racial, and linguistic currents."
—John Updike, The New Yorker
 
"A great, spellbinding tale, probably the crowning glory of Ng˜ug˜ý's life's work . . . He has turned the power of storytelling into a weapon against totalitarianism."
—The Washington Post Book World
 
"One of Africa's greatest writers, and certainly the foremost voice of Kenyan literature . . . Possibly the best comparison to make is with Salman Rushdie's Midnight's Children."
—San Francisco Chronicle
Pantheon Books, 9780307907691, 240pp.
Publication Date: November 6, 2012
About the Author
Ngũgĩ wa Thiong'o has taught at Nairobi University, Northwestern University, Amherst College, Yale University, and New York University. He is Distinguished Professor of English and Comparative Literature at the University of California, Irvine. His many books include Wizard of the Crow, Dreams in a Time of War, Devil on the Cross, Decolonising the Mind, and Petals of Blood, for which he was imprisoned by the Kenyan government in 1977.
Coverage from NPR
or
Not Currently Available for Direct Purchase