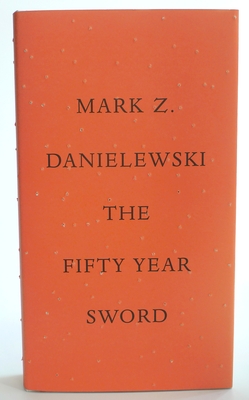 The Fifty Year Sword
Hardcover

* Individual store prices may vary.
Description
In this story set in East Texas, a local seamstress named Chintana finds herself responsible for five orphans who are not only captivated by a storyteller's tale of vengeance but by the long black box he sets before them. As midnight approaches, the box is opened, a fateful dare is made, and the children as well as Chintana come face to face with the consequences of a malice retold and now foretold.
Praise For The Fifty Year Sword…
"The Fifty Year Sword is a clever experiment in voice and structure, a prose poem consisting of cascading waves of dialogue spoken by five different narrators looking back on a single frightening night. . . . The joy of the book comes mostly from the physical act of turning the pages and scanning the layout, but the language deserves mention as well. In fact, some of the diction and words echo Lewis Carroll's "Jabberwocky" or James Joyce's Finnegans Wake, as separate words and phrases collide to make one and bits of words rearrange to form new ones. . . . A rare treat for devoted book lovers." 
—The Boston Globe

"This gorgeous trade edition . . . gives further evidence that Danielewski is one of the most gifted and versatile writers of our time."
—The Washington Post

"[A] captivating atmospheric journey, one that defies the norm of just reading a book. Danielewski, like his undeniably creepy and possibly ethereal antagonist, isn't merely a storyteller. He creates experiences, multi-dimensional pieces of art that don't conform to one genre, and that beg for physical engagement from the audience. The Fifty Year Sword follows in the tradition of Henry James' 'The Turn Of The Screw' and the work of Washington Irving, but in a distinctly postmodern context. It's a beautifully haunting, resonant multimedia adventure." 
—The A.V. Club

"A seriously experimental confection of modern horror literature. . . . Composed mostly of dialogue, some attributed to various speakers, some not, some near-abstract drawings of needlework constructions, and a lot of white space—all wrapped in the pages of a very classy piece of book production—The Fifty Year Sword might be the oddest book of the year. In certain ways, it might be the most interesting and enjoyable. . . . I imagine people getting together late at night and, as they read the book aloud, conjuring up this East Texas night, in which immediate danger and antique fairy-tale horror come together, joined by the slender threads of this one-of-a-kind narrative genius, a writer a lot closer to Edgar Allan Poe than he is to most of his contemporaries."
—Alan Cheuse, Dallas Morning News
 
"Danielewski echoes the oral tradition of ghost stories by employing the voices of five orphans to take turns narrating. . . . The writing itself occasionally hits on a detail disturbing enough to fall like freezing water down the reader's spine."
—Time Out New York
 
"I entered The Fifty Year Sword prepared to be bewildered, but . . . we're drawn into the narrative. . . . A goth hero's quest . . . a fairy tale narrated by a Greek chorus. . . . Mark Z. Danielewski might be America's most successful experimental fiction writer." 
—Daniel Handler, The New York Times Book Review

"A swift, old-style ghost story with crisp, eerie illustrations. The text itself becomes blade cuts. The tale's momentum and dark tone take over, speeding the story to its surprise end. . . . The Fifty Year Sword is a pleasure to read."
—Chicago Tribune
 
"This strange novella is a new spin on Poe-esque ghost stories, and is being delivered in its new form full of beautiful (and sometimes beautifully grotesque) stitched illustrations, the colors of Halloween's season, and typography that actively follows what happens within the story. And so The Fifty Year Sword continues with Mark Z. Danielewski's explorations of the art of visual storytelling, and what's on the line when it comes time to tell (or re-tell) a story."
—Lit Reactor

"Absorbing, spooky, and playful."
—Library Journal
 
"A sometimes arid, sometimes entertaining ghost story for grown-ups by pomo laureate Danielewski. . . .
Likely destined to become a cult favorite."
—Kirkus Reviews

"This first American edition of Danielewski's novella, published in a different form in the Netherlands in 2005, has the theatrical quality of a children's ghost story, complete with stitched-art illustrations (designed by the author), sweeping themes, and fairy-tale tropes . . . This would be well-suited to an oral reading and may be best thought of as an objet d'art that chillingly holds us accountable for our worst thoughts."
—Publisher's Weekly
Pantheon, 9780307907721, 288pp.
Publication Date: October 16, 2012
About the Author
Mark Z. Danielewski was born in New York City and lives in Los Angeles. He is the author of House of Leaves, Only Revolutions and The Whalestoe Letters.