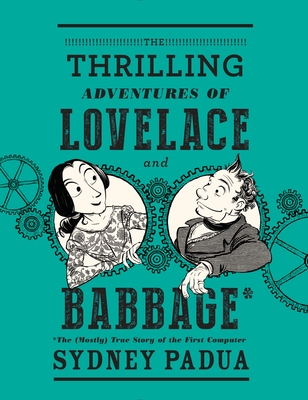 The Thrilling Adventures of Lovelace and Babbage (Hardcover)
The (Mostly) True Story of the First Computer (Pantheon Graphic Library)
Pantheon, 9780307908278, 320pp.
Publication Date: April 21, 2015
* Individual store prices may vary.
Description
THE THRILLING ADVENTURES OF LOVELACE AND BABBAGE . . . in which Sydney Padua transforms one of the most compelling scientific collaborations into a hilarious series of adventures.

Meet Victorian London's most dynamic duo: Charles Babbage, the unrealized inventor of the computer, and his accomplice, Ada, Countess of Lovelace, the peculiar protoprogrammer and daughter of Lord Byron. When Lovelace translated a description of Babbage's plans for an enormous mechanical calculating machine in 1842, she added annotations three times longer than the original work. Her footnotes contained the first appearance of the general computing theory, a hundred years before an actual computer was built. Sadly, Lovelace died of cancer a decade after publishing the paper, and Babbage never built any of his machines.

But do not despair! The Thrilling Adventures of Lovelace and Babbage presents a rollicking alternate reality in which Lovelace and Babbage do build the Difference Engine and then use it to build runaway economic models, battle the scourge of spelling errors, explore the wilder realms of mathematics, and, of course, fight crime—for the sake of both London and science. Complete with extensive footnotes that rival those penned by Lovelace herself, historical curiosities, and never-before-seen diagrams of Babbage's mechanical, steam-powered computer, The Thrilling Adventures of Lovelace and Babbage is wonderfully whimsical, utterly unusual, and, above all, entirely irresistible.

(With black-and-white illustrations throughout.) 
About the Author
SYDNEY PADUA is an animator and visual effects artist, usually employed in making giant monsters appear to be attacking people for the movies. She started drawing comics by accident and is still trying to figure out how to stop. Originally from the Canadian prairie, she now lives in London with her husband and far too many books. The Thrilling Adventures of Lovelace and Babbage is her first book.
Praise For The Thrilling Adventures of Lovelace and Babbage: The (Mostly) True Story of the First Computer (Pantheon Graphic Library)…
James Gleick, author of The Information
"Don't be fooled by the word 'comic.' Sydney Padua tells a story that is tender, passionate, and true."

Charles Petzold, author of Code and The Annotated Turing
"So there. The Thrilling Adventures of Lovelace and Babbage is learned, clever, funny, and above all very silly in the best sense of the word."

Publishers Weekly (starred review)
"The immensity of Padua's research and the wit and allusions of her prose are striking, saying as much about what drove her to explore the possibilities of her protagonists' relationship as about the protagonists themselves. Permeated by delightful illustrations, obsessive foot- and endnotes, and a spirit of genuine inventiveness, it's an early candidate for the year's best."

Martha Cornog, Library Journal
"Padua's extravaganza is very much for the whimsical intelligentsia and will speak to those interested in computers or math who will delight in the abundant background materials."

Bookpage
"Sydney Padua's impeccably researched, yet playfully imagined graphic biography is a treat for history buffs and graphic novel lovers alike…With fantastically detailed art, footnotes and diagrams…, this is a whimsical graphic account like no other."
 
Margaret Quamme, The Columbus Dispatch
"Reading The Thrilling Adventures of Lovelace and Babbage is like auditing a dozen high-level, inventively taught college classes simultaneously: more than a little overwhelming yet fascinating."
 
Etelka Lehoczky, NPR.org
"Sydney Padua's new book is definitely 'Yowza!' material."
 
Discover Magazine
"An outlandish, enlightening tale."
 
Nancy Szokan, Washington Post
"Informative and entertaining . . . . It's a book that makes you a lot smarter as it makes you laugh."
 
The Takeaway
"Novelist Sydney Padua has found quite a pair: the girl with the unstoppable brain; the male inventor 24 years her senior, part-poet, part-genius; this Victorian odd couple, dedicated to crime foiling and cleverness, is easily worthy of Holmes and Watson with a title to match."

Maria Popova, BrainPickings.org
"Immensely delightful and illuminating …a masterwork of combinatorial genius and a poetic analog to its subject matter."