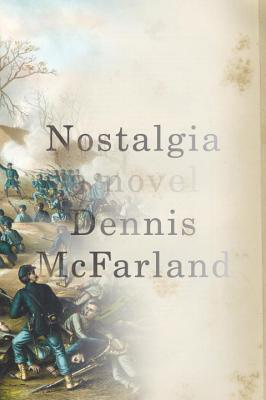 Nostalgia
Hardcover

* Individual store prices may vary.
Other Editions of This Title:
Digital Audiobook (9/30/2013)
Paperback (5/12/2015)
Compact Disc (10/1/2013)
MP3 CD (10/1/2013)
Compact Disc (10/1/2013)
Description
**Washington Post Best 50 Books of the Year**

This stunning Civil War novel from best-selling author Dennis McFarland brings us the journey of a nineteen-year-old private, abandoned by his comrades in the Wilderness, who is struggling to regain his voice, his identity, and his place in a world utterly changed by what he has experienced on the battlefield.
In the winter of 1864, Summerfield Hayes, a pitcher for the famous Eckford Club, enlists in the Union army, leaving his sister, a schoolteacher, devastated and alone in their Brooklyn home. The siblings, who have lost both their parents, are unusually attached, and Hayes fears his untoward secret feelings for his sister. This rich backstory is intercut with scenes of his soul-altering hours on the march and at the front the slaughter of barely grown young men who only days before whooped it up with him in a regimental ball game; his temporary deafness and disorientation after a shell blast; his fevered attempt to find safe haven after he has been deserted by his own comrades and, later, in a Washington military hospital, where he finds himself mute and unable even to write his name. In this twilit realm, among the people he encounters including a compassionate drug-addicted amputee, the ward matron who only appears to be his enemy, and the captain who is convinced that Hayes is faking his illness is a gray-bearded eccentric who visits the ward daily and becomes Hayes's strongest advocate: Walt Whitman. This timeless story, whose outcome hinges on friendships forged in crisis, reminds us that the injuries of war are manifold, and the healing goodness in the human soul runs deep and strong.
Praise For Nostalgia…
**Washington Post Best 50 Books of the Year**

"Walt Whitman, who haunts the pages of this sensitive, ingenious, beautifully written novel, famously said that the real Civil War would 'never get into the books.' Nostalgia deftly explores an aspect of war little understood in Whitman's time or in our own—the invisible wounds combat inflicts upon many of those who somehow manage to survive it." —Geoffrey C. Ward, coauthor of The Civil War and author of A Disposition to Be Rich
 
"Emotionally harrowing . . . McFarland manages to find something new to say about a war that could have had everything said about it already . . . A moving account of one soldier's journey to hell and back, and his struggle to make his own individual peace with the world afterward."—Publishers Weekly
 
Praise for Dennis McFarland
 
"McFarland is a Divine Watchmaker of a novelist."—Newsweek
 
"A writer of extraordinary sympathy and compassion that are remarkably free from sentimentality."—Boston Sunday Globe
 
"McFarland is heir to the great Southern literary tradition, and his observations, however somber in import or lyrical in delivery, are always laced with a splendid appreciation of life's absurdities."—The Wall Street Journal
 
"McFarland has to be counted one of the brightest hopes for the literate American novel. I don't think there's a writer alive who wouldn't like to have written some of his sentences . . . You want to compare him to Chopin or Mendelssohn more than to any particular writer."—Hartford Courant
Pantheon Books, 9780307908346, 322pp.
Publication Date: October 1, 2013
About the Author
DENNIS McFARLANDis the author of six previous novels: Letter from Point Clear, Prince Edward, Singing Boy, A Face at the Window, School for the Blind, and The Music Room. His short fiction has appeared in The American Scholar, The New Yorker, Prize Stories: The O. Henry Awards, and Best American Short Stories, among other publications. He has received a fellowship from the National Endowment for the Arts, as well as the Wallace E. Stegner Fellowship from Stanford University, where he has also taught creative writing. He lives in rural Vermont with his wife, the writer and poet Michelle Blake."
or
Not Currently Available for Direct Purchase