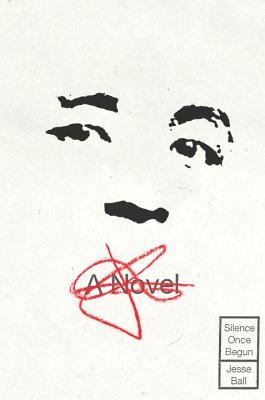 Silence Once Begun
Hardcover

* Individual store prices may vary.
Other Editions of This Title:
Paperback (11/4/2014)
Description
From the celebrated author of "The Curfew" ( A spare masterwork of dystopian fiction " The New York Times Book Review"), Jesse Ball's "Silence Once Begun" is an astonishing novel of unjust conviction, lost love, and a journalist's obsession.
Over the course of several months, eight people vanish from their homes in the same Japanese town, a single playing card found on each door. Known as the Narito Disappearances, the crime has authorities baffled until a confession appears on the police's doorstep, signed by Oda Sotatsu, a thread salesman. Sotatsu is arrested, jailed, and interrogated but he refuses to speak. Even as his parents, brother, and sister come to visit him, even as his execution looms, and even as a young woman named Jito Joo enters his cell, he maintains his vow of silence. Our narrator, a journalist named Jesse Ball, is grappling with mysteries of his own when he becomes fascinated by the case. Why did Sotatsu confess? Why won t he speak? Who is Jito Joo? As Ball interviews Sotatsu's family, friends, and jailers, he uncovers a complex story of heartbreak, deceit, honor, and chance.
Wildly inventive and emotionally powerful, "Silence Once Begun" is a devastating portrayal of a justice system compromised, and evidence that Jesse Ball is a voraciously gifted novelist working at the height of his powers.
Praise For Silence Once Begun…
Praise for Silence Once Begun 

A New York Times Book Review Editors' Choice

"Absorbing, finely wrought. . . a piercing tragedy. . . that combines subtlety and simplicity in such a way that it causes a reader to go carefully, not wanting to miss a word. "
—Helen Oyeyemi, The New York Times Book Review

"Jesse Ball's strange, brief, beguiling fourth novel, Silence Once Begun, flirts with the hermetic . . . Ball enjoys borrowing some of the conventions of crime writing but in order to use them rather than to be used by them . . . His language is chastely lyrical, with a discreet musicality . . . He is often appealingly funny, in an absurdist manner reminiscent of the English avant-gardist B. S. Johnson . . . One of the triumphs of Silence Once Begun is the way that Ball enriches his metafictional restlessness with [a] humane curiosity . . . The language seems aware of the charged space around it, as if one were praying aloud in a darkened, empty church. His characters speak at once lucidly and uncannily; words have become strangely heavy."
—James Wood, The New Yorker

"Remarkable. . .  a clear nod to The Trial. . . not unlike the images that string together the similarly enigmatic quagmires of W. G. Sebald. . .  a perfection of [Ball's] style . . . realism distilled to its barest essentials."
—Michael H. Miller, The NY Observer

"A seductive "Rashomon"-like chorus of competing explanations for Sotatsu's actions, each cunningly building upon, or canceling out, the last. . . Beginning as a work of seeming reportage, Silence Once Begun transforms into a graceful and multifaceted fable on the nature of truth and identity."
—Sam Sacks, Wall Street Journal 

"Jesse Ball's Silence Once Begun resists the standard narrative tropes of contemporary novels. . . As in Kafka's The Trial, the justice of Silence Once Begun is both tragic and absurd. . . Ball has built in a few genuinely surprising twists that exist solely because of how the story is structured. That's an accomplishment; Silence Once Begun is a fascinating project in which almost everything is stripped away but the contradictory stories people tell."
—Carolyn Kellogg, The LA Times

"Daring . . . Silence Once Begun is a wondrous and provocatively strange reading experience that places the actual Jesse Ball among our most compelling and daring writers today."
—Nathan Deuel, The LA Review of Books

"Silence incorporates a vast array of styles: Ball's musings, interview transcripts, other characters' accounts of the case and even a few Sebaldian photographs. Throughout, there are many questions about both what is said and what is left unsaid; motivation, memory and reliability all come under scrutiny. . . What had been a taut crime story stands revealed as something much more ominous."
—Time Out New York

"Ball, who is perhaps the closest contemporary American writer we have to Italo Calvino in ear and mind, excels at wrapping the reader around an empty center—a quiet so potent that it is like the Cagean notion that it is not silence that accentuates sound, but sounds that define the silence."
—Christopher Bollen, Interview

"And so the beguiling and instantly classic Silence Once Begun exists to fill in a missing part of the world. A part which, on further inspection, was never there in the first place."
—JW McCormack, The New Inquiry

"A great page-turner. . . as hypnotic as any metronome . . . Think Camus's The Stranger, but with bonus material, like interviews from some of Meursault's closest confidants. Or think Kafka—only a version where the agents of power will pull up a chair and tell you exactly what was at stake in the trial. . . [a] daring and beautiful little book."
—Hannah Gold, The Chicago Reader

"The format of the novel . . . together with Ball's voice, like that of an old storyteller sharing a fable from ages gone by, lulls the reader into a trusting trance—a desire to trust the narrator wholeheartedly, and to believe the content of the novel to be true. . . The novel becomes a meditation on the flaws of perception . . . Every time a truth is revealed, the novel doubles back, shifts. . . The only certainty provided is the reader's desire to believe in a certainty. The only real truth is what we believe to be true, and, for many, what we love and how we feel are the clearest truths we have."
—Quincy Rhoads, Rain Taxi

"Silence Once Begun expands the meditative, eerie ground [Ball]'s already established into territory at once more private and matter-of-fact. Opening with the tale of a man who, after losing a bet, turns himself into the authorities for a crime he did not actually commit, the book follows the investigation of a narrator who shares Jesse Ball's name as he tries to unravel why the man did what he did and what became of those nearest around him as a result. Once you initiate the mystery, it is difficult to stop. Across its 233 pages the story weaves interviews, parables, travel narrative, photography, and meditation around an unrelenting set of unanswered questions that open one door after another. It's an extremely refreshing presence in American writing, and one that provides more than it requires."
—Blake Butler, Vice

"Jesse Ball's latest novel, Silence Once Begun, creates and maintains an atmosphere of mystery and melancholy like no other. . . The story hinges on what is not known, people who have disappeared, and connections that may or not exist. The information that is revealed, however -- childhood memories, bittersweet relationships, strange coincidences -- is often lyrical and heartfelt, and the tale is well worth telling despite overwhelming uncertainty."
—Brooks Sterritt, Bookslut

"I can think of only a handful of mystery novels that have used intrigue and suspense as efficiently in the first hundred pages. . . What first appeared to be a mystery quickly turns into a meditation on love. . . Beautifully hypnotic passages . . . Ball poses the question: 'Can any of us can truly know ourselves, let alone the others around us?'"
—Nathan Weatherford, Full Stop

"Ball's spare, meditative, Rashomon-like novel, a work of exceptional control and exquisite nuance, consists of contradictory transcripts, poetic letters, a striking fable, and melancholy musings. Enigmatic black-and-white photographs add to the subtly cinematic mode. With echoes of Franz Kafka, Paul Auster, and Kobo Abe, Ball creates an elegantly chilling and provocatively metaphysical tale." 
—Booklist

"A Kafkaesque premise rests at the center of Jesse Ball's intriguing fourth novel, Silence Once Begun. . . Ball's calculated use of silence is masterful, and the novel haunts us, like any unsolved crime."
—Bookpage

"I want to drive home how risky this novel is and how well Ball pulls it off. . . Silence pushes all his buttons and skills into new dark territory and the result is exceptional. For what many will consider a "page-turner" (and really, it does move lightning fast for all the jumps between narrators and storytelling devices) its structure is so delicate, so complicated, it's awe-inspiring. . . Silence Once Begun proves to be his greatest magic trick yet."
—Fanzine

"A beautiful, unforeseen and yet somehow inevitable ending. . . the elegance of an ageless morality tale . . . satisfying . . . dreamlike . . . Although it's only January, I confidently predict you won't read another book quite like it all year"
— The Japan Times

"Silence Once Begun doesn't answer all the questions it sets out asking – it even raises some new ones farther in – but it's a wonderful, chaotic, engrossing exploration of what drives people to do what they do and how lives intersect, maybe just once, maybe again years later, or maybe forever."
— Lisa McLendon, The Witchita Eagle

"Haunting and original, Ball succeeds in re-imagining what a novel can be."
—Cedar Rapids Gazette

"'Jesse Ball' investigates a series of disappearances, a wrongful conviction and a love story in modern-day Osaka, Japan. [He] makes readers' heads spin yet again with a darker but more tempered version of his strange, almost whimsical multimedia creations . . . There's no denying the fascination his aberrant storytelling inspires."
—Kirkus Reviews
 
"An increasingly mysterious and conflicted portrait of Oda and his alleged crime. This methodical presentation makes for coolly suspenseful reading, but it's soon clear there is more underlying Ball's investigation than meets the eye . . . Intriguing and offers a riveting portrait of the Japanese criminal justice system."
—Publishers Weekly
 
"Silence Once Begun kept me up two nights running. It felt more real than the news and most documentaries and memoirs. Once again, Ball has extended the reach of the novel—of the love story, even—into menacing, freaky new places."
—James McManus, author of Positively Fifth Street
Pantheon Books, 9780307908483, 232pp.
Publication Date: January 28, 2014
About the Author
Jesse Ball is the author of three previous novels, including "Samedi the Deafness, " and several books of verse, bestiaries, and sketchbooks. His awards include the 2008 "Paris Review" Plimpton Prize; his verse has been included in the Best American Poetry series. He gives classes on lucid dreaming and lying at the School of the Art Institute of Chicago.
or
Not Currently Available for Direct Purchase